There is something about Bollywood which is really weird, there are so many talented actors in the in the industry but still you will find some weird pairing. What I mean to say here is, some real old actors are still finding pleasure in romancing young actresses. This has become a trend as now a days many Old Heroes are romancing Young heroines.
Also Read : Funny Interesting Facts about Bollywood
Although there are numerous pairs, we have soughted out Top 10 pairs of Old Heroes romancing Young Heroines who have raised eyes of everyone.
Amitabh  Bachchan (65) and Jiah Khan (19) in Nishabd (2007)
Amitabh romanced Jiah Khan in the movie Nishabd in 2007. Amitabh was 65 that time and Jiah just 19. Amitabh falls in love with his daughter's friend and not just falls but they have shown a great chemistry in the movie. Amitabh and Jiah also shared a hot lip lock in the movie as well.
Also Read : Amitabh Bachchan Facts and Information
Naseeruddin Shah (61) and Vidya Balan (33) in The Dirty Picture (2011)
Vidya Balan was 33 when she did The Dirty Picture based on Silk Smitha's life. Vidya went to another level and romanced Naseeruddin Shah who is approx twice her age. Skimpy dresses, foul language and lots of romance was everywhere in the movie.
Naseeruddin Shah (60) and Vidya Balan (32) in Ishqiya (2010)
Vidya Balan except The Dirty Picture also Romanced, Naseeruddin Shah in the movie Ishqiya. Lip locks and lots of romance was there in Ishqiya as well. And the actress didn't seem at all uncomfortable romancing an actor twice her age.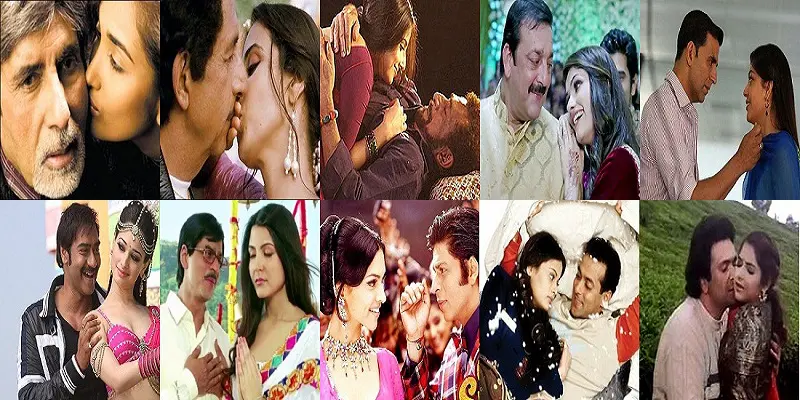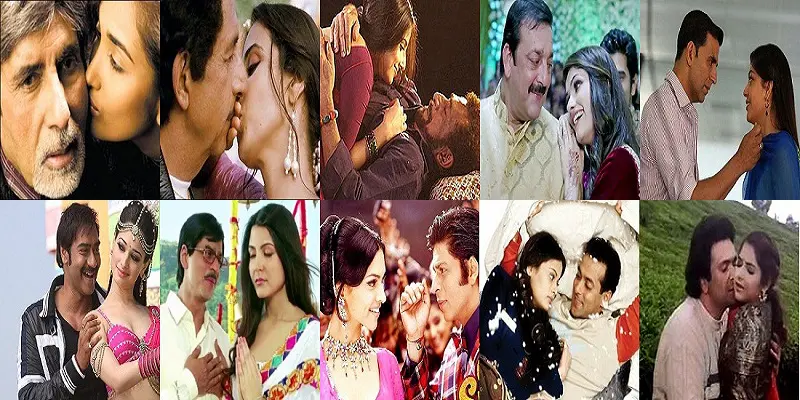 Sanjay Dutt (54) and Prachi Desai (25) in Policegiri (2013)
In a recently released movie, Policegiri Sanjay Dutt was seen romancing Prachi Desai who is half her age. The age difference was quite evident on the screen, and I didn't see any point casting such a young actress against Sanjay Dutt. But Bollywood goes with the trend, old heroes romancing young heroines add more glitz and glamour to the movie I guess.
Akshay Kumar (46) and Kajal Aggarwal (28) in Special 26 (2013)
Akshay Kumar, the Khiladi of Bollywood might have celebrated 46 birthdays, but he is still tough and that doesn't stop the actor romancing young beauties at all. In special 26, Akshay Kumar was seen romancing a much younger Kajal Aggarwal.
Ajay Devgn (44) and Tamanna (24) in Himmatwala (2013)
Ajay Devgn biggest mistake Himmatwala (2013) was an official remake of Jeetendra's Himmatwala (1983). Ajay Devgn who turned 44 this year romanced Tamanna who is just 24. Except the fact that the pairing looked odd their chemistry was amazing on screen.
Shahrukh Khan (43) and Anushka Sharma (20) in Rab Ne Bana
Di

Jodi (2008)

Shahrukh Khan romanced Anushka Sharma, who is half his age in Rab ne Bana Di Jodi in 2008. Anushka's debut movie with The Shahrukh Khan gave her career a big boost, but was this the reason that this young actress was ready to romance the hero double her age?

Must Read : Top 20 Movies of Shahrukh Khan
Shahrukh Khan (42) and Deepika Padukone (21) in Om Shanti Om (2007)
Deepika Padukone, one of the top actresses of Bollywood today made her debut in 2007 with Om Shanti Om. Deepika was just 21 when she entered Bollywood, and her first movie was with Shahrukh Khan who is double her age. Deepika agreed and romanced the Romance King of Bollywood without any Ifs and But's in Om Shanti Om.
Salman Khan (40) and Sneha Ullal (18) in Lucky: No Time For Love (2005)
Salman Khan, The Dabangg of Bollywood has worked with many debutants and given their career a Big Boost. Sneha Ullal who was just 18, entered Bollywood with Salman in 2005. The age difference was quite visible on screen but our Dabangg is Dabangg. It was rumored that Sneha looks like Aishwarya Rai, and that is the only reason she landed up in arms of Salman Khan in the movie Lucky: No Time For Love.
Rishi Kapoor (40) and Divya Bharti (18) in Deewana (1992)
The trend of romancing young heroines is not new, in 1992 Rishi Kapoor romance half her age actress Divya Bharti in the Movie Deewana. Rishi Kapoor was 40 and Divya just 18 when they did Deewana.
Also Read : Epic Movies but Flop at Box office