Bollywood is filled with a number of Filmy Keeday when it comes to the characters played in the flicks. Let's have a glimpse on these epic filmy roles played by our well known Actors.
Sunny Arora (Sharib Hashmi) in Filmistaan
Filmistaan is an Indian film directed by debutant Nitin Kakkar, starring Sharib Hashmi, Inaamul haq, Kumud Mishra, and Gopal Dutt. The story features a wannabe actor and hard-core fan of Bollywood movies who is abducted and held in the home of a Pakistani who deals in pirated Hindi films.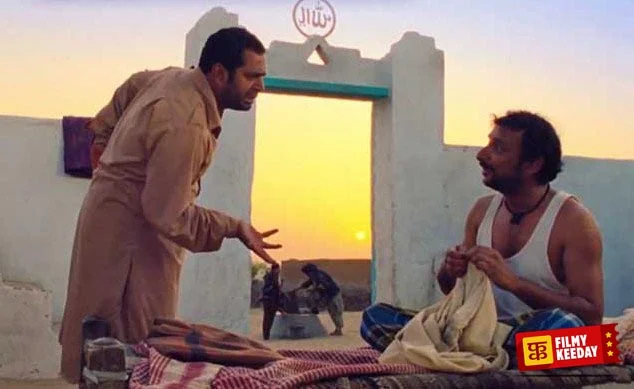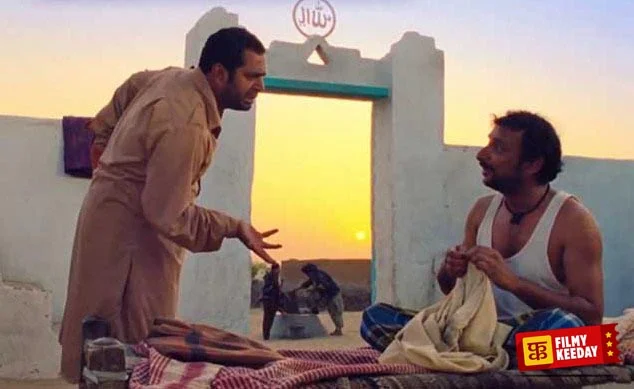 Sharib Hashmi delivers an outstanding act as Sunny Arora and completely looks like a filmy keeda. The whole film is filled with continuous funny sequences, like when Sharib sings 'Yaara Seeli Seeli' and 'Maar Daala', when he imitates the dialogues of the film 'Maine Pyar Kiya', when Inaamul Haq talks about his business of pirated Indian film DVDs and eventually when they make the ultimate plan to escape.
Also Read : Filmy Talk with Sharib Hashmi
Jhangiya (Naman Jain) in Chillar Party
Chillar Party is a Bollywood film for children directed by Nitesh Tiwari and Vikas Bahl. The film stars multiple child artists in their debut roles named as Jhangiya enacted by Naman, Shaolin Divij, Enclyclopedia Sanath, Silencer Vedant, Aflatoon Aarav, Panauti Chinmay, Toothpaste Sherya, Akram Rohan, Second Hand Visshesh and Fatka Irfan Khan.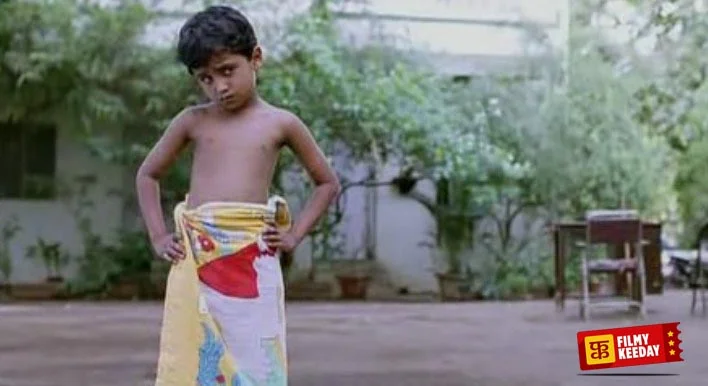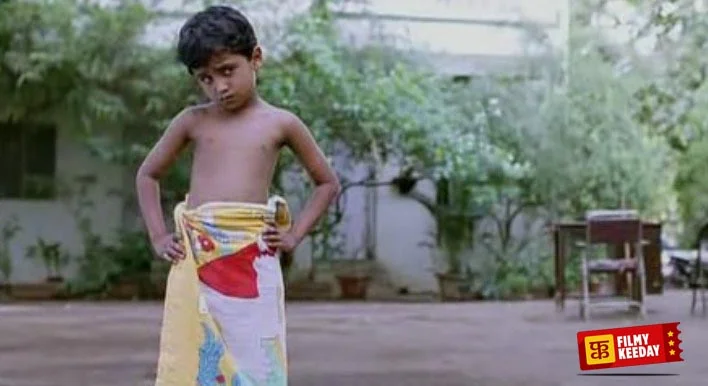 The role of Jhangiya is having filmy Keeday in it as the boy always imitates the dialogues from various movies and makes the scene perfect in a childish way. The film also won the 2011 National Film Award for Best Children's Film category. The story of the film is about a gang of naive but lively kids who lead carefree lives in their colony that takes them to the world of politics when one of their friend's lives is in danger. The film also carries an important message with it, 'nothing is impossible'.
Faizal Khan (Nawazuddin Siddiqui) in Gangs Of Wasseypur
"Gangs Of Wasseypur" is a cult movie and also the Bollywood's answer to Hollywood which is a story unfolding through generations in Wasseypur, Jharkhand. The film is a real move and a solitary epic of Indian cinema. Now we can proudly say that we too have Scorsese and Tarantino.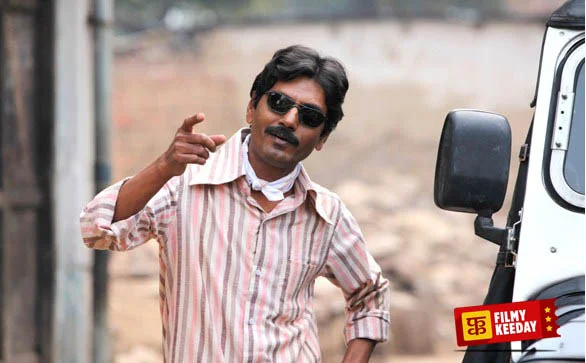 The film is full of superb performances by Manoj Bajpayee, Richa Chadda, Piyush Mishra and final cherry on the acting cake is Nawazuddin as a vulnerable young lad who is basically a romantic at heart but is getting transformed into a brutal gangster much like Michael Corleone in the Godfather series. The character of Faizal Khan played by Nazawuddin is having an image of filmy keeda as he thinks of himself as Amitabh Bachchan after watching the films like Trishul, Deewar etc. Indian audiences have not tasted the flavor of this new cinema and hats off to Anurag Kashyap for all his guts to make a masterpiece. The film is a definite take for a sequel as there are many stories left to unfold further.
Munna (Aamir Khan) in Rangeela
Rangeela is a Bollywood romcom film directed by Ram Gopal Varma. The star cast of the film includes Aamir Khan, Urmila Matondkar and Jackie Shroff. The story of the film revolves around Munna (Aamir Khan) & Milli (Urmila).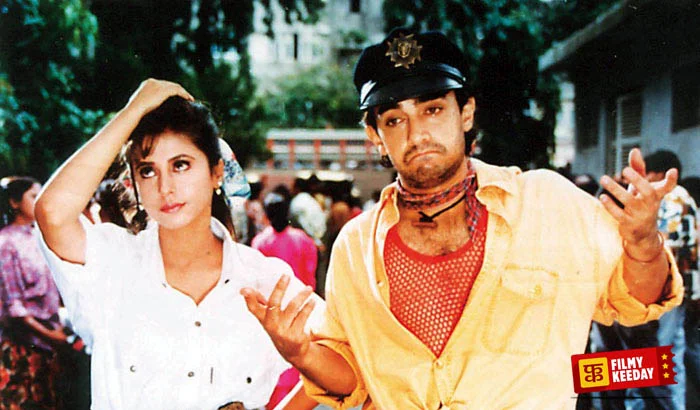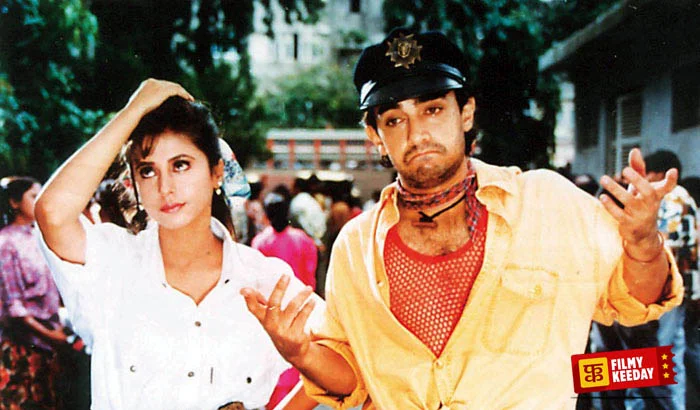 Milli works as a backup dancer in Bollywood movies, whereas, Munna is a tenant who lives in the same apartment as Milli and makes a living by selling cinema tickets in black. Aamir's tapori style of selling tickets reflects the filmi keeda in his character. As the story moves forward, Milli ends up with a role in a big Bollywood movie and Munna who is in love with her but because this new turn in her life, gets cut off.
Vicky (Vrajesh Hirjee) in Rehna Hai Tere Dil Mein
Rehna Hai Tere Dil Mein aka RHTDM is a Bollywood film directed by Gautham Menon. The film stars Madhavan, Diya Mirza and Saif Ali Khan in the lead roles.  The comic scenes of the film are excellent. Madhavan possesses a different comedy touch and is equally supported by another splendid character in the film, Vicky, whose one-liners steals the show and makes it a cult movie.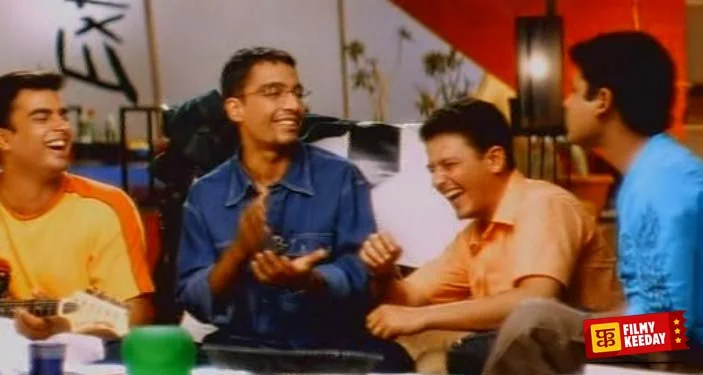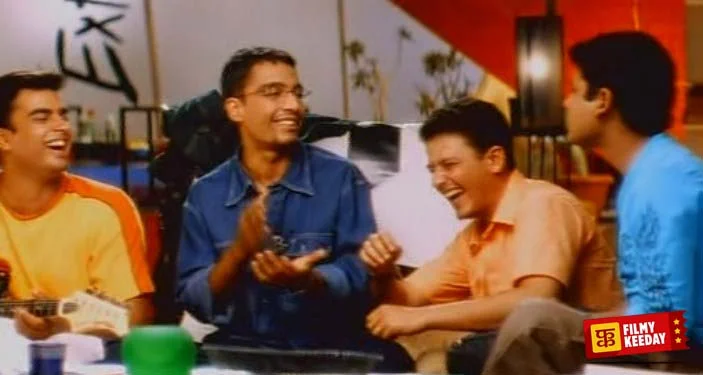 The character played by Vrajesh is fully loaded filmy keeda as he always teases his friends by comparing him with some actor in a funny and sarcastic way, like aai yede, satkele tu kya chhappar phaad k eke Govinda ki tarah khud hi maar ke taali maar raha hai, khud hans raha hai kya…
Rangbirangi (Johnny Lever) in Roop Ki Rani Choron Ka Raja
Roop Ki Rani Choron Ka Raja is a Bollywood film directed by Satish Kaushik, starring Anil Kapoor, Sri Devi, Jackie Shroff, Anupam Kher and Johnny Lever. It is the highest budget film of that time and features the hit pair Anil-Jackie again after Ram Lakhan.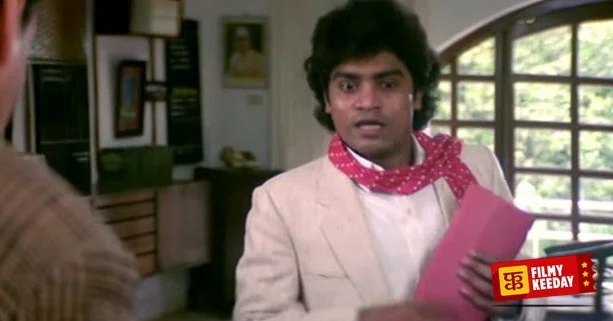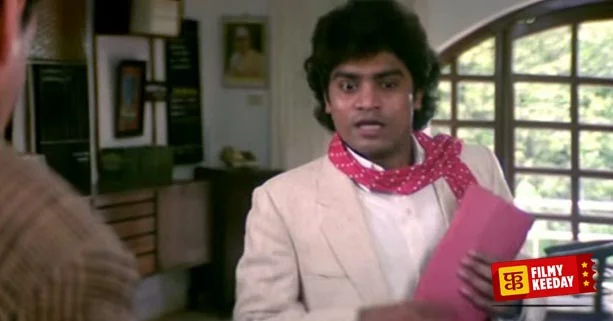 The story of the film is based on the lost brothers theme where Anil plays the role of a goodhearted thief and Jackie plays the role of a cop. One of the most favorite characters in the film is Rangbirangey Lal played by Johny Lever. He plays a constable who is always reading film magazines and keeps imitating the various actors like Raj Kumar, Shatrughan Sinha, Sanjeev Kumar, Ashok Kumar and Dharmender.
Hiralal (Johnny Lever) in Judaai
Judaai is a Bollywood drama film directed by Raj Kanwar. The film stars Anil Kapoor, Sri Devi and Urmila Matondkar in lead roles coupled with Kader Khan, Farida Jalal and Johnny Lever in supporting roles. The story of the film portrays an ambitious housewife who sells her husband to a rich woman.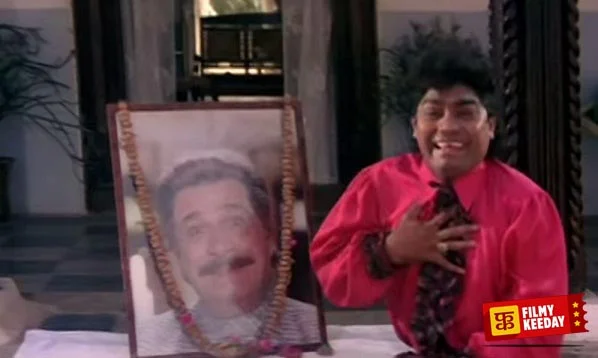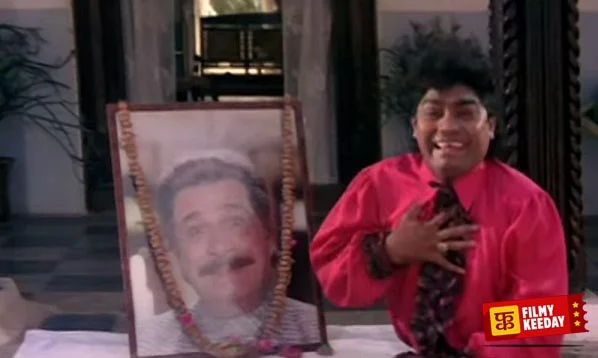 The comedy king of Indian cinema, Johnny Lever plays the role of Hiralal who falls in love with a mute girl and tickles our funny bones. He has the filmy keeda in him as he always tries to do a filmy scene at any cost: one such scene is amazingly funny where he asks his father to die as he wants to do a sad scene. What say?
Anay (Manu Rishi) in Ekk Deewana Tha
Ekk Deewana Tha is a Bollywood romcom film directed by Gautham Menon. The film stars Prateik Babbar and debutant Amy Jackson in lead roles. The story of the film is based on the love story between two young souls who come from two extremely diverse family backgrounds.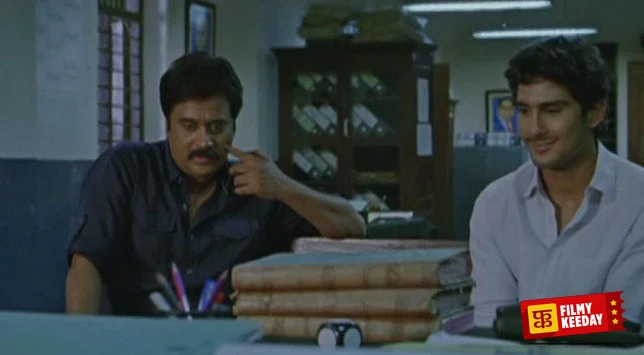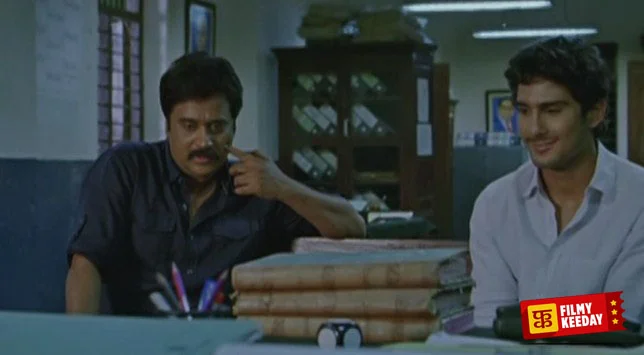 The film takes the audience to a Kerala tour and shows lovely cinematography. Manu Rishi as Anay holds the film together with his natural style and entertaining one-liners.
Vijay Salgaonkar (Ajay Devgn) in Drishyam
Drishyam is an upcoming Bollywood thriller film directed by Nishikant Kamat. The film stars Ajay Devgn, Tabu and Shriya Saran in the main roles, coupled with Rajat Kapoor, Ishita Dutta and Mrinal Jadhav in supporting roles. Drishyam is the remake of the 2013 Malayalam film of the same name.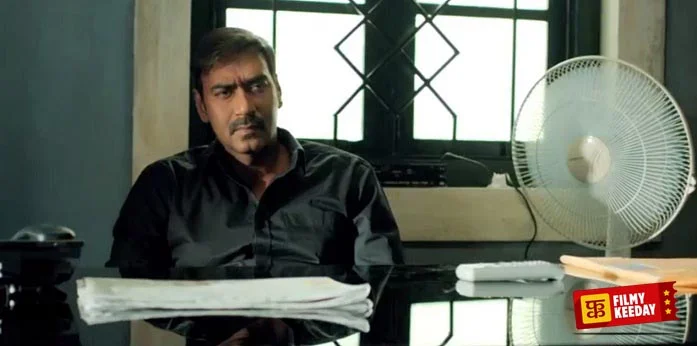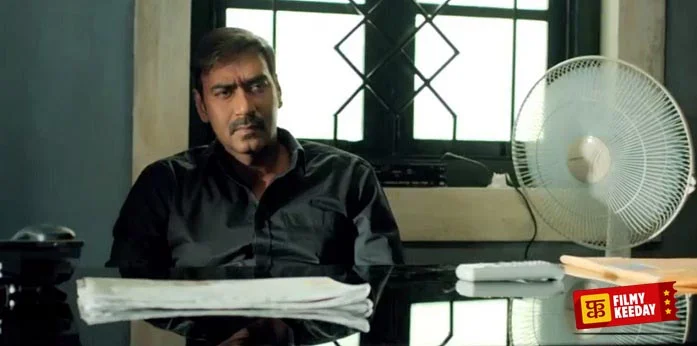 Ajay Devgn is playing the role of a Cable Operator, He is uneducated but by watching films he becomes very smart. This is not a comic role but you will see a true power of a movie freak. The film is going to see the versatile actress Tabu in a rough & tough look and the actress is going to play a more powerful role on the big screen in a police official's avatar. The film's success and box office record in Malayalam and Telugu makes it an iconic film in which the star actor Ajay Devgn is playing a middle class family man.