Two of the most well-known television versions of the ancient Indian epic, the Mahabharata, are Mahabharat by B.R. Chopra. While the Ramanand Sagar made Ramayana.
B.R. Chopra's Mahabharat is praised for its stirring language and endearing characters. Here are some memorable quotes from Mahabharat by B.R. Chopra.
Recently We have seen Adipurush with cheap oneliners and Dialogues, and it failed us in terms of Accuracy and reality.
Dialogues and oneliners of B. R. Chopra Mahabharat are quite famous, Sanskrit Shaloks and Geeta Updesh in the series give you life lessons.
B.R. Chopra Mahabharat Dialogues and Quotes
Vachan diya socha nahi, hoga kya parinam. Soch samajh kijiye, jeevan mein har kaam!
Jo hona hai wo tou hokar hi rahega. Manusha ka ye kartavya hai ke vartamaan ki jholi mei apna uphaar daalkar aage barh jaye!
Aas keh rahi shwaas se, dheeraj rakhna seekh. Maange bin moti mile, maange mile na bheekh!
Nath ke hote koi anath kaise ho sakta hai? Bhagwan kab kiske hath ko apna hath bana lete hain, koi nahi jaanta. Bhagwan kab kiski aankhon se kise dekh lete hain pata nahi. We kab kiske pairon se chalkar kiske paas jate hain, ye kewal wohi jaante hain!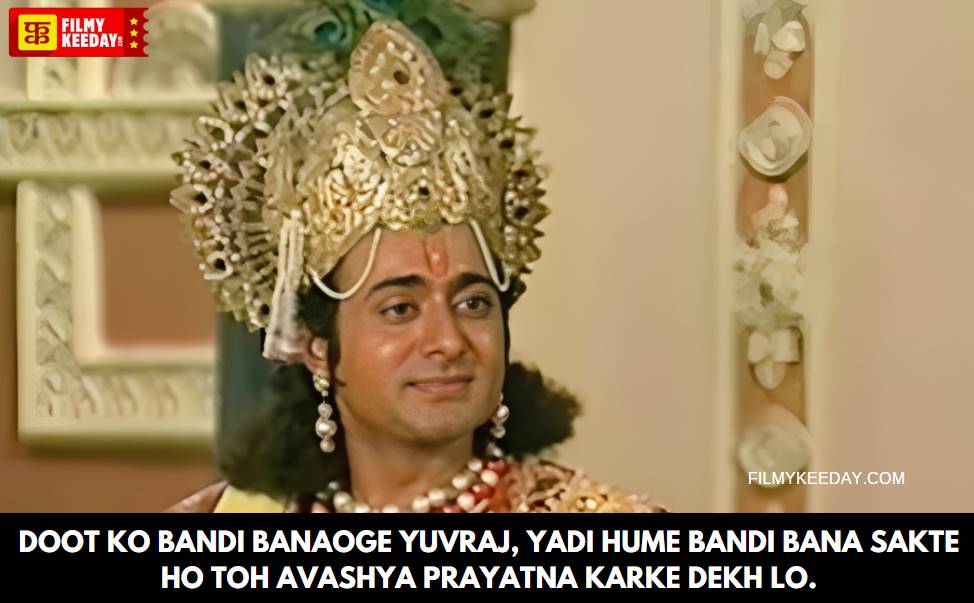 Main to Shunya hoon, Akela hoon to mera koi arth nahi…
Mere paas jo bhi aata hai, kuchh maangne hi aata hai – Karna
Aaj bhi aapko mere liye aapki mamta nahi layi hogi mere paas, aapka koi uddyesh laya hoga mere paas, aapko aapka koi swarth laya hoga mere paas — Karna
Aap ki aansoowo ki Ganga me snan karke mai to dhanya ho gaya Maata- Karna
To He Maata, yudhh ka jo bhi parinaam ho, aapki paanch putra jeevit avashya rahenge, Aap ke putro ki ginti nahi bigdegi Maate, nahi bigdegi — Karna
Doot ko bandi banaoge Yuvraj, Yadi hume bandi bana sakte ho, to avashya prayatna karke dekh lo.. – Shri Krishna
Jisse har disha har vastu me main hi dikhai du, wo to kabhi bhatak hi nahi sakta, Jo mujhe nahi bhulta main usse nahi bhulta parth… Shri Krishna
Rajneeti me aise murkhon ka apna hi ek sthan hota hai, jab chahe inhe baan bana kar kisi ki aur chala do.. Shakuni
Hey Parth, Satya Indriyon ki pohoch ke paar hai… Shri Krishna
Ant me vijay Satya hi ki hogi.. Shri Krishna
Yada yada hi dharmasya glanir bhavati Bharata, Abhyutthanam adharmasya tadatmanam srjamy aham. (This famous dialogue is spoken by Lord Krishna and signifies that whenever there is a decline in righteousness and an upsurge in unrighteousness, at that time He manifests Himself to protect the virtuous and destroy the wicked.)…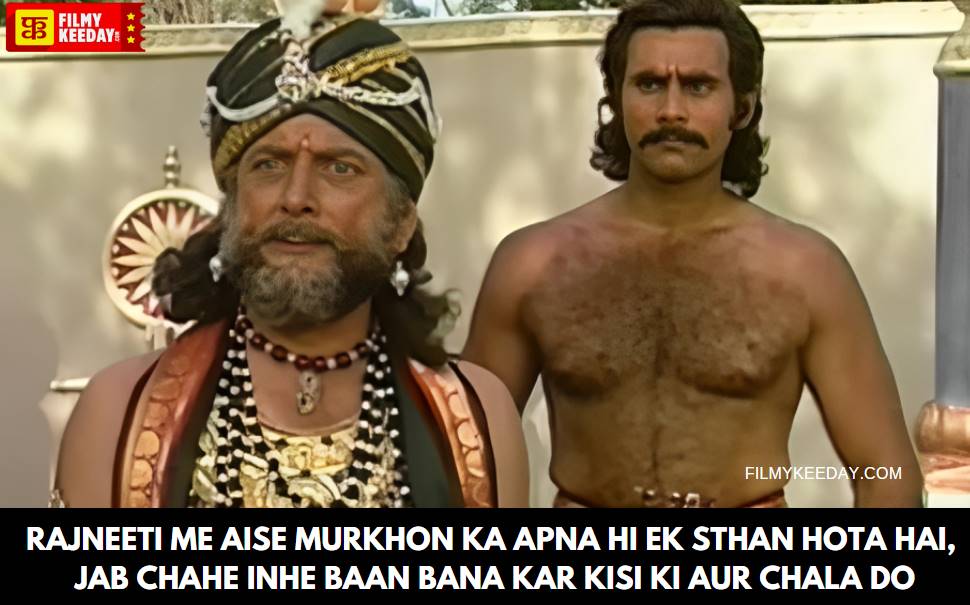 Main samay hoon, samay ke anukool kar raha hoon. ..
Dharmo rakshati rakshitah…
Krodh par vijay paana aur shaanti ko haani pahunchana, ye dono hamesha haara kar aate hain….
Yudhishthir, dharm ka vah akela raasta hai jo sabse sukhi banaata hai….
Koi bhi karyashil vyakti apna lakshya nahi bhoolta..
Duryodhan, insaan apne karma ka fal bhogta hai, use bhugatne ki aavashyakata nahi hoti
Vasudev, main aapki sharan mein aaya hoon. Aap mujhe is sangharsh se paar karne ki shakti dena
Sansar me gyan ke samaan pavitra karne wali na hi koi vastu hai na hi koi tatva.. Shri Krishna
Bahubal ki baat to mujhse karo hi mat gandhari nandan, main to keval parth ka sarathi hoon, ashtra aur shastra to main uthane wala hi nahi hoon — Shri Krishna
Main arjun ke vaano ke ghav sehen kar sakta hoon, par apnaan ka ye ghav sehen nhi kar sakta – Karna.
We know there are thousands of other dialogues in the Mahabharat TV Series, but we can not put all of them in one blog post, if you remember some of them, then do share in the comment section.