Adipurush has been released in cinema halls and some fans are enjoying and some are criticizing the film for bad VFX and costume design, other than that people are angry with the dialogues of Adipurush, there are plenty of cringe oneliners in Adipurush, which is not suitable for this Indian Epic story.
Adipurush makers tried to make it a modern-day Ramayan but ended up ruining the Indian epic.
We are sharing some dialogues from Adipurush, Including cringe dialogues written by Manoj Muntashir Shukla, Some of these Dialogue lyrics are good and some are super cringe.
WTF Scenes in Adipurush
Dialogues of Adipurush in Hindi
Cringe Dialogues of Adipurush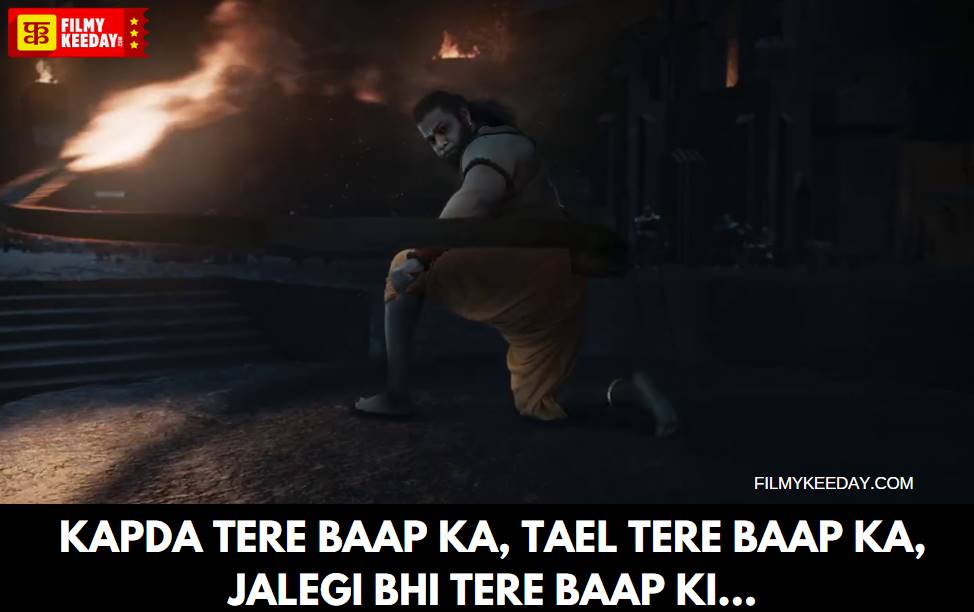 Kapda tere baap ka, Tail tere baap ka, jalegi bhi tere baap ki…
Teri Bua ka Bageecha hai kya, jo hawa khane chala aaya…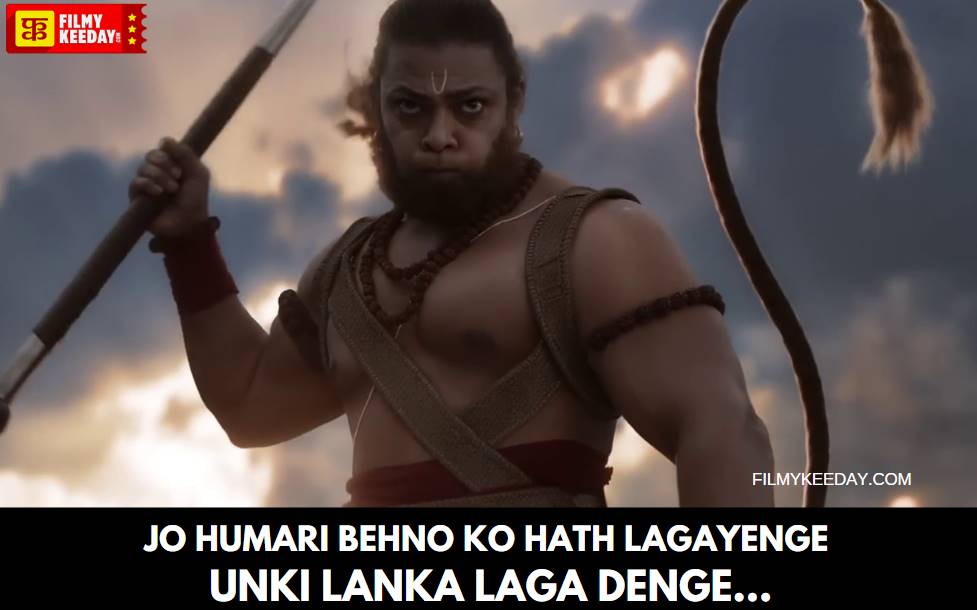 Jo Humari behno ko hath lagayenge unki lanka laga denge…
Aap apne kaal ke liye kaleen bicha rahe hain..
Mere ek sapole ne tumhare sheshnaag ko lamba kar diya, abhi to pura pitara bhara pada hai….
Other Dialogues of Adipurush Hindi Version
Hum janm se nahi karm se Chote ya Bade hote hain…
Raghav ne mujhe paane ke liye shiv dhanush toda tha, Ab unhe ravan ka ghamand todna hoga…
Aaj mere liye mat ladna, us din ke liye ladna, jab itihas me tumhara naam sunkar samman se sar jhuk jayenge…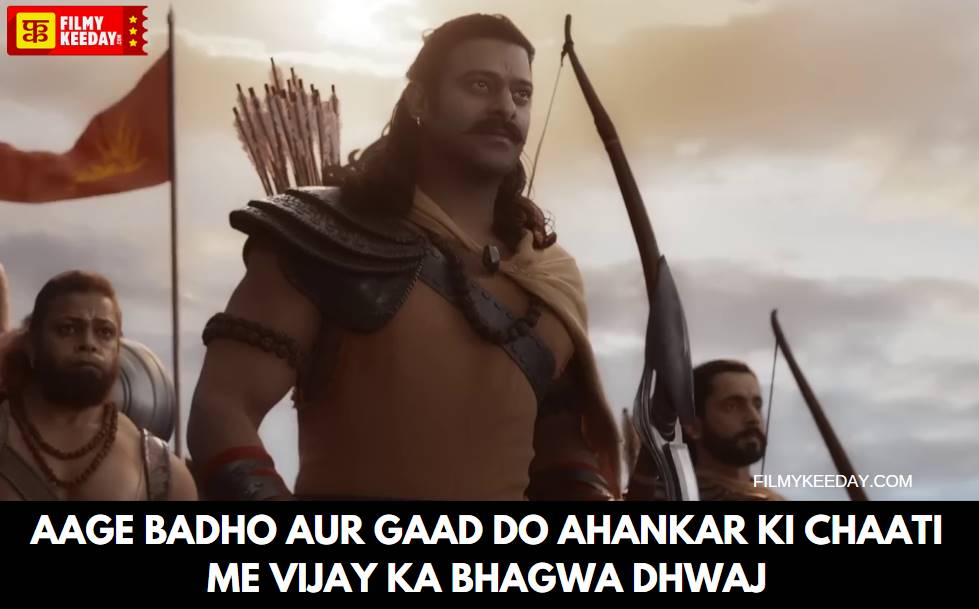 Aage badho aur gaad do ahankar ki chaati me vijay ka bhagwa dhwaj…
Bhramand me jo bhi paane layak hai wo tu paa chuka hai, phir bhi tu rakshas hi hai, laxmi ko paa le narayan ho jayega…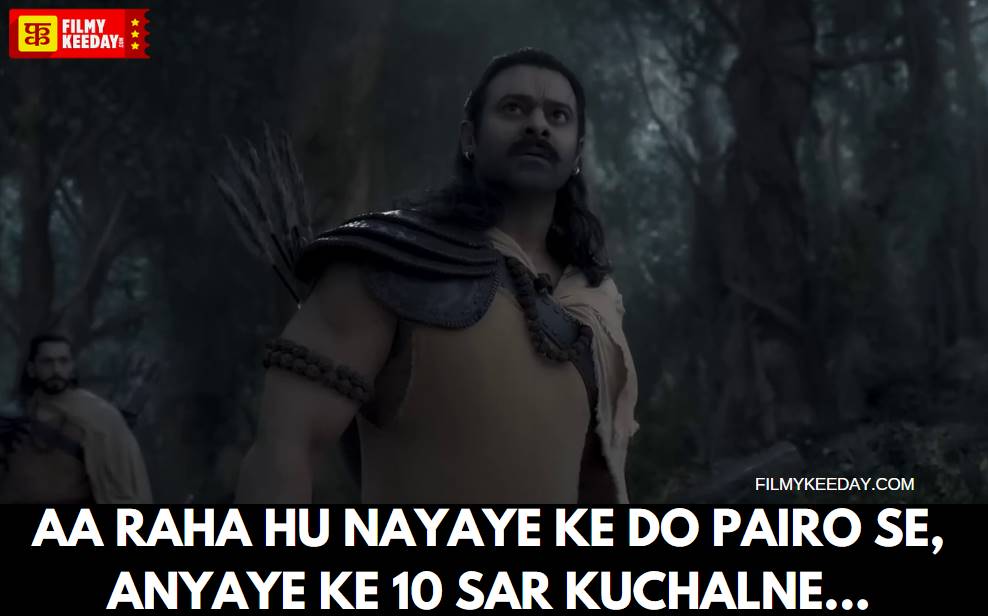 Aa raha hu nayaye ke do pairo se, anyaye ke 10 sar kuchalne…
Aaj mere liye mat ladna, us din ke liye ladna, jab bharat ki kisi beti par hath dalne se pehle, durachari tumhara pauroush yaad karke tharra uthega..
Main Ishwaku vanshaj raghav, aapki chhati me brahmastra gaadne ke liye vivash hoon…
Ek Dashanan 10 raghav par bhari hai…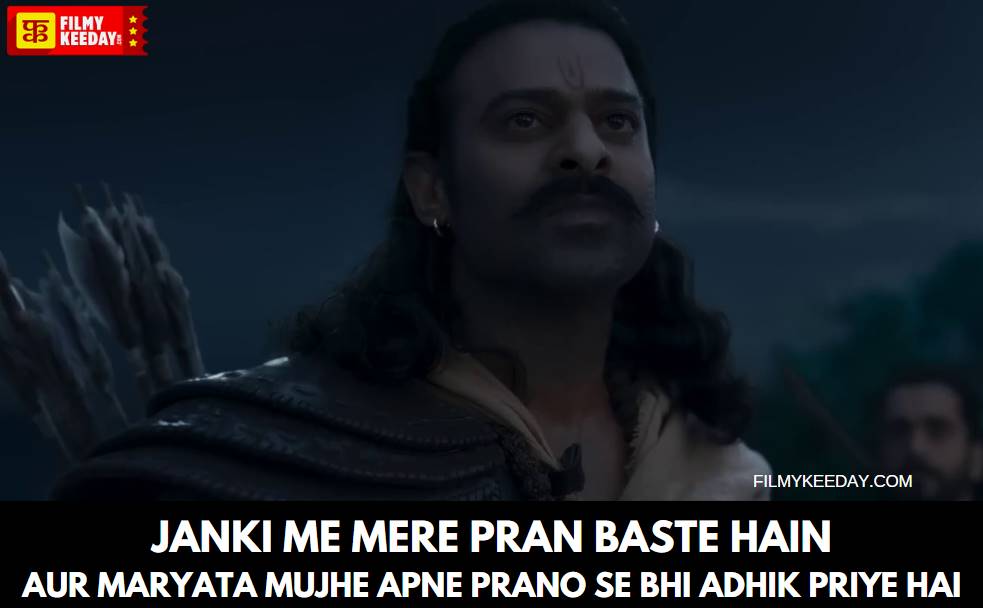 Janki me mere pran baste hain aur maryada mujhe apne prano se bhi adhik priye hai
Paap kitna bhi balwan kyu na ho, ant me jeet sach ki hi hoti hai…
Teri Lanka me itna sona nahi ki janki ka prem khari sake…
Now share your favorite dialog of Adipurush, or you can share which one is the worst one-liner from Adipurush in Hindi dubbed version.