Bollywood heroines are known for their oomph factor, but what when these pretty girls turn into Action Girls of Bollywood? We loved them in Girl next door looks, Seductive looks, Hot looks and now most of all Heroines want to try their hand in Action. Let me tell you, as they look stunning in their Hot avatars, they look really dangerous, ready to stab your hearts in Action avatars.
Best Action Heroines of Bollywood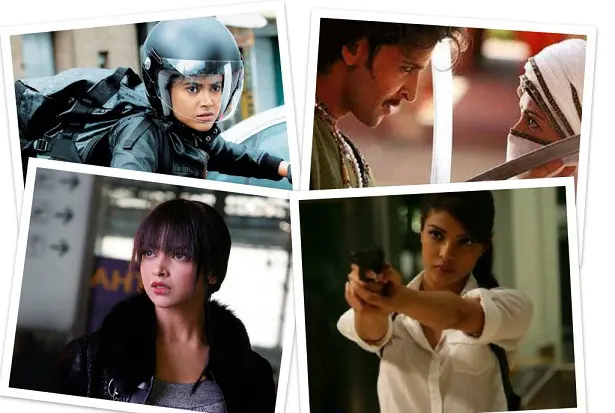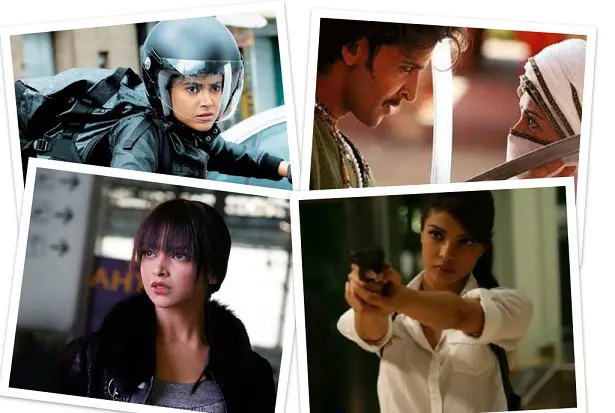 Also read : Hollywood Actresses of Indian origin
Priyanka Chopra
The actress tops the chart for being the Best action Heroine. Priyanka has done a series of Action movies, starting from the Movie, Drona. In Drona, Priyanka played the role of a Bodyguard, she got trained in Gatka, Kapora and special Martial Art lessons. And she didn't stop with Drona, she went on with Don 2.
Bipasha Basu
Bipasha Basu gave Priyanka a tough competition when it comes to action. This Bong beauty broke the tag of B Doll gave everyone a surprise with her stunts and action in the movie Dhoom 2. Apart from Dhoom 2, Bipasha has tried her hand in action in the movies like Gunaah, Race, Players and now her upcoming Hollywood movie, Singularity shows her as a Maratha Warrior.
Katrina Kaif
Katrina Kaif the cute Barbie Doll of Bollywood, has played the role an ISI agent in the movie Ek The Tiger with Salman and has done many stunts which kept the audience in shock. Kat will be seen doing more stunts in Dhoom 3 with Amir Khan.
Deepika Padukone
Deepika is one of the best actresses of Bollywood, she has given many hits, super hits and even Blockbusters. She tried her hands in action stunts in the movie Chandni Chowk to China and Race 2. Her fans loved her in this Action avatar as much as they loved her in Glam avatars.
Aishwarya Rai
Aishwarya Rai Bachchan is known as the one of the most beautiful actresses of Bollywood. This actress broke her image and tried her hands in stunts in the movie Dhoom 2 with Hrithik Roshan. She also played with the Sword in the movie, Jodha Akbar. Apart from Bollywood movies, Aishwarya has also been part of a Hollywood movie, The Last Legion. She played the role of a character who is well trained in the Martial Art form of Kalarippayattu.
Kareena Kapoor
When all top notch heroines were trying their hand in Action, how can Kareena stay away from it! Kareena Kapoor Khan did Agent Vinod & Ra.one and showed the world that she is not less than any other actress. She did a marvelous job in both the movies.
Also Read : MMS Scandals of Bollywood
Kangana Ranaut
The latest in the list of Action heroines is Kangana with Krrish 3. Although the movie has not been released yet but the trailers tell the whole story. Kangana has done a great action work and lots of stunts in the movie. Kangana has undergone Karate, Judo and Taekwondo lessons to prepare for the role.
Sameera Reddy
Sameera Reddy is someone who has not got much appreciation as an actress but when it come to action heroines, the list is incomplete without her. Yes, she has done amazing action stunts on Bike in the movie Tezz.