Story of a young hacker named "Mickey" (Manish Paul) who has no specific agenda in life except for having fun with friends and fooling around with his hacking pranks. At the same time, Delhi police is cracking a cyber criminal case led by ACP Siddhanth (Manish Chaudhary) who takes help from Mickey to solve it. But things aren't as simple as Mickey thinks, he is unknowingly trapped in a big robbery plan.
Mickey and his friends are masters in hacking but nothing more in life except roaming around, watching porn, eating chow-mein, watching porn, playing pranks and yeah watching p*rn.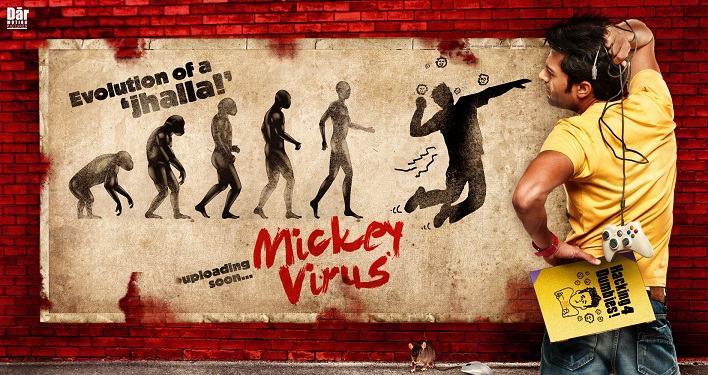 It starts with a song (Pyar China ka maal hai) shot at Nehru Place of Delhi which is (in)famous as market for pirated software, hardware. Also, a hangout place of this hacker's gang where they exhibit their skills.
Mickey, along with Puja Gupta (Chutney) dupes people in online gaming where he plays with an avatar called "Kung-Fu Chameli" who looked like Savita Bhabhi to me.
ACP tries to pull in Mickey to help solving a cyber criminal case. His attempts might look similar to the scenes in Vicky Donor where Anu Kapoor tries to lure in Vicky (Ayushmann Khurana) at various streets of Delhi. There he meets Kayamini George (Elli Avram) who is look-alike of his virtual gaming character- Kun-Fu Chameli and falls in love with her. First half is all about Mickey's adventure and romance.
Twists and Thrills starts after interval when cards start turning out. Mickey starts realizing that he is trapped. He is confused and unknown of the people is really working for. Is Police really solving the case? Are his friends for real and helping him out? Is his girlfriend involved in the plan?
All these mysteries are unfolded in second and movie starts getting better. But at this moment, many could have already lost their interest because of sluggish storyline and mind-boggling techie-not-so-funny dialogues.
Final Words
On acting part, I would really like to appreciate Manish Paul. You may only seen him anchoring on stage but he has handled everything brilliantly on screen single-handedly. Manish Chaudhary is born to play Policeman's role and Varun Badola is good in his part. Others aren't worth mentioning about.
Talking about Direction, it is Saurabh Varma's first attempt and he has touched the topic of Hacking on which not many films are attempted in Bollywood. Also, he has tried to tell the story of those genius minds left unemployed and unappreciated in Indian system who turn out to indulge in crimes for money.
On the whole, Mickey Virus will be liked by Youth who spend most of the time with technology. You don't have any other good option this week so, get your tickets if you have a spare time.
Filmy Keeday Ratings
3 Stars