Madras Cafe Star Cast
John Abrahan
Nargis Fakhri
Raashi Khanna
Synopsis of Madras Cafe:
Movie is based on Historical events. Rajiv Gandhi's death & assassination and Sri Lankan Civil war of 1980's. John Abraham (Major Vikram Singh) is on a RAW mission to get the head of LTF group, Anna,but when he reaches Sri Lanka and goes deeper in it, he finds out more than what he ever knew.
What I feel About Madras Cafe: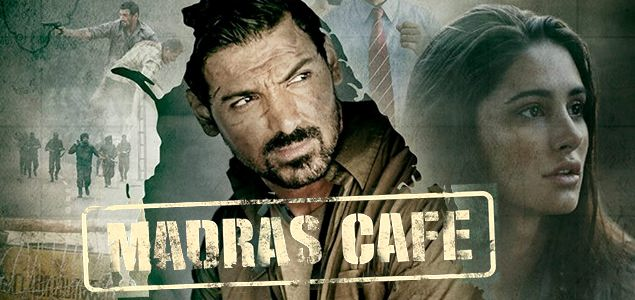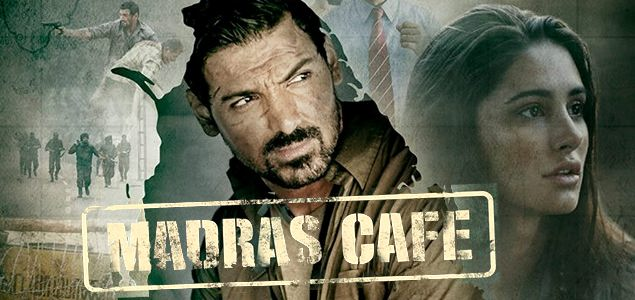 Shoojit Sircar has shown great caliber to make a movie on the sensitive Historical events, He has to go through allegations and controversies. Many groups have also warned him of agitations but Shoojit knew what he made. Shoojit is brilliant director and this movie shows it all. He has beautifully taken care to be extra sensitive with these sensitive events.
The cast is perfect for the movie. New comer Raashi Khanna doesn't get much a chance to show her potential. It's not at all a masala movie, it's a movie that gives you chills, is a thriller full of suspense and will take you to the history.
Story of Madras Cafe:
Major Vikram Singh shares his life story with the Father of a church in Kasauli. He feels himself guilty of PM's Assassination, he could have saved him but he couldn't. The real story starts now, Raw sends Major Vikram Singh on a mission to Srilanka to tackle the Issues with Anna, Anna is the leader, who wants his own land for Tamilian's and is against PM. John's mission is going well when something goes wrong and every plan of his seems to fail. He has to come back to India without completing his mission. then he found a some conversation in which Anna plans to Kill the ex Prime Minister, He decodes all he could and finds out the attack planned for Ex PM in an upcoming campaign. He tries his level best to save Ex PM but all waste. Great suspense and thrills keeps you hooked on your seats.
The rest of the story is awaiting you at your nearest Cinema. Real AK 47's have been used in the movie. Read More Facts about Madras Cafe HERE.
Verdict:
The Story will not hold you on your seats, great cinematography and John is at its best. The movie is great and I didn't find any reason for controversies. A must watch for people who like cinema, a Big NO for those who watch movies just for fun, masala and time pass, because you might get bored.
Madras Cafe Full Box Office Report
Domestic Box Office Collection
1st Day Collection/ Opening Day Collection- 4 Cr Expected
2nd Day Collection
1st Weekend Collection
1st Week Collection
2nd Week Collection
1 Month Collection
Overall Collection
Filmy Keeday Rating:
3.5 Stars

[poll id="7″]