All you want to know about Madras Cafe
About Movie:
Madras Cafe is directed by Shoojit Sircar, who has earlier directed movies like, 'Yahaan' and 'Vicky Donor'. Madras Cafe is a Thriller story revolving around a Spy, starring John Abraham, Nargis Fakhri and Rashi Khanna. The movie shows assassination of Rajiv Gandhi. The movie got its name as the plot to kill Rajiv Gandhi was planned at a Cafe. The movie also shows the civil war between The Tamil Tigers and The Sri Lankan Regime.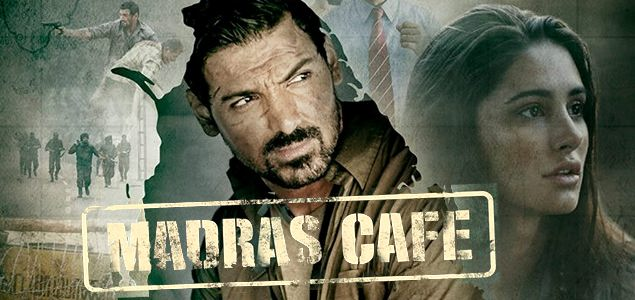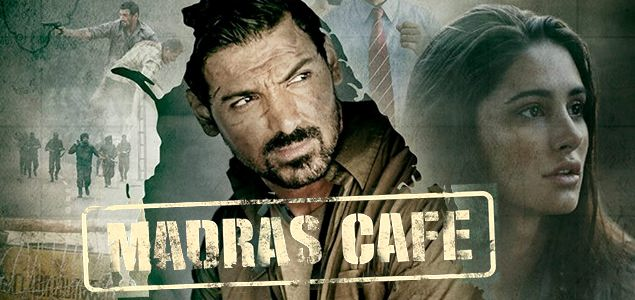 Madras Cafe: Facts
The film was titled, 'Jaffna' but was then changed to 'Madras Cafe'.
Tha narration of the film was done in 2006, but got delayed for unknown reasons.
Madras Cafe is shot in, Sri Lanka, India, Malaysia, Bangkok, Thailand and London.
The movie depicts some civil war scenes, which were shot in Bangkok.
Real Ak-47's, 9 mm Berettas and M60's were used to give the movie a more realistic feel.
The movie shows the assassination and the way Rajiv Gandhi was killed.
Madras Cafe is based on real events but is fictional, although these real events are the cause of many controversies, this movie is going through.
Madras Cafe: Controversy
The real event shown in the movie about Rajiv Gandhi has landed the movie in controversy, although the director says it's purely fictional, but controversy doesn't find any end to it. Rajiv Gandhi was killed at an election rally in May 1991 by an LTTE suicide bomber, the movie shows a similar incident which is the reason of the controversy.
The movie shows LTTE as terrorists which has raged anger in the Tamil activist group, Naam Tamilar Katchi, who now demands a Ban on the movie. They have even requested, Chief Minister Jayalalithaa to interefere and seek a Ban on the film. Although CBFC (Central Board of Film Certification) has given the movie a green signal.
Pattali Makkal Katchi alleges that the  movie is Anti-Tamil and seeks ban for using Pro-Tamil outfits like Naam Tamilar Katchi. The Madras High Court dismissed the petition seeking a ban on the film. Pro-Tamil groups have vowed not to allow films screening and warned of agitations. Now film seeks police protection for the release.
Madras Cafe: Official Trailer
Madras Cafe: Film Review
Coming Soon!
Madras Cafe Box office report
Total Worldwide Collections
47.70 cr*