Satyagraha
Satyagraha

Star Cast
Amitabh Bachchan
Ajay Devgn
Manoj Bajpai
Kareena Kapoor
Arjun Rampal
Amrita Rao
Satyagraha Synopsis:
The movie is about 'Satyagraha' in a literal sense, when corruption leads its way leaving the common man suffocated. Few men gather to show the whole world that 'We Can'. We can stand and fight for our rights, We can fight injustice and We can fight corruption. We can be ONE.
What I feel about Satyagraha :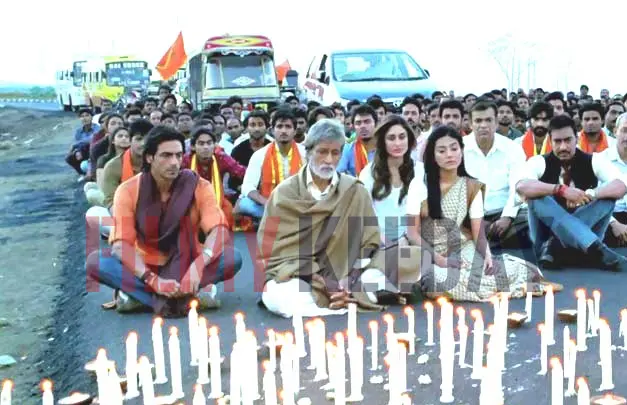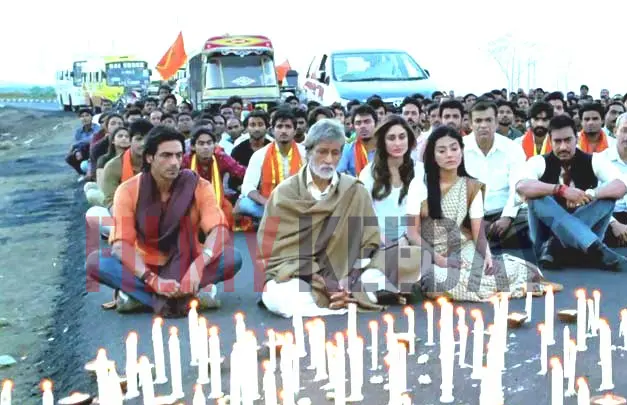 Like all Prakash Jha movies, this movie too shows you the reality of Politics and Corruption in India. Prakash Jha movies always end up making the audience emotional for their country, His movie gives a sense of confidence to every common man that he is not that common. This movie also does the same. This is the best time for Satyagraha Release, as Indian currency is losing its value and the common man is upset, this kind of movie can give a kick start to common man to fight for their rights.
This movie will surely remind you of Anna Hazare's Jan Lokpal Andolan!!
Also Check : Best Bollywood movies on Indian Politics
Story 0f Satyagraha :
Dwarka Anand (Amitabh) is an Ideal man, retired from the post of teacher. His young daughter in law, Sumitra (Amrita) who is a widow, is upset by going and giving applications daily at government offices to get compensation, announced by Minister Balram (Manoj Bajpai) for Akhilesh's death (Sumitra's husband). Furious Dwarka slaps a government official and is imprisoned. Manav (Ajay Devgn), Akhilesh's friend starts gathering people by using social media, he also gets Arjun Singh (Arjun Rampal) and a journalist Yasmin (Kareena). They all start a fight against corruption.
What happens next? Will they be able to move government? For answers you must go and watch the movie. Actually, Every Indian must watch this movie.
Satyagraha Verdict:
The movie's star cast is amazing. Amitabh Bachchan has done a marvelous job as ever. Manoj Bajpai as a corrupt minister has shown all evil colors he could. Ajay, Arjun, Kareena and Amrita have also given a great performance. This movie is a waking alarm for all Indians.
With the corruption getting bigger every day, the common man can easily relate himself to this movie, the audience will surely love this movie and the movie is going to be a blockbuster.
Satyagraha Filmy Keeday Rating:
3 Stars watch Only for Amitabh bachchan and Manoj Bajpayee

[poll id="9″]