We all love Bollywood movies, don't we? But have you ever realized or came across any mistake or bloopers…. Don't worry, here I am with few Bollywood mistakes and Bloopers, and mind you some of them are really funny. Hope you will enjoy reading them, and if you do, don't forget to leave a comment.
Mistakes in Bollywood Movies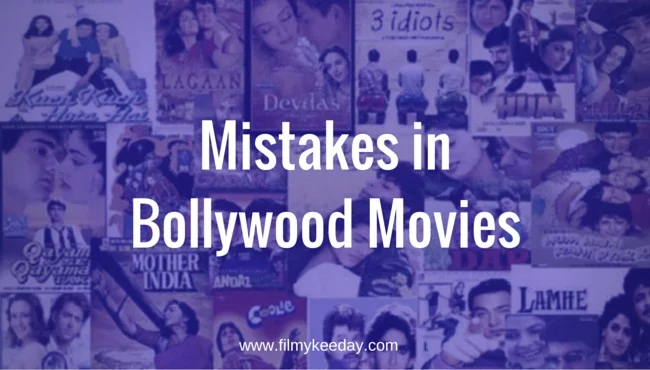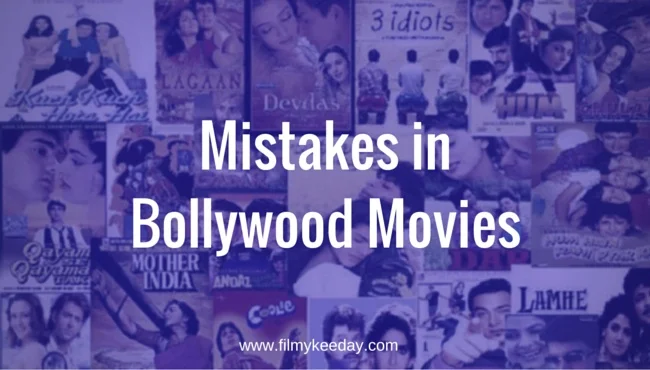 Hum Dil De Chuke Sanam
Famous scenes shot on the Szechenyi Chain Bridge is in Hungary, But Aishwarya and Ajay went to Italy to search Salman, OOPS.
Aishwarya and Ajay were robbed in the movie and the robbers shot Aishwarya in the neck…. And the time she reaches Hospital, only her arm is bandaged :p (Bollywood's miracle)
Dilwale Dulhaniya le Jaayenge
Do you guys remember the first meeting of SRK and Kajol in the train, accidentally Kajol's bag opens and it was very clear that she grabbed all her belongings from the train floor? From where did SRK finds a BRA then, I still wonder …… A forced punch to the movie… But we caught it.
Baazigar
Amazing movie, right? But did you realize when SRK pushed Shilpa off from the terrace, she falls down breaks the glass of the hotel? But when SRK is eloping from the hotel, I could see the same glass there perfectly… Explain me How????
Housefull
Remember the last scene of the movie when Akshay visits Buckingham Palace in London. Tempo traveler to refill AC Gas arrives with a Karnataka regd number, KA-51** … Lolz Karnakataka Gas Refillers are quite famous in London I guess.
Main Prem Ki Deewani Hoon
The most stupid blunder you could ever see, towards the end when Abhishek and Kareena are almost engaged and Hrithik arrives. Kareena slaps him and pulls herself down holding Hrithik's shirt. The part of shirt tears, revealing the tattoo. What fabric shirt was it ??? What an idiotic way to disclose the secret.
Bhoot
Rekha arrives at Ajay and Urmila's flat, climbing stairs wearing high heels, next frame and its flat shoes, and then again it's High heels. Bhoot was playing with Rekha's footwear :p
Chalte Chalte
Rani is going back to Spain to get engaged to the guy her parents have chosen. SRK comes along, But how in the WORLD did he got Spain's Visa in a day… Weird or do I say Funny
Baghban
The whole family celebrates Holi, and then Hema and Amitabh get separated for 6 months. Holi comes in March, 6 months means (March- September). How come they celebrate Karva Chauth and Valentine's day. Grrrrrrrrrrr what's up with Bollywood Calender now
Krrish
Rohit worked for the Professor for two years continuously. He was about to come back to India. How come Preity got pregnant if, Rohit was away for 2 years? Was that Jadoo ka Jadoo. Ha-ha
Kabhi Khushi Kabhi Gham
K3G is set in 1999 and is full of bloopers and silly mistakes.
Amitabh used Nokia 9000 communicator in the movie in 1991, But Nokia launched the phone in 1996…
Amitabh sang the song "Aati Kya Khandala" in the movie again in the flashback in 1991, but Ghulam released in 1998. Wow… Nice blunders
Amitabh is shown watching LCD Tv, It wasn't even heard of at that time. Was it?
Hrithik arrives college in a red convertible Lamborghini Countach, Later he is shown in a silver Mercedes!!! No words to say
Kareena goes to prom wearing a red scarf, which turns into a red coat when she reaches prom. What's the secret of this magic Kareena???
Very clearly Hrithik points out Kareena's two different sandals on which Kareena replies, "It's fashion" and leaves for prom. Ouch, she is wearing red stilettos at the prom.