It is February 2024, the month of celebrating love and painting the whole world in the colors of Love and romance. People buy gifts, plan surprises and dates, but isn't that all so old and boring? So we tried to curate the best Romantic films for Valentine's day.
Why don't you try something different this year? If you both love movies, then this can be the best Valentine for you both. Here are the 15 best Romantic movies that can make your Valentine's Day the best Valentine's Day. Some candles, you and your beloved, and a romantic movie bring you both a little more closely. Relax and have a romantic time watching these must-watch romantic movies this Valentine's Day with your Valentine.
P.S- The list of Must Watch Romantic Movies on Valentine's are in random order.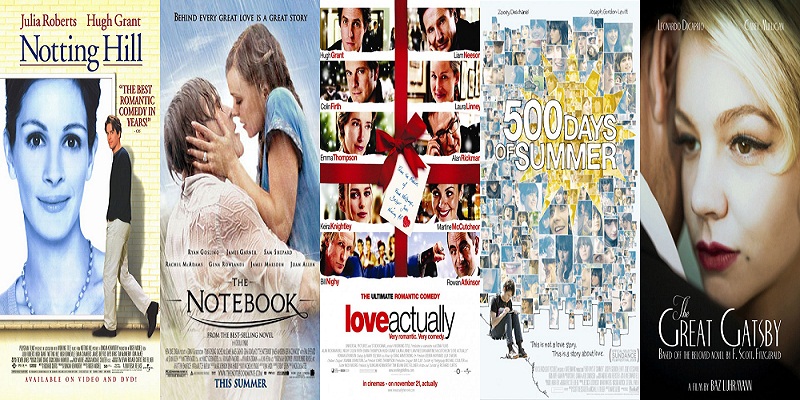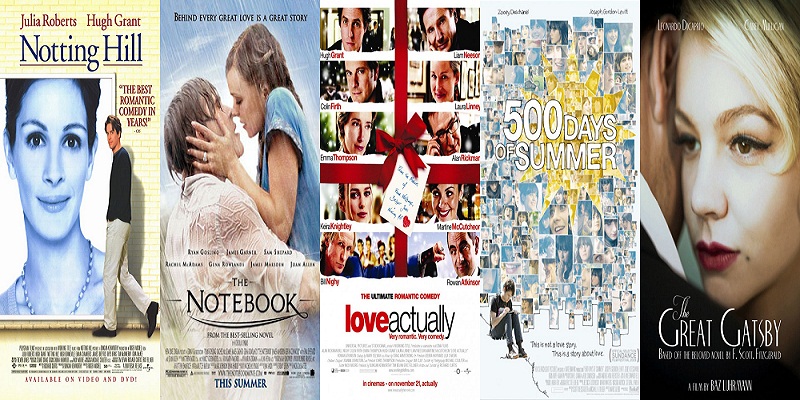 Notting Hill (1999) IMDb- 6.0
A beautiful famous film star meets a simple book shopkeeper and their life changes forever. The movie stars Hugh Grant and Julia Roberts.
The Notebook (2004) IMDb- 8.0
A rich girl falls in love with a poor boy and they get married, soon to get separated because of their social difference. But Love has no ending, Love always finds ways and so does they do. The movie stars Ryan Gosling and Rachel McAdams.
Love Actually (2003) IMDb- 7.7
The movie is about 8 couples and their love stories during Christmas. The movie stars Alan Rickman, Heike Makatsch, Hugh Grant, Martine McCutcheon, Liam Neeson, Thomas Sangster, Olivia Olson, Laura Linney, Rodrigo Santoro, and a few more.
500 days of Summer (2009) IMDb- 7.8
Romantic Comedy about a man who falls in love with a pretty girl. But the problem is the girls just don't believe in true love. The movie stars Joseph Gorden and Zooey Daschanel.
The Great Gatsby (2013) IMDb-7.4
A man returns back to find his love whom he has lost in the past. She is now married to a wealthy man. He tries every possible way to get his love back. The movie stars Leonardo DiCaprio, Cary Mulligan.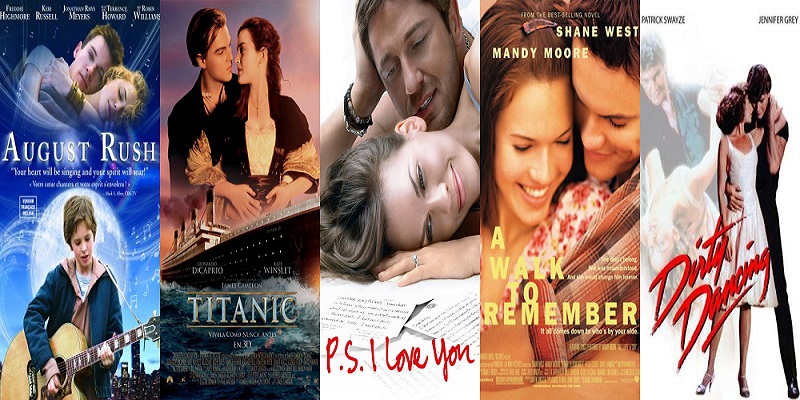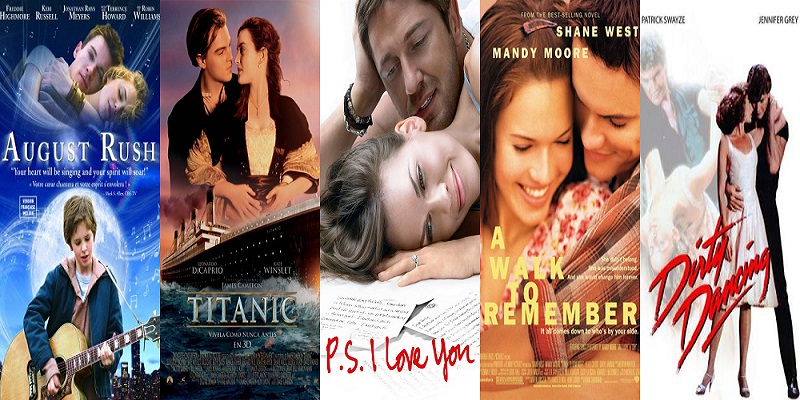 August Rush (2007) IMDb- 7.6
The story is of an Orphaned child who is gifted music in his blood. He finds his lost parents who were madly and deeply in love, but their destinies didn't let them meet. The movie stars Freddie Highmore, Keri Russell, and Jonathan Rhys.
Titanic (1997) IMDb- 7.7
A rich committed girl meets a common man on a luxurious ship named Titanic. They both fell in Love on the ill-fated ship, Titanic. In the shipwreck, Jack loses his life and saves his beloved Rose. The movie stars Leonardo DiCaprio and Kate Winslet.
P.S I Love You (2007) IMDb- 7.0
A young man before his death writes 10 letters to his beloved wife. The young widow forgets how to live until she finds a letter with a promise of more letters following up. These letters teach this young widow to live her life again. The movie stars Gerard Butler and Hilary Swank.
A Walk To Remember (2002) IMDB- 7.4
Two teens fall in love with each other. But Love cannot fight destiny, The girl is suffering from a rare form of leukemia and has got just a few months. The boy just to fulfill his beloved's wish is asking her to marry him. A grand wedding with a dying bride taking a walk on the aisle, a walk to remember!
Dirty Dancing (1987) IMDb- 6.8
The musical romantic movie is about a girl who has on a holiday camp with her family. The young girl meets a man who is a dance instructor and falls in love with him. And the couple is very much in love with dancing as well.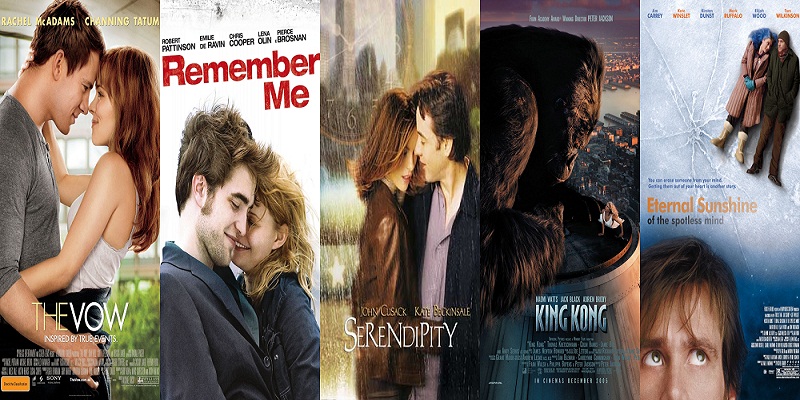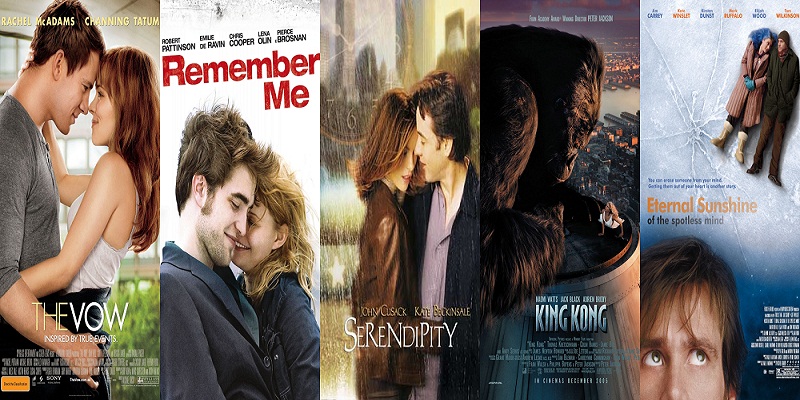 The Vow (2012) IMDb- 6.8
Paige meets a car accident and goes into a coma. When she wakes up, she has severe memory loss, she even forgets her husband. But the vows taken during the marriage don't let Leo sit hand in hand. Leo woos his beloved wife again and wins her heart. The movie stars Rachel McAdams and Channing Tatum.
Remember me (2010) IMDb- 7.2
The movie is about two lovers, the girl had seen her mother being murdered at a very young age. Tyler's parents have split and he is just living for the sake of living. These lovers are enjoying their newfound love when Tyler dies. Tyler is in the ill-fated Empire State Building just when the plane crashed into it.
Serendipity (2001) IMDb-6.9
A couple meets accidentally and falls in love, but to find out if the love is actually true love they get separated. They don't even ask each other's name, contact details, or anything with just 1 belief that if their love is true, destiny will make them meet again. The movie stars John Cusack and Kate Beckinsale.
King Kong (2005) IMDb- 7.3
The movie is about a unique love story of a giant ape and a beautiful young woman. A movie producer tracks down a giant ape and brings him to the city. The giant ape falls madly and crazily in love with Ann Darrow. The movie stars Naomi Watts.
Eternal Sunshine of the Spotless Mind (2004) IMDb- 8.4
A couple after breaking up undergoes a procedure that erases all their memory related to a particular person. But when going through the memory-erasing process, they discover what they have to begin with. The movie stars Jim Carrey and Kate Winslet.