Piku is a Bollywood Comedy Drama film starring Deepika Padukone in the titular role. Amitabh Bachchan and Irrfan Khan are also in the lead roles. Piku is about the father-daughter relationship, in which daughter treats her father as her child. Piku is distributed by Yash Raj Films and directed by Shoojit Sircar.
Piku Starcast
Directed by
Shoojit Sircar
Produced by
N.P. Singh
Ronnie Lahiri
Sneha Rajani
Written by
Juhi Chaturvedi
Screenplay by
Juhi Chaturvedi
Starring
Deepika Padukone
Amitabh Bachchan
Irrfan Khan
Music by
Anupam Roy
Cinematography
Kamaljeet Negi
Edited by
Chandrashekhar Prajapati
Production Company
MSM Motion Pictures
Saraswati Entertainment Creations Limited
Rising Sun Films
Distributed by
Yash Raj Films
Release date
8 May 2015
What I felt after watching Piku?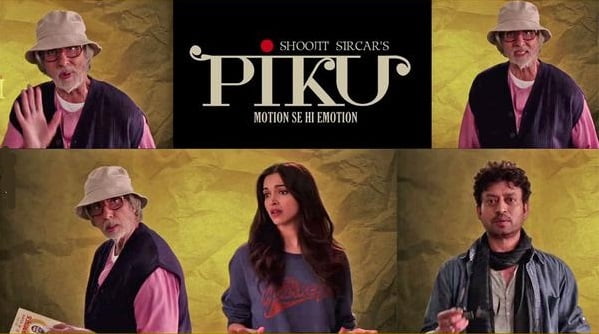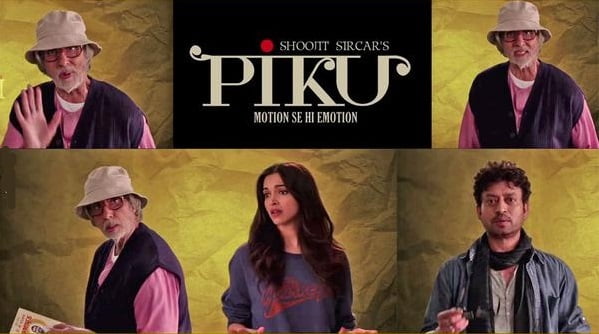 Piku is a beautiful film and according to me the best film of Deepika Padukone. There are many films on Father Son Relationship, but there are very few films on father-daughter relationships. Piku is probably the best film on this genre.
Deepika Padukone is just outstanding as Piku and we don't need to say anything about Amitabh Bachchan and Irrfan Khan.
Piku is a comedy-drama film, you will laugh, you will cry and you will fall in love with each and every shot of the film. the chemistry between all 3 actors is impressive and Deepika Padukone looks much better with Irrfan Khan than Shahrukh Khan. They were talking with their eyes, their Chemistry is rocking in this film and I am hoping they will do more films together.
Story of Piku
The story of Piku is simple and engaging. Piku Banerjee(Deepika Padukone) lives with her father Bhaskor Banerjee(Amitabh Bachchan) who is suffering from the constipation and he is like a stubborn child. Piku is a caring daughter and she treats him as her child. She is working as an architect. Rana Chaudhary(Irrfan Khan) runs Himachal cab service and
Rana Chaudhary(Irrfan Khan) runs Himachal cab service and Piku uses his cab service regularly. She is Stubborn like her father and all the cab drivers always refuse to drive her.
Bhaskor Banerjee wants to visit Kolkata piku wants him to travel by air, but he denies to go by air. so she agreed for the road trip to Kolkata. She books a cab, but all the drivers of Rana Chaudhary refuse to go with her, then he becomes the driver because she is his regular customer.
That journey will give you some cute moments between Piku and Rana.
We never share the complete story of the film, for full fun and enjoyment you must watch this film.
Piku Verdict
Piku is full of strong performances and Piku is one of the best Hindi Film of 2015. It will earn good at the box office and people will enjoy this one of the best film on Father and Daughter's Relationship.
Should I watch Piku?
Yes, Piku is a complete family comedy-drama film. you can enjoy Piku this weekend with your family. All Father and their daughters should watch this film together.
Piku Filmy Keeday Ratings
4 Stars