Olympic medalist, Asian Champ, 5 times world champion, though in ameture category but world champion, Padma Bhusan, Arjuna Award, Padma Shree, Khel Ratna, 3 kids, a humble background, now a Biopic & she is just 31. "Boxing is not about knock-outs, its about earning points", while you are reading this, she is all set for Asian Games 2014. Mary Kom is a story worth telling.
Its not as grand & commercial as Bhag Milkha was, & not as gross as Paan Singh Tomar, not as inspiring as Guru & not as thrilling as The Legend of Bhagat Singh. Mary Kom is emotional, it earns you tears. Count them as your perk for watching her story.
You may find it predictable, but, yes, its not a suspense thriller, its a Biopic, based on real life incidents of an iconic sports personality "Marte Chun Chun Kong" aka "Magnificent Mary". Though a Biopic, director went on to use cinematic liberties to narrate the story of a rigid & glamorous North-East girl, who is a fighter first & a boxer later. Omung Kumar, being an art director in his previous ventures, did well to show, Indians, the place Mary belongs to. Script too was good enough. But, even if you have everything & your screenplay has hitches, it counts alot.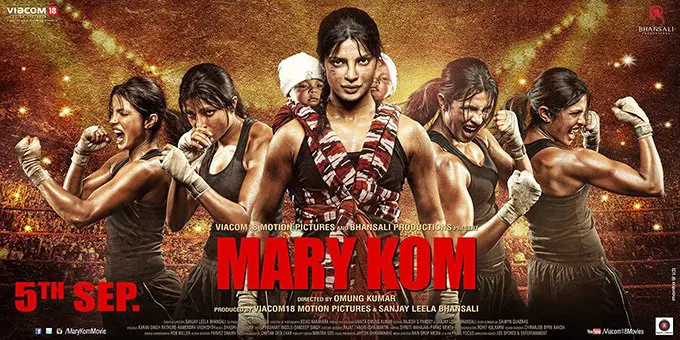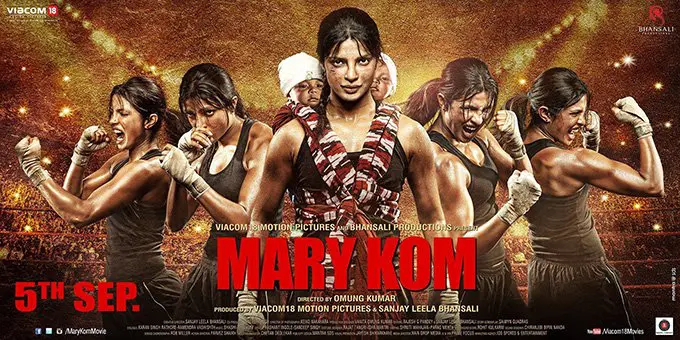 Mary Kom starts with a pregnant Mary struggling to deliver during curfew, in Manipur. Then a series of, disorganized, flash back followed to establish the real character she is. Flash backs gets over, & she starts 2nd innings, post marriage, post motherhood. She faced the unwillingness of her father to get into the boxing & reluctance of her 'Coach Sir' to be married. But was 'ziddi'. The relationship of Boxing & Mary was one of those 'No String Attached' type. She did what she wanted to & got unconditional & inspirational support of her better half, Olner Kom, played by Darshan Kumaar. Film also talks about how India is ignorant about Manipur ,basically North-East, (I don't know if thats really true) & how Boxing Federation, or any sports federation for that matter, treats sports persons, in India.
Mary Kom, the movie, comes from a big banner, but its not a big budget film. It looks quite modest. Limited character, effective & efficient actors. Not so known music director & writers, 1st time director.
They roped in a Nepali actor, Sunil Thappa, to play the 'Coach SIr', & he did well. Darshan Kumaar, too, is impressive. Priyanka Chopra proved, once again, that she is meant to push boundaries. The way she has managed to play Mary Kom, the exhaustive training session she went through, her so authentic voice. It won't be an over the top statement if I say 'we never had so able female actor'.
The music, Shashi Suman, Shivam, could have been better but "Dil ye Ziddi" is quite a song & the points goes to Vishal Dadlani's powerful throat. "Salaam India", too is a good number & again its the 'jugalbandi' of Vishal & Saleem Merchant. Cinematography is ok, the costumes resembles North-East. Omung has done a fair job, but its the editor, Sanjay Leela Bhansali' who saves him.
Must watch?? Well, its a worth watch. I know, most of you did not got a chance to sing National Anthem, Mary Kom will give you a opportunity to compensate. Its 3.5/5, just because its emotional.