Sunny Deol is back after a long time in hi directorial film Ghayal Once Again. He is directing a film 2nd time his last film as a director was Dillagi which was a disaster at the box office. Now he is back with the sequel of his blockbuster film Ghayal.
Ghayal Once Again's story is similar to the old Ghayal, One man against a powerful businessman. But this time, Narendra Jha is in the negative role of a wealthy businessman.
Ghayal Once Again Starcast
Directed by
Sunny Deol
Produced by
Dharmendra
Screenplay by
Vishal Vijay Kumar
Sanjay Masoom
Story by
Sagar Pandya
Shaktimaan Talwar
Starring
Sunny Deol
Om Puri
Shivam Patil
Aanchal Munjal
Soha Ali Khan
Music by
Vipin Mishra
Cinematography
Ravi Yadav
Edited by
Chandan Arora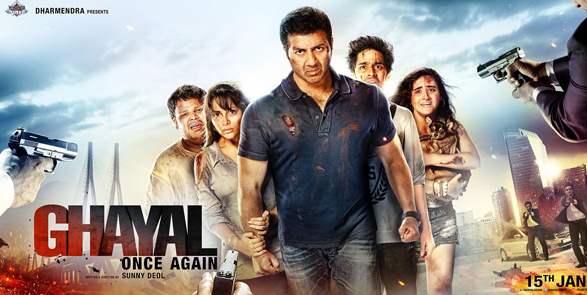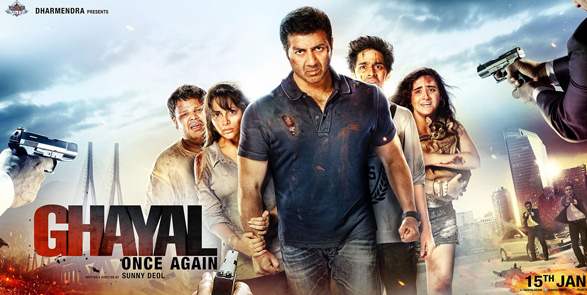 After watching Ghayal Once Again
I had zero expectations for this film and I got surprised by the action of the film. The film starts from where it was left in Ghayal. Slow first half but it picks up the pace gradually. 2nd half is full of action and fights. Action and Sunny Deol two strong pillars are holding this film. Narendra Jha as a wealthy businessman is perfect in his role and He is a great actor.
Om Puri as Joe D'souza has a small, but important role. Shivam Patil, Aanchal Manjul, Diana Khan and Rishab Arora did their job perfectly as 4 college students.  I was expecting some exceptional dialogues in Ghayal Once Again but there are no such brilliant dialogues. Anger and rage were missing but the action was satisfying.
If you are going to watch this film with huge expectations then you may not like it.
Story of Ghayal Once Again
Story Starts with the end of Ghayal and Ajay Mehra is sentenced 14 years of imprisonment for killing Balwant Rai. After completing 14 years of jail. Ajay Mehra starts a News Channel named Satyakam. Satyakam exposes criminals and big shots. Raj Bansal (Narendra Jha) is a wealthy businessman and his house looks exactly like Mukesh Ambani's Antila. He has big connections with politicians and police, his son Kabir Bansal is a drug addict and he kills a man in anger. Four college students Zoya, Varun, Rohan, Anushka accidentally captures the murder and Raj Bansal wants to clean all the evidence by his power and connections. They ask Ajay Mehra for help and film is all about it. How, Ajay Mehra save all four students from Raj Bansal and how Raj Bansal uses his power to stop Ajay Mehra.
Ghayal Once Again Verdict
People had mixed expectations from this film and after watching it, I feel that film was good and by good word of mouth it can do better at the box office. I am sure it will be a big hit in single screens.
Should I watch Ghayal Once Again?
Sunny Deol Fan?
Yes?, Then go and watch it without thinking..
If you love action films then you should watch this film.
Ghayal Once Again Filmy Keeday Ratings
3 Stars