Traveling to different and new places is always fun. Watching different travel movies can help you understand what you are missing in life. Although, travel movies are mostly based on fiction stories, the landscapes, and destinations shown in these Top travel Movies are often real and they give you a virtual experience of what you can get when you reach those destinations.
However, in our busy schedules, we seldom find the energy or time to work on our travel plans. Also, the hectic day-to-day schedules have made us lazy and less adventurous by the time. Well, some of you may even be thinking that traveling is just a waste of money and hype created by the travel industry across the globe.
But in reality, traveling is not just about going to places. Traveling is all about exploring new places, experiencing new cultures, and witnessing new landscapes and marvels of nature, which you would hardly find among the concrete structures of your city.
With loads of resources and many different destinations across the globe, it is not mandatory that you spend a lot of money to enjoy a vacation. You can always pick nearby hill stations, beaches, national parks and several other locations to start your adventure ride.
To motivate and inspire you to travel I have collected this amazing List of films about Travel that would definitely encourage you to pack your bags and head off to your next adventure.
Top Travel Movies of All Time
Into the Wild (2007)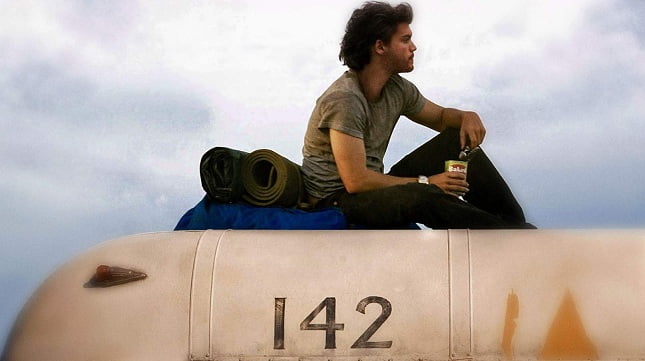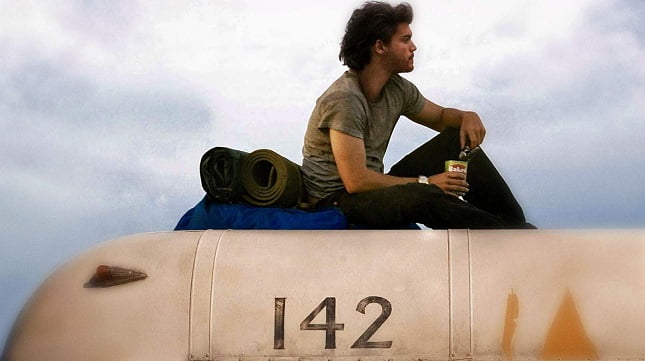 Into the Wild is the first film that comes to my mind while preparing the list of Best Movies for Travelers. The film is a biographical drama survival film about the travel adventures of Christopher McCandless across North America and his life spent in the Alaskan wilderness during the 90s. The film takes you on a solo trip of a man, which he takes to get away from the civilized world to live a life in the wilderness based on his skills and nature's fate. However, the movie ends with his fateful death at the hands of nature itself.
The Secret Life of Walter Mitty (2013)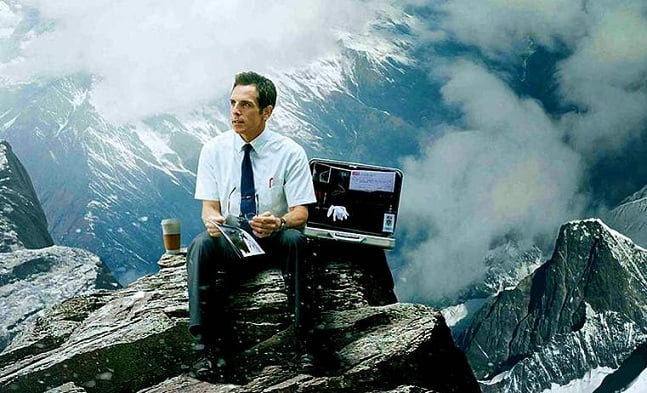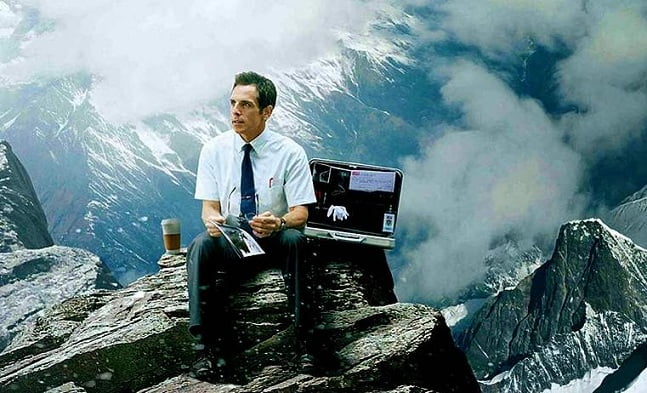 Well, if Into The Wild is a darkish themed travel movie, here's The Secret Life of Walter Mitty starring Ben Stiller, a comedy-drama adventure film that would not only inspire but literally push you out of the chair and encourage you to experience at least one adventurous tour in your life. The film is about Walter Mitty, who is about to lose his job and yet plans an journey to find his photojournalist colleague Sean O' Connell to Greenland and from there to Iceland and later to the Himalayas. The film is full of laughter bundled with pretty good adventurous scenes.
Also Read : Best Mind Twisting Movies Ever
Wild (2014)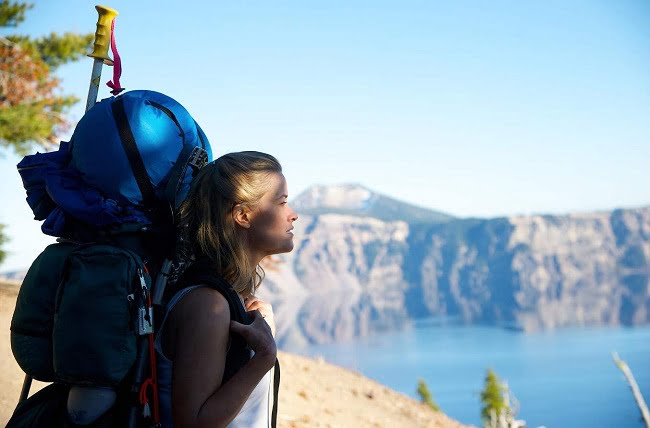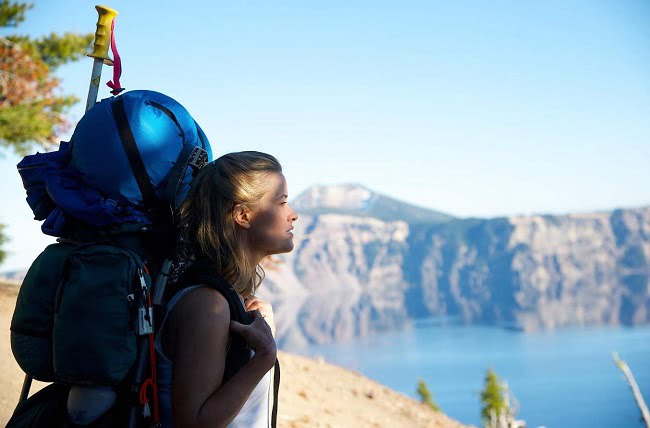 Wild is a 2014 biographical film based on Cheryl Strayed's 2012 memoir Wild: From Lost to Found on the Pacific Crest Trail. Starring Reese Witherspoon as Cheryl Strayed, the film tells us the story of a recently divorced Cheryl Strayed, who despite having no experience in hiking; sets off on a hiking trip of 1000 miles of the 2,650-mile Pacific Crest Trail to embark on a journey that she believes would help in healing and discovering her true self.
Under the Tuscan Sun (2003)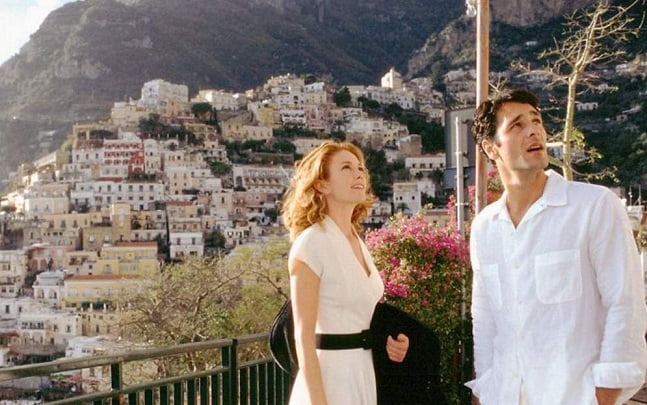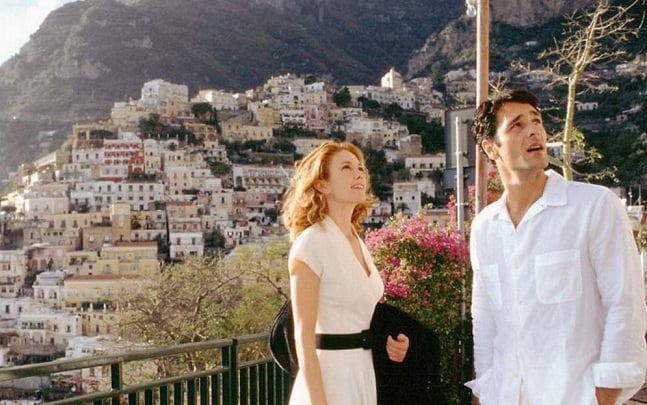 Based on real life Frances Mayes' 1996 memoir, Under the Tuscan Sun is the story of a recently divorced writer Frances Mayes, portrayed by Diane Lane, who abruptly buys a villa in Tuscany expecting that the change will rejuvenate her life. Whether the new change in her life brings happiness or more trouble is what makes the rest of the story.
The Motorcycle Diaries (2004)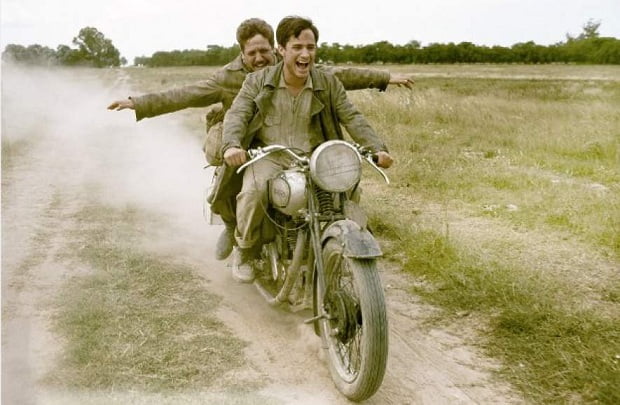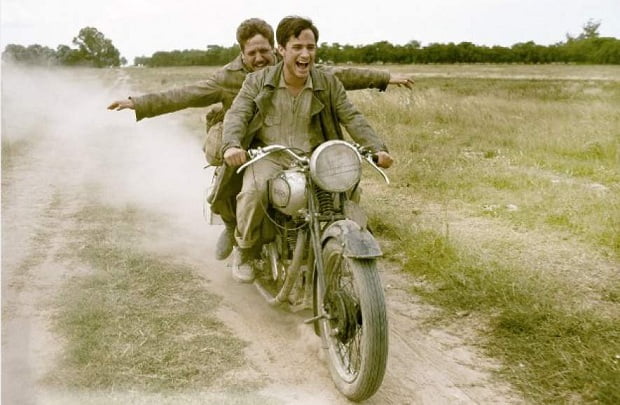 Anyone who is adventurous is life would relate to the film The Motorcycle Diaries. There's no better way to explore places while on a road trip and there's no better automobile than a motorcycle to do that. The film is based on the memoir of a 23-year old Ernesto Guevara, who in fact would later be known internationally as the iconic Marxist guerrilla commander and revolutionary Che Guevara. The film is basically about his expedition along with his friend Alberto Granado.
Amelie (2001)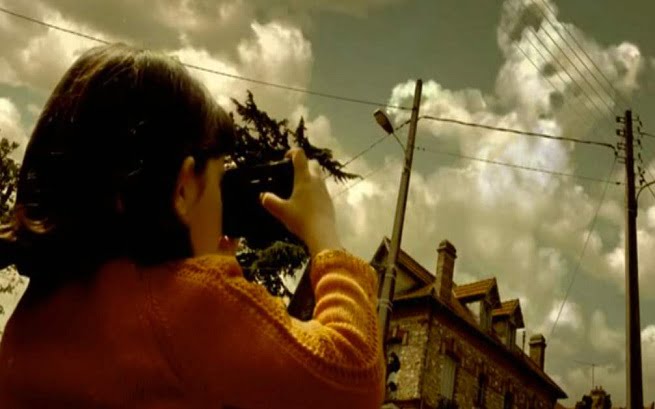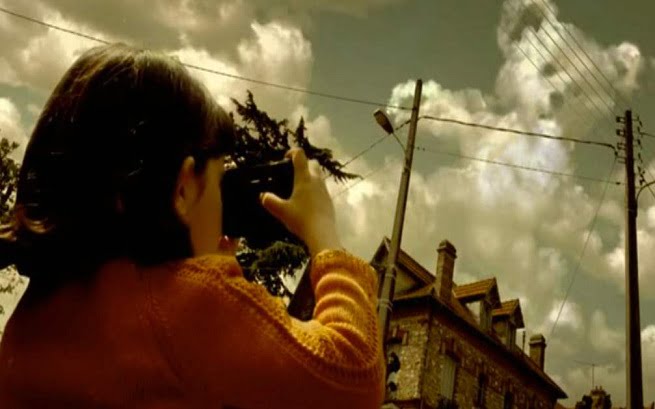 While the films we discussed so far were based on adventure, Amelie is different. It's a romantic comedy that tells us the story of a young girl named Amelie, who is a shy waitress and lives in Montmartre in Paris. The film reflects both on the contemporary Parisian life and Amelie, who makes it her life's mission to change the lives of people around for their happiness and wellness while waiting for her special man. During the film, you can witness the beauty of Paris and desire to go there once in your life.
Copenhagen (2014)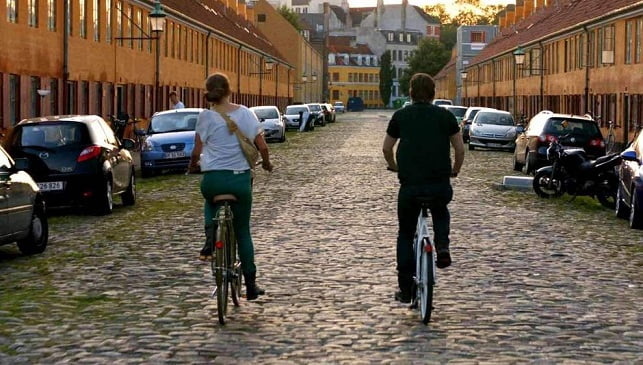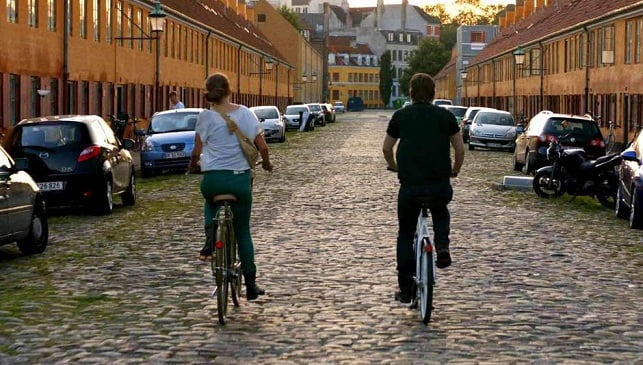 Copenhagen is an independent US-Canadian adventure film that tells us the story of 28-year old William, who is traveling through Europe and reaches Copenhagen, the city of his father's birth. He also befriends a 14-year old Effy and later starts falling for her mature attitude towards life. However, he must leave his immature life behind and must deal with the fact that the love of his life is half his age, his father's abandonment and the challenge of growing up.
The Beach (2000)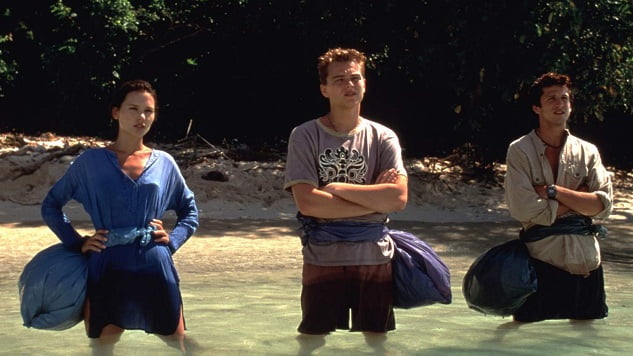 Starring Leonardo DiCaprio in the lead, The Beach is a 2000 adventure film about the journey of Richard, a geeky 20-year old American, who is set on a world tour. While traveling in Bangkok, he comes across a hand-drawn map to a pristine island in the Gulf of Thailand that the legend says is uninhabited and forbidden. After evading a number of risks, they finally reach the Island and find it to be inhabited by a bunch of people under the leadership of Sal, portrayed by Tilda Swinton. The rest of the story is about the life and struggles of Richard on the island.
Lost in Translation (2003)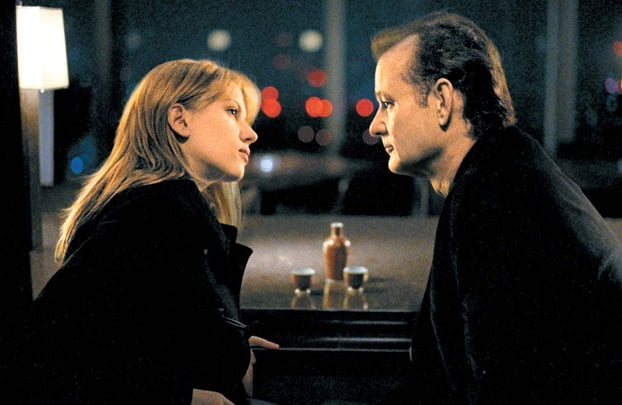 Lost in Translation is a romantic comedy starring Bill Murray and Scarlett Johansson in the lead roles, who encounter one another at a hotel while visiting Tokyo. Struggling through their relationships, both find solace with each other and form a platonic relationship during their stay in Tokyo. The film also displays the beautiful city of Tokyo and the traditional Japanese culture.
The Bucket List (2007)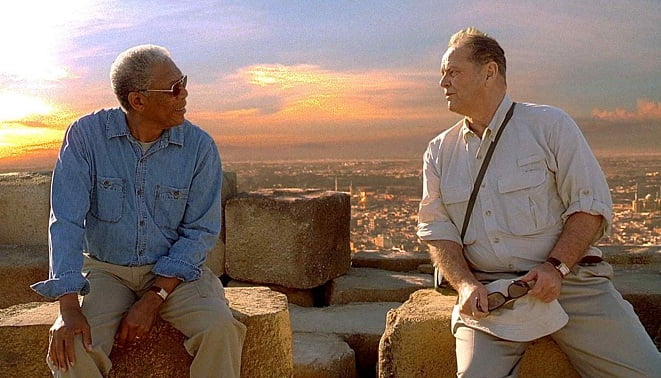 Believe me; you will also make your own bucket list after watching this 2007 American comedy-drama, The Bucket List. Starring Morgan Freeman and Jack Nicholson in one of their inspiring roles, the film is about two terminally ill patients, who prefer to go on a road trip together with a wish list rather than being succumbed to death owing to their illness. The rest of the story is about their adventures throughout the road trip and how they fulfill their own wishes one after the other.
Eat Pray Love (2010)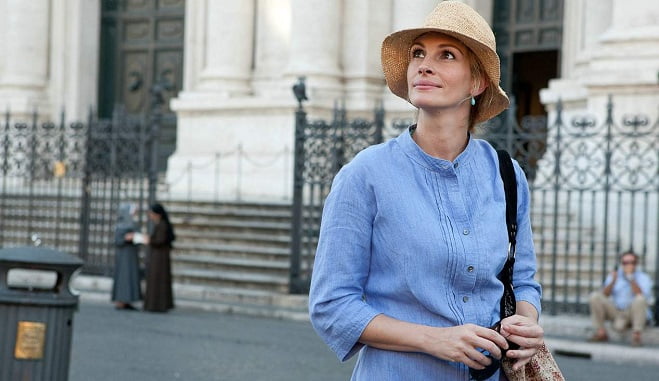 Yet another movie based on a writer's memoir, Eat Pray Love is a romantic comedy drama film starring Julia Roberts as Elizabeth Gilbert. The film is based on the 2006 memoir of the same name written by real life, Elizabeth Gilbert. The film tells us the story of a newly divorced Elizabeth Gilbert, who sets off on a journey to travel the world that becomes a quest for self-discovery blended with the struggles and joys presented during the whole trip.
Also read : Best Emotional Movies that can make you cry
One Week (2008)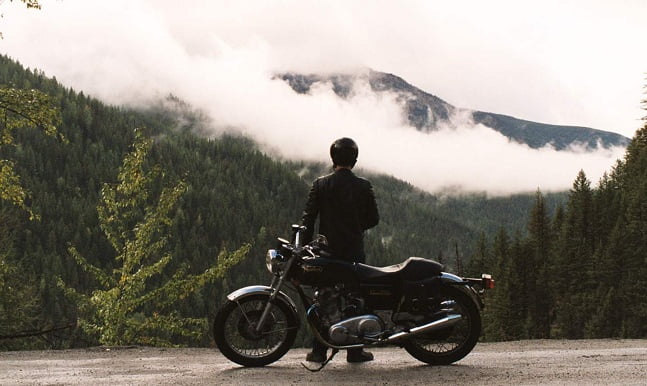 One Week is a 2008 Canadian drama film about a young man fighting with cancer. The film borrows the title from the plot based around the one-week motorcycle trip that the main lead of the film, the cancer patient Ben Tyler played by Joshua Jackson, takes from Toronto across Canada to Vancouver Island. The overall trip helps him evaluate his life, his relationship with his fiancé, his job and ultimately his dream to become a writer.
Seven Years in Tibet (1997)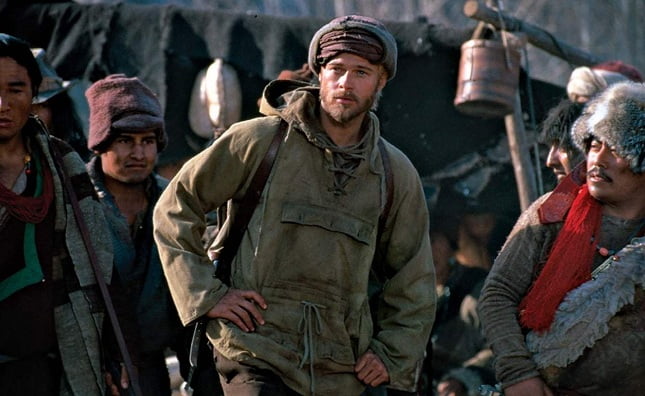 Seven Years in Tibet is an American biographical war film based on the life of Austrian mountaineer Heinrich Harrer and his book of the same name. The film stars Brad Pitt as Heinrich Harrer and is about the protagonist's experiences in Tibet during the World War II, the interim period and the Chinese People's Liberation Army's Invasion of Tibet 1950.
Thelma & Louise (1991)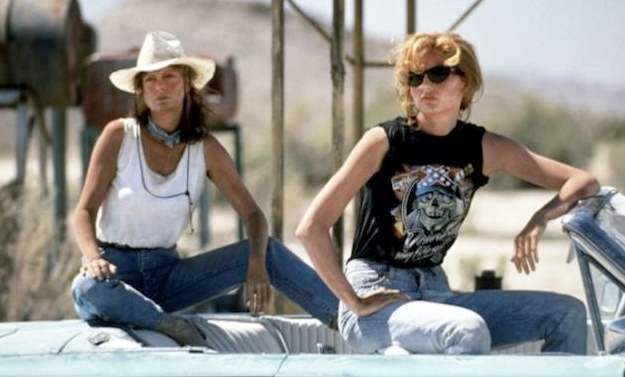 Thelma & Louise is a 1991 American adventure film for Travelers that is based around a road trip by the two main leads in the film, Thelma Dickinson played by Geena Davis and Louise Sawyer played by Susan Sarandon. Although the road trip starts off with new adventures and fun, the two ladies face disastrous consequences that even involve killing a person and a lot of mishaps during the journey afterwards.
Due Date (2010)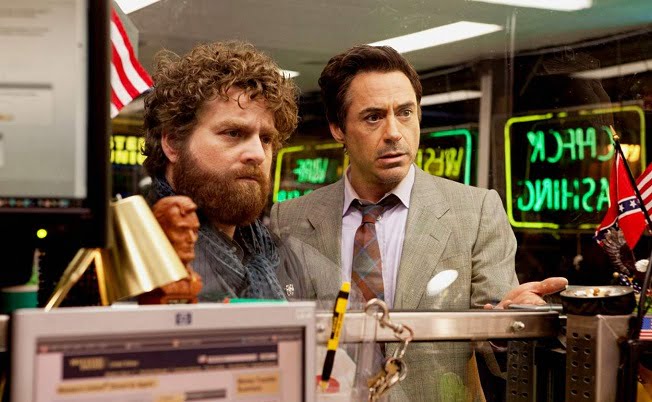 Not entirely a travel or adventure film, yet Due Date deserves to be on our list of top travel movies. The film stars Robert Downey Jr. and Zach Galifianakis in the lead roles, who end up on a road trip to Los Angeles, all thanks to a misadventure caused by Zach's character in the movie. However, that was only the beginning as the movie takes you on a fun ride involving so many such misadventures during the trip all caused by Zach's character while ending up in tragedy for Robert's character throughout the film.
Over to you!
Well, there's an endless list of travel movies out there and after that there are also a good number of movies that display real life beautiful landscapes and destinations spread across the globe, that would push you to plan a world tour from the current moment itself.
However, not all of them can be listed here, yet if you feel we missed a great travel movie here then feel free to share with our readers in the comments section below.