PK Starring Aamir Khan and Anushka Sharma in lead roles, Aamir Khan is superb in the film and PK is a complete entertainer, PK is a must watch film of 2014 and you should not miss it at any cost. We are sharing some great Dialogues of PK.
Read : Review of PK
Dialogues of Anushka Sharma in PK
Tum to danadan feke ja rahe ho, uchalne ki bhi koi limit hoti hai…
Dialogues of Sanjay Dutt in PK
Ye dekh mera license sex- male,man,aadmi,harami,kameena..
Dialogues of Saurabh Shukla in PK
Prabhu path pradarshit karein..
Dialogues of Aamir Khan in PK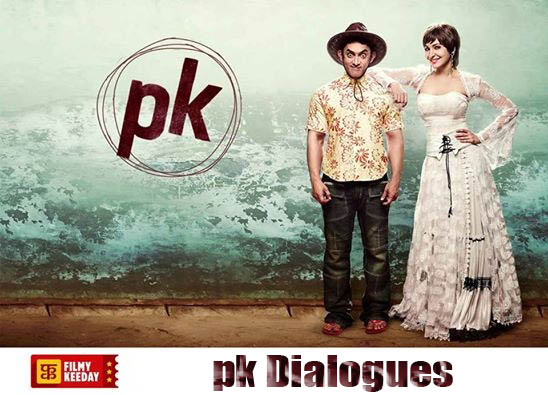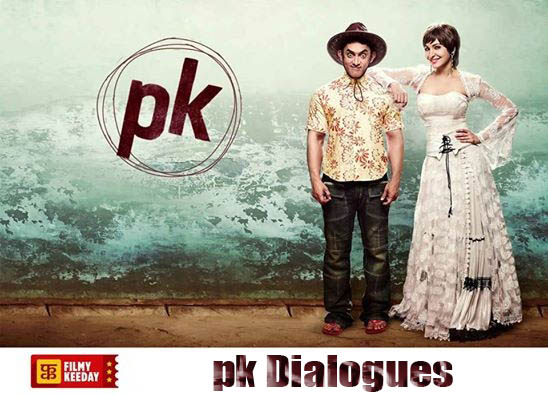 Memory aur thukai ka koi direct connection hai, ye baat to doctor ko batani chahiye bhaya, majo ke majo aur ilaaj ka ilaaj…
Naam kucho naahi hai humaar lekin pata nahi kaahey sab log humka PK-PK bulawat hai?
Lul ho gayi humri life…
Self defence,Jis tarah diwar pe bhagwan ka fotu lagate hai na ki koi muute nahi.. us tarah humne ye bhagwan ka fotu chipka liya ki kono peete nahi…
Jab koi ghar nahi ja pata hai hume acha feeling nahi hota hai…
Waise to ugrasen ki baoli me rhta hu par aajkal rain barasta hai to police lockup me checkin karleta hu..
Humka laagat hai bhagwan se baat kare ka communication system is gola ka total lul ho chuka hai…
Shadi vyah me pataka fod ke band baja baja ke, kaahe sare sheher ko bataya jaat hai ki aaj "I am having sex"…
Gaya hu ek baar Moon pe ek dum Lul place hai..
Anushka : tumhara favourite planet kon sa hai..
PK : humar apna planet..
Anushka : earth to acha hai hi uske alwa
PK : Arey earth ki to lulli baji hui hai…
Asli God fark banata to Thappa laga ke bhejta, Hai koi thappa baadi pe?
Luv is Just a bhaste of Time…
Jo dar gaya woh mandir gaya…
Hamare goley pe koi jhooth nahin bolta…
Aise tukur tukur ka dekhat pehchane nahi ka hum ka, hum pk hoon pk..
Apne Apne bhagwan ki raksha karna band karo, warna is gola me insaan nahi bas joota reh jayega…
Your Turn! 
Share your favorite dialogue from the Movie PK in comment section!