I am not a fan of remaking films, I prefer original movies with subtitles. I have seen many Tamil, Telugu, Malayalam and other regional language films with subtitles. but if a director can direct a better version in mother tongue or at least a similar version of the original story then, why not!
Bollywood is known for remaking South Indian films and we have already shared 50 South Indian films remade in Bollywood, but today we are going to reverse the situation. We know this remaking trend is very old and we have multiple film industries in India, so remaking films of each other's languages is very common.
that's why there are plenty of Indian films remade in more than Two Languages. As we shared how Rajinikanth got his fame by remaking Amitabh Bachchan's hit films.
Also Read: List of Amitabh Bachchan Films remade by Rajinikanth
Not only Rajinikanth other Kollywood actors also appeared in Tamil remakes of Bollywood films like Vijayakanth in Ghayal Remake, Bharathan and Vijay in Soldier Remake, Villu and Kamaal Haasan in A Wednesday Remake, Unnaipol Oruvan.
List of Bollywood Movies Remade in Tamil Language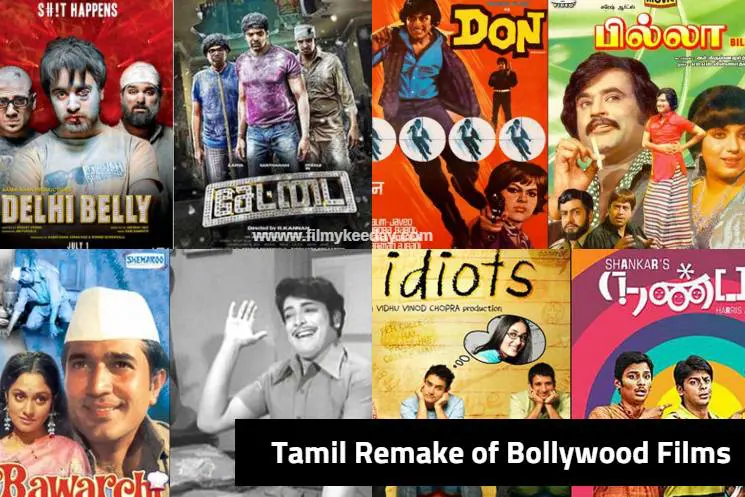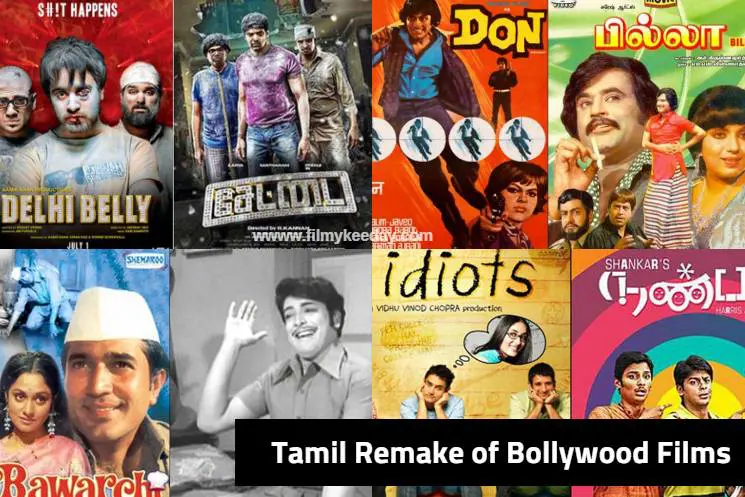 Khilona – Engirundho Vandhaal
Guddi – Cinema Paithiyam
Be-Imaan – En Magan
Victoria No. 203 – Vairam
Bawarchi – Samayalkaran
Koshish – Uyarndhavargal
Yaadon Ki Baaraat – Naalai Namadhe
Namak Haraam – Unakkaga Naan
Don – Billa
Trishul – Mr. Bharath
Kasme Vaade – Dharmathin Thalaivan
Gol Maal – Thillu Mullu
Naseeb – Santhippu
Namak Halaal – Velaikaran
Khud-Daar – Padikkadavan
Kasam Paida Karne Wale Ki – Mangamma Sapatham
Mard – Maaveeran
Meri Jung – Oru Thayin Sabhatham
Khudgarz – Annamalai
Ghayal – Bharathan
Damini – Priyanka
Drohkaal – Kuruthipunal
Soldier – Villu
Khosla Ka Ghosla – Poi Solla Porom
Munna Bhai M.B.B.S. – Vasool Raja MBBS
3 Idiots – Nanban
Jab We Met – Kanden Kadhalai
A Wednesday – Unnaipol Oruvan
Delhi Belly – Settai
Kahaani-Anaamika
Taxi No 9211 – TN 07 AL 4777
This remaking film is nothing new as you can see from the above list, there are plenty of Tamil remakes of very old Hindi films, but we have a similar post where you can find how Bollywood started remaking South Indian films.
You can see the list is huge and we may have missed many of them, so you can imagine that nobody is clean everybody is copying stories from each other, so next time somebody blames Bollywood for remaking Tamil film you can hit him with the URL of this article.
I just want to say that we must enjoy the cinema, all stories should reach to all classes and every corner of our country. Bahubali is a great example, it was released in multiple Indian languages and loved by the whole country.
What do you think about remaking films in India?