There is no doubt that there are many celebrities who love to spend their money on expensive clothes and gadgets but there are some who even wish to give back to the needy people who make them real stars. Here we are with top Bollywood celebrities and their charity work. Apart from the popularity, Bollywood actors are known for their charity works.
Bollywood Celebrities and their Charity
Shahrukh Khan
People might think "The King Khan" is a selfish person, but secretly he is associated with many NGOs as well as charitable foundations. Recently, UNESCO honored him for his charitable work in helping the poor. He donates in various hospitals and helps the poor with medical aid. Furthermore, he raises money from his concerts for people affected by natural disasters. He often spares little of his time from busy schedule to spend valuable time with orphan kids and financially helps them too.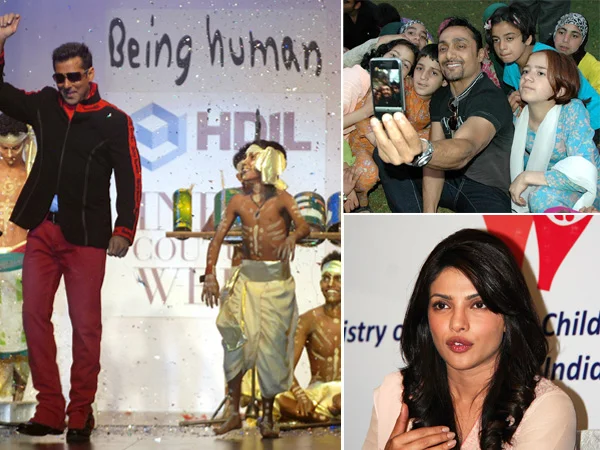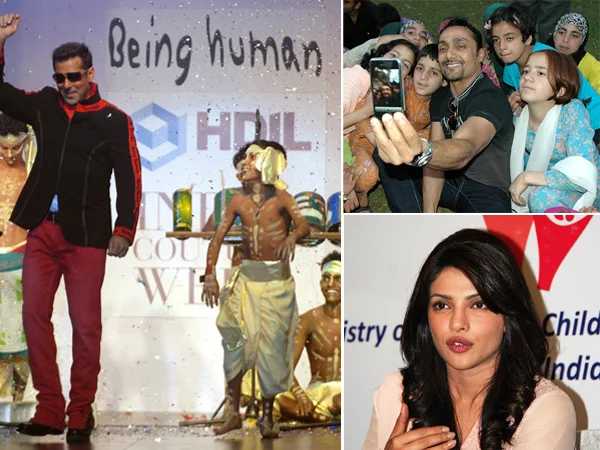 Salman Khan
Our very own loved Salman Khan has always been an enthusiastic person who always makes charitable donations for people in order to intend his hand to increase the human's well-being and lifestyle. Few years back, he even opened an NGO "Being Human" which initiated as a trust, but at present it is one of the most notable foundations which help young kids in their education and health.
Also Read : Bollywood Celebrities and their Income
Rahul Bose
Rahul Bose is an active campaigner for "world without discrimination" and for the same cause he opened The Foundation. Furthermore, he is also an active member in the Oxfam campaign, which works for relief as well as rehabilitation of people living in an unconditional environment of Andaman and Nicobar Islands.
Priyanka Chopra
Apart from her passion for acting, Priyanka Chopra is passionate about helping children with their education. She was appointed as UNICEFs national ambassador in 2010 in order to support children and fight for their right to education. She actively took part in debates about child rights and even created awareness about saving a girl child.
Aishwarya Rai Bachchan
One of the most gorgeous women in the universe has donated her splendorous looking eyes to the eye bank association of India. A few years back, she even started her own foundation which aims towards helping the needy.
John Abraham
Apart from her passion for modelling and acting, John Abraham is an inscrutable animal lover. He is one of the most active members in PETA India, which works for giving better life to animals. Furthermore, he also works for raising funds for needy and homeless people.
Shilpa Shetty
Shilpa Shetty, who was the winner of Big Brother gave all her winnings to AIDS awareness campaign, India. Apart from donating her winnings, she is a member of PETA India as well as in the campaign called "Act against Bullying."

Amitabh Bachchan
The veteran Bollywood actor, Amitabh Bachchan is an active member of the POLIO campaign by UNICEF. Apart from this, he also started an online bidding scheme which is known as "Jenaration" which allow all the celebrities to display their clothes and other accessories for sale and further the money generated is donated into various charities.
Vidya Balan
Our Dirty Picture actress, Vidya Balan has recently become brand ambassador of Sanitation as well as the Clean Drinking water campaign. Soon she will be supporting 'Clean Picture' campaign, which aims for taking initiatives towards cleaner India.
Dia Mirza
A lot of people might not know much about DIA Mirza's active participation in creating awareness among people through HIV campaigns as well as about female foeticide by the government of Andhra Pradesh. Furthermore, she is also one of the active members in NGOs like CRY as well as PETA.
Shabana Azmi
Shabana Azmi opened her own NGO named "Mizwan." Its chief objective is to help and secure underprivileged children by raising funds.
These are the top Bollywood celebrities and their charity. Which among these is your favorite? Do you know any more Bollywood celebrities who work for any charity?