Bhoothnath Returns – Will Bhoothnath get the love of audiences this time?
Bhoothnath Returns is a sequel of 2008 film, "Bhoothnath". Bhoothnath was a light film about a ghost and his friendship with a small kid. The movie had a lesson and kids loved the movie. Bhoothnath returns is a complicated plot which tries to please kids as well as a political satire. Nitesh Tiwari had tried hard to make the movie pleasing for kids as well as for adults but failed. Kids don't understand politics and in this mashup, the film couldn't do justice with neither the kids nor the adults.
Bhoothnath Returns Star Cast
Starring: Amitabh Bachchan
Boman Irani
Anurag Kashyap
Usha Jadhav
Sanjay Mishra
Brijendra Kala
Usha Nadkarni
Cameo: Shahrukh Khan
Ranbir Kapoor
Anurag Kashyap
Producer: Bhushan Kumar
Krishan Kumar
Renu Ravi Chopra
Director: Nitesh Tiwari
Writer: Nitesh Tiwari
Piyush Gupta
Music: Palash Muchhal Meet Bros
Anjjan
Ram Sampath
Yo Yo Honey Singh
Read More About BoothNath Music, Dialogues Etc
Release Date: 11 April 2014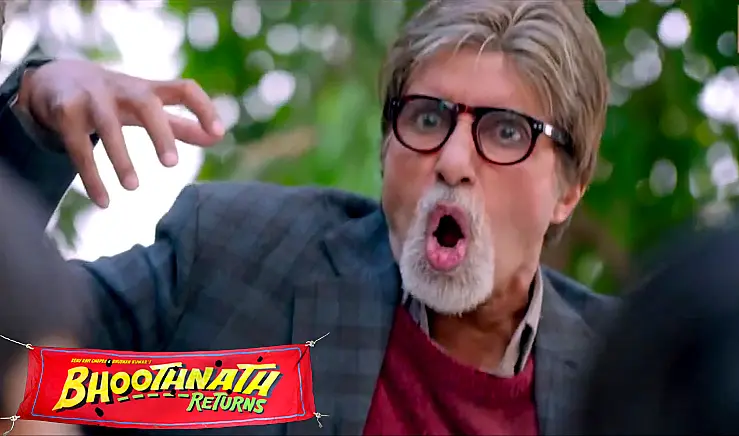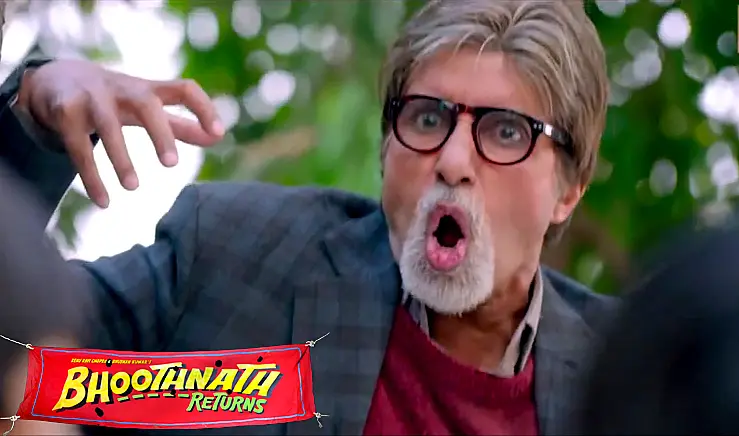 What I felt after watching Bhoothnath Returns
The film has way too many loopholes that needed to be taken care of. Amitabh, Boman Irani and child artist Parth has done a marvellous job in the movie, but the plot of the movie lacked so much that the trio couldn't make the film work for me.
The film kick starts with a pleasant starting and looks like a children's film, but as soon as the film progress it becomes a political satire. The end of the movie is like getting dragged to meet the end time of the movie.
Bhoothnath Returns Story
Bhoothnath returns back to the Bhooth World only to get tormented by other ghosts for dis-reputing the Bhooth community by getting bullied by a small kid. Bhoothnath returns back to scare the kids but is not able to. Perth, a slum kid is the only one who can see Bhoothnath. They both agree to help each other and once again Bhoothnath becomes friends with a kid.
From here Movie takes a big turn and becomes a political film. What happens that Bhoothnath who came to scare kids, has to join politics? Will he win? So many questions and only one answer. Go and grab the tickets and watch it at your nearest theatre.
Bhoothnath Returns Flaws
In the movie, Bhoothnath is shown helping and solving problems of other Bhooths (Ghosts). Can't other ghosts with similar powers to help themselves?
This is a BIG FLAW- Actors who were initially shown as ghosts in the movie were later seen part of the crowd.
A ghost filing nomination for election seems unreal, but filing as Kailash Nath and getting votes for Bhoothnath seems way too unreal.
Bhoothnath Returns Verdict
The release of the movie has been scheduled right on time. The whole nation is dipped in the colours of Elections and votes. This can certainly work in favour of the film. But but but…. The plot is so weak that I find it really difficult for the movie to taste much of a success. The kids didn't like the movie at all, they couldn't find their Bhoothnath but found a different Bhoothnath this time, But this was one of the most awaited movie of Amitabh Bachchan so it will get good opening at box office, but overall Box Office collections of Bhoothnath will be very low.
Should I watch Bhoothnath?
If you are free and doesn't have much to do…. You can go for it. I personally didn't find much in the movie to get entertained. Watch this movie only for Amitabh Bachchan, Parth and Boman Irani.
Filmy Keeday Bhoothnath Returns Rating
2 Stars