Bhootnath Returns Wiki
Bhoothnath Returns is a 2014 film starring Amitabh Bachchan as Bhoothnath (Ghost). Bhoothnath returns is a sequel on 2008 film, Bhoothnath. Apart from BIG B, Shahrukh Khan and Ranbir Kapoor will be seen in the movie but in a cameo role. Yo Yo Honey Singh has contributed with his unique awesomeness for the album of Bhoothnath Returns. Parth Bhalerao is playing the child role in the movie this time. The film is a political satire when a corrupt leader has to face a Bhoot for fighting elections in opposition. Children are of course waiting for their lovely Bhoot from 2008 and are going to love the film. But to make this film get appreciation from adults as well, the plot of the story has a lot for adults too this time.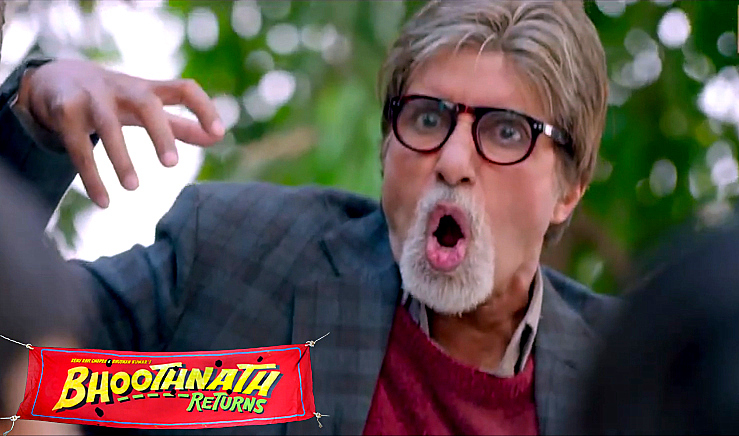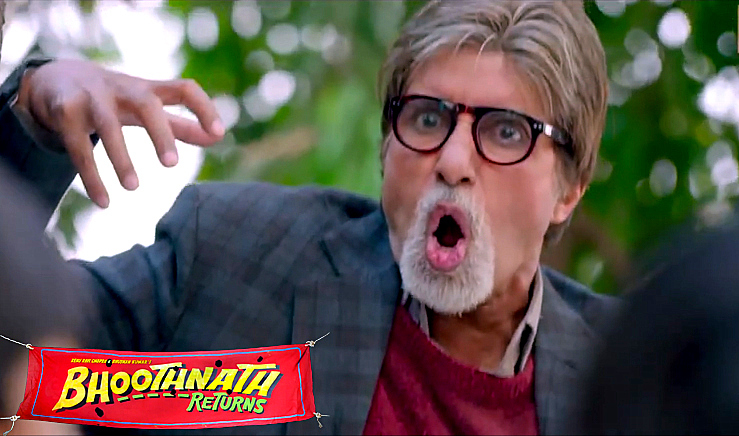 Bhoothnath Returns Full Cast and Crew
Director: Nitesh Tiwari
Produced By: Bhushan Kumar
Krishan Kumar
Renu Ravi Chopra
Written By: Nitesh Tiwari
Piyush Gupta
Music By: Meet Bros Anjjan
Ram Sampath
Yo Yo Honey Singh
Palash Muchhal
Lyricist: Kumaar
Kunwar Juneja
Yo Yo Honey Singh
Munna Dhiman
Nitesh Tiwari
Star Cast: Amitabh Bachchan as Bhoothnath
Parth Bhalerao as Akhrot
Usha Jadhav as Bindia Pathak
Boman Irani as Jamez Porto
Anurag Kashyap as Mitelish Pathak
Sanjay Mishra as Mishti Baihud
Brijendra Kala as Ridhima Koyla & Joy Dens
Usha Nadkarni as Lolita Singh
Shahrukh Khan in a cameo
Ranbir Kapoor in a cameo
Genre: Comedy, Drama
Release Date: 11 April 2014
Bhoothnath Returns Synopsis
The film in set in a small urban locality where the fearless street kid, Akhrot stays. The movie is about the friendship of Akhrot and Bhoothnath and their fight against the corruption and corrupted politician. In the first time in history, a Bhooth has stood up for elections against a corrupt politician. Now it will be really nice to see, if this new experiment of a Bhoot fighting elections can give chills and fun element to viewers or not.
The movie is set to release on 11 April 2014, when the whole country is coloured with the colors of upcoming elections, the film has fairly good chances to get some nice business.
Bhoothnath Returns Music Review
Unlike the prequel Bhoothnath's music album, Bhoothnath Return album has got some peppy numbers which will be loved by all. Yo Yo Honey Singh's Party With Bhoothnath is no doubt going to be the best song of the album. As for now I have heard many kids shouting and screaming, Party to Banti hai. So on a whole I will 3 stars to Bhoothnath returns Music, because there are songs that are rocking but there are songs that will go unnoticed.
Bhoothnath Returns Tracklist
Party To Banti Hai
Har Har Gange
Party With The Bhoothnath
Sahib
Dharavi Rap
Party To Banti Hai (Remix)
Har Har Gange (Remix)
Bhoothnath Returns
Dialogues Lyrics
Bhoot World Mein Teen Cheezo ki Kami Hai

Bhoot Bhi Election Mein Khada Ho Raha Hai
Bhoothnath Returns Trailer