Warning 3D Hindi – Is this Warning a real Thriller?
Warning 3D Hindi Synopsis:
If I say this Warning is inspired from the movie Open Water 2: Adrift, it won't be wrong. 7 youngsters, a luxurious Yatch, a beach in the middle of the Sea and loads of fun before they get trapped in a Dangerous Sea adventure.
 What I feel About Warning 3D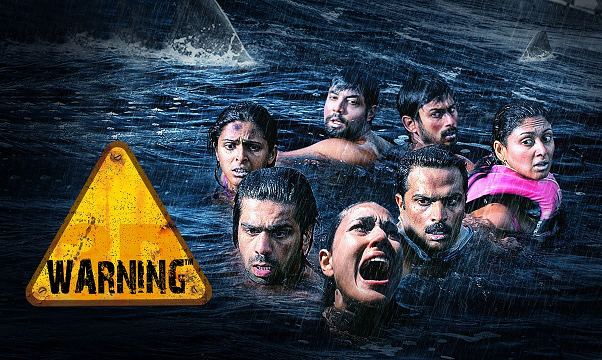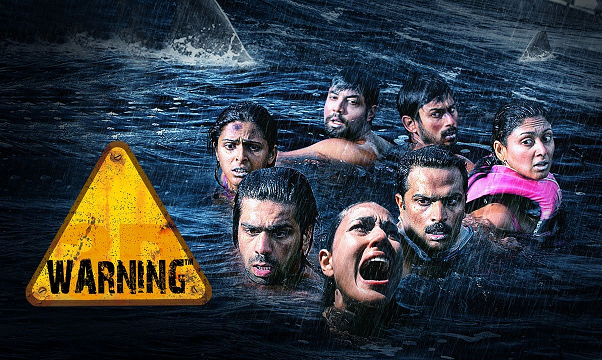 I felt the actors apart from flaunting their bodies, if had given a little more importance to polish their acting skills, the movie has been on another level. Their over dramatic expressions make you feel awkward more than thrilled. The story is good, infact they chose a nice Hollywood flick to get inspired from but acting is also very important, isn't it.
Warning 3D Hindi Story:
5 friends plan to reunite through a social networking website and plan a sea adventure. One of them, Tanveer Singh has a yatch, and they all go for a sea adventure. Yes I said 5, who are the extra 2 in the adventure then?? One is Tanveer's girlfriend and the other one is Sabrina's Husband. Now these 7 youngsters, between the sea lots of fun, hot bodies to flaunt and drinks. They all are having a good time when they decide to go inside the sea to swim and make this adventure a little more adventurous. Oops, they forget to lower the staircase, the only way to get back to the Yatch. 7 people in the middle of ocean, between sharks crying and hoping for a miracle.
What happens next, is this thriller enough to thrill you out? Find out
Warning 3D Hindi Verdict:
With no good movie getting released today, I hope this movie can get some good figures on Box Office Collection Reports. None the less, the movie isn't very bad, it just needed a little more acting skills which could have taken the movie to a higher level.
Warning 3D Hindi Masti Rating:
* * ½
Average Movie
Also Find the BOX OFFICE COLLECTION REPORT of Warning 3D Movie Here!