The Lunchbox (
Dabba

) Synopsis:

The movie is about a mistaken delivery of a lunchbox to a middle aged lonely man of Mumbai. The food is made by a housewife for her husband, but the Irony is she too is lonely and unhappy from the marriage. This lunchbox becomes their messenger and this middle aged couple falls in love.
The Lunchbox (
Dabba

) What I feel: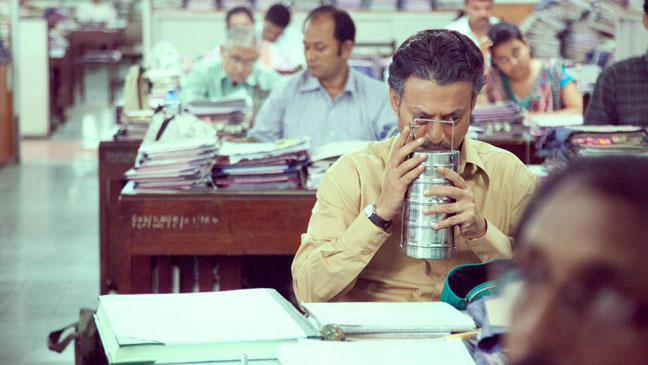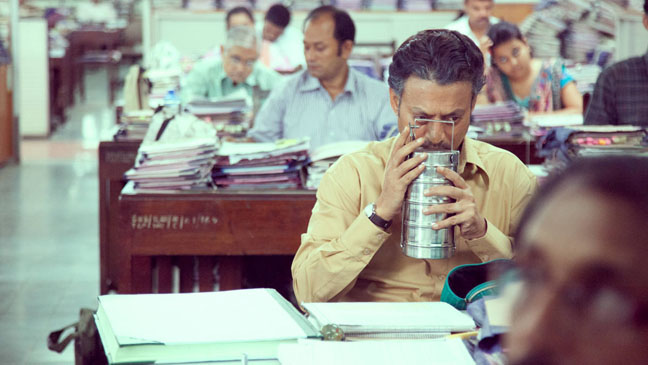 It is hard to not like a movie which has got the best cast, and a great story, story telling is perfectm  A simple yet very effective love story,you have seen this kind of story before in Sirf Tum, but that was a love story of young couple and this is very different from Sirf Tum. we have seen youngsters romancing so many times, but looking at a middle aged couple and this so strange way that they fall in Love is so cute and dramatic. You will not be able to take your eyes off screen while watching the movie.
The Lunchbox (
Dabba

) Story:

Saajan Fernandez, a simple Mumbai man who comes to office daily, sit amidst files and work on them is having a dull life. He is a widower and all alone. His life is of grey shades, no colors at all. One afternoon changes this man's life, bring colors and flavors when the famous Dabbawala's of Mumbai make an innocent mistake by delivering a Dabba prepared by Ila, an unhappy married woman for her husband. That home cooked food's fragrance, taste and flavors not only bring a smile on Saajan's face but also fills his boring life with colors. This Lunchbox then becomes a medium for them to talk, after a while they wait for the Lunchbox so they can read the messages and not just only for food.

Will they ever meet? What will happen when Ila's husband finds out what's going on. Hit your nearest Theaters. This movie is a must watch.
The Lunchbox (
Dabba

) Verdict:

With Phata Poster Nikla Hero, an action comedy in competition, The Lunchbox has got everything to attract youngsters and middle-aged people, Hope People will love this mind blowing cinema and it will perform well at Box office. The Lunchbox has got the best star cast and their acting skills are going to directly hit your heart. This movie is surely making its way out and shine & Bright, we will share box office collections soon.
The Lunchbox (
Dabba

) Filmy Keeday Rating:

* * * *

Vote-  Would you like to get a wrongly delivered Lunchbox too?
Yes – No