John Day Movie Review- Synopsis, Story and Verdict
John Day – Is this movie a better thriller, than A Wednesday? Find out
John Day Star Cast
Actors: Naseeruddin Shah, Randeep Hooda, Elena Kazan, Sharat Saxena, Makrand Deshpande
Producer: Anjum Rizvi, Aatef A Khan and K Asif
Director: Ahishor Solomon
Written By: Ahishor Solomon
John Day Synopsis:
The movie is a thriller from the bag of Anjum RIzvi who earlier made A Wednesday. John Day too has Naseeruddin Shah in the main lead and has worked amazingly in the movie. The movie is about a father who has lost his daughter and a cop who is crude and loves to make others life hell. They both meet and set off a mission.
What I feel about John Day :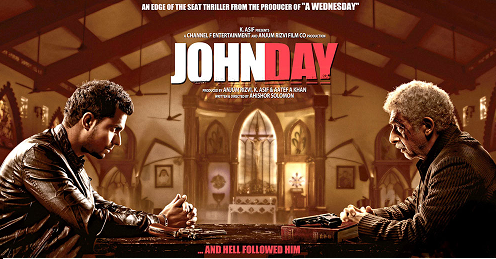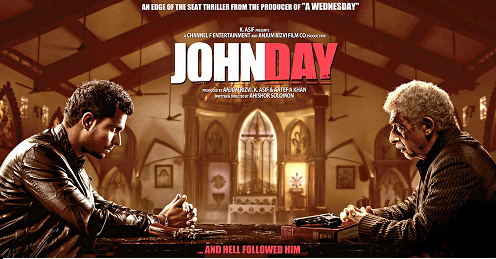 Naseeruddin Shah has done a commendable job, but Randeep Hooda as a corrupt Police Officer… didn't work. Most of the characters in the movie are just for name sake, you would want them to do something but nothing happened. Some scenes in the movie are misfits. I didn't see any point keeping them. The movie does keep you on the edge of your seat, but when in the end when the story unfolds, it won't hit you.
John Day Story:
John Day works at a bank, one day his daughter Maria is murdered. Traumatized by the sudden demise their only child, John Day and his wife find it tough to move on. Two years later, the Bank where John Day works, gets robbed and he finds a file in which there is a name of the place where his daughter is murdered. On the other hand there is a corrupt police officer, Randeep Hooda. They both meet and set a mission. To know the mission and what happens next you need to watch the movie.
John Day Verdict:
The movie has lots of surprises, thrills which gives you a spine chilling moments. But is the movie worth? After A Wednesday, this movie seems like an amateurish thing. lets see how it compete with other Releases of the day on Box Office, Box office Report of John Day will tell the whole progress of the Movie, The audience may like it, as it's been a while no Thriller movie has come.
Filmy Keeday John Day movie Rating:
2 Stars


Vote- Is John Day a better thriller than A Wednesday?
Yes – No