Gunday starring Ranveer Singh, Arjun Kapoor and Priyanka Chopra celebrate friendship and love on this Valentine's Day. The movie has been set up in Calcutta with guns and goons. But much more than guns and goons the movie shows the bonding of the two main leads Ranveer Singh and Arjun Kapoor. Yes, The friendship bond of Arjun and Ranveer gives a tough competition to Jai and Veeru of Sholay.
Gunday
Star Cast
Starring: Ranveer Singh
Arjun Kapoor
Priyanka Chopra
Irrfan Khan
Producer: Aditya Chopra
Director: Ali Abbas Zafar
Writer: Ali Abbas Zafar, Sanjay Masoom
Narrated By: Irrfan Khan
Music: Sohail Sen
IMDb: 7.3
Release Date: 14 February 2014
What I felt after watching
Gunday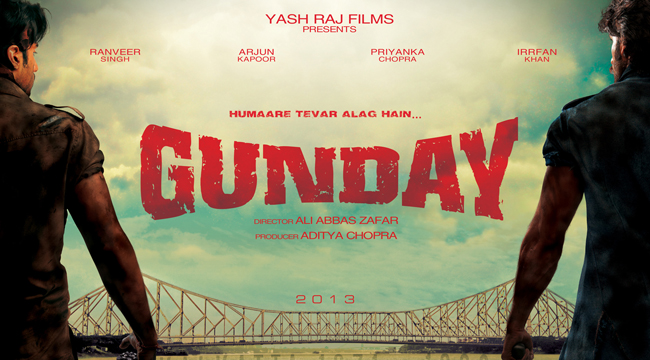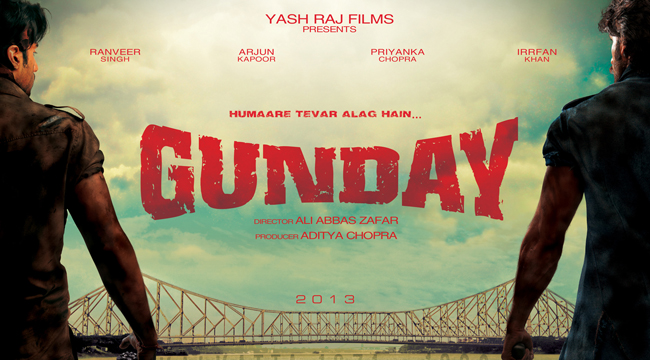 Gunday
Story
The story is about the two boys of Calcutta amidst the turbulent times of History. How the destiny takes these two men to the streets of guns and goons. How they become Coal thieves and then become the biggest powerful marketing mafia men.
Gunday
Verdict                                                            
The sizzling trio Ranveer Singh, Arjun Kapoor and Priyanka Chopra can't help this film. Film is below average only good thing in this film is Irrfan khan.
FilmyKeeday Gunday Rating
1.5 Stars