Ekkees Toppon ki Salaami is a Bollywood comedy film directed by Ravindra Gautam, starring Anupam Kher, Divyendu Sharma and Manu Rishi in lead roles. Movie is a satire on corruption and politics. It shows that how middle class government servant, stuck in a situation and his life becomes hell.
Ekkees Toppon Ki Salaami is a good movie, with the punch of comedy and it shows the real face of Politics and business.
Ekkees Toppon Ki Salaami Full Cast and Crew 
Directed by
Ravindra Gautam
Produced by
Anurradha Prasad and Abhinav Shukla
Written by
Rahil Qaazi
Starring
Anupam Kher
Neha Dhupia
Divyendu Sharma
Manu Rishi
Aditi Sharma
Rajesh Sharma
Music by
Ram Sampath
Production company
Nautanki Films
Distributed by
Jayantilal Gada (Pen)
Release dates
10 October 2014
Language
Hindi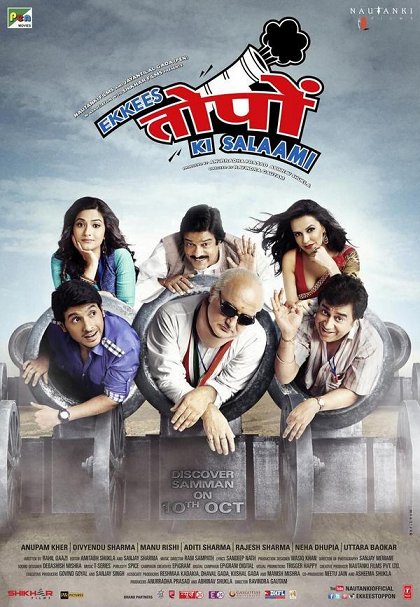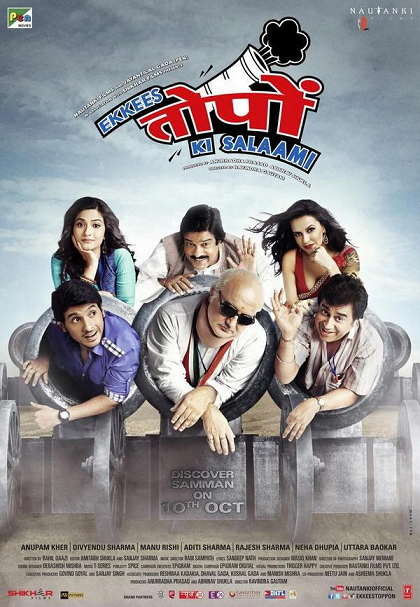 What I felt after watching Ekkees Toppon Ki Salaami
Movie was fine and this movie is a slap on the government and the corrupt system of India. Ekkees Toppon ki Salaami Shows that honesty is not easy in this corrupt world and if you live your life with honesty and hard work you will face many difficulties and problems in your life. Movie is good but comedy is less.  It was not as per my expectations; it should be full of comedy and satirical punches on the system.
Anupam Kher work is perfect as always and he is the perfect common man on screen, like in Kosla Ka Ghosla and Salaakhen and many other Bollywood films.
Songs of the movie are not up to mark, but the story line is good and it's a decent watch for the weekend. Overall movie is watchable with the few punches and comic portion.
This is a story of an honest BMC Employee, who is in his last phase of government job, his two sons are totally worthless and he is planning for his retirement. But on the last day of his retirement, he gets suspended on the corruption and theft charges and his all pension and provident fund stuck.
He dies with the last wish to get Ekkees Toppon Ki Salaami, and now his two worthless sons want to full fill his last wish.The movie is all about how they give ultimate respect of honour with Ekkees Toppon ki Salaami.
Ekkees Toppon Ki Salaami Verdict
Ekkees Toppon ki Salaami is a Thought Provoking film and you should thank Ravindra Gautam for this movie, this movie lacks in many technical points but you can watch it once for sure.  But Haider and Bang Bang are in competition, so box office collections of  Ekkees Toppon ki Salaami Would be very less and it will be a just average film.
What's Good- Good Story line with brilliant performances of Anupam Kher and Divyendu Sharma.
What's Bad-  Unexpected songs and lack of comedy.
Should I watch Ekkees Toppon Ki Salaami?
If you are free on this weekend and you don't have anything to do then you can watch this movie or you can wait for its Satellite release.
Will I watch Ekkees Toppon Ki Salaami again?
No, I will not watch it again, Movie has many mistakes in screenplay and direction and it's a onetime watch only.
Ekkees Toppon Ki Salaami Movie Rating
2.5 Stars