Ekkees Toppon ki Salaami is a comedy movie or a satire on Politics. Starring Anupam Kher, Divendu Sharma, Manu Rishi Chadha and Aditi Sharma in lead roles. 21 Toppon ki Salaami is directed by Davindra Gautam and releasing on 10 october 2014.
Divyendu Sharma is back with another comedy movie but this time with some good message and satire.
Ekkees Toppon Ki Salaami Full Cast and Crew 
Directed by
Ravindra Gautam
Produced by
Anurradha Prasad and Abhinav Shukla
Written by
Rahil Qaazi
Starring
Anupam Kher
Neha Dhupia
Divyendu Sharma
Manu Rishi
Aditi Sharma
Rajesh Sharma
Music by
Ram Sampath
Production company
Nautanki Films
Distributed by
Jayantilal Gada (Pen)
Release dates
10 October 2014
Language
Hindi
Ekkees Toppon Ki Salaami Synopsis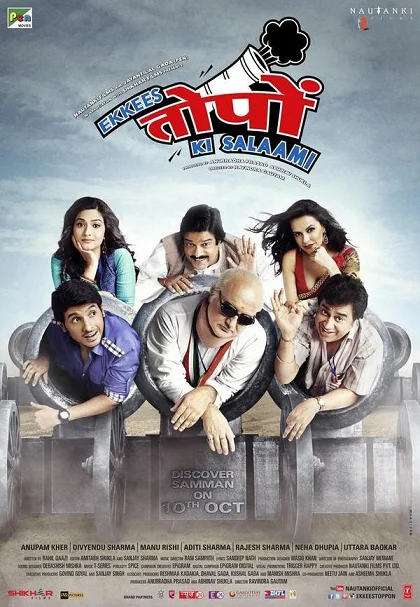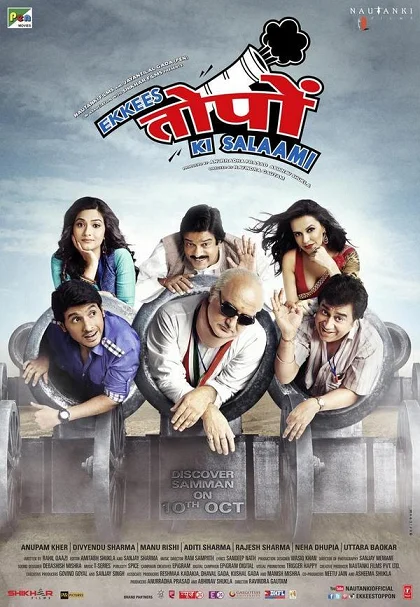 Ekkees Toppon Ki Salaami is a story of an Honest man Purushotam Narayan Joshi and his family. His last wish is to earn Ekkees Toppon Ki Salaami (21 Gun Salute), but he is a common man and it's almost impossible for a common man to get that sign of respect on his death. So his sons try to fulfil their father's dream to get Ekkees Toppon Ki Salaami.
Whole story is about, Problems and Problems faced by this family to get 21 Toppon ki Salaami, but will they succeed for the dream? For that you have to watch this movie.
Ekkees Toppon Ki Salaami Teaser/Trailer Review
Trailer of the movie shows that this movie has a comical plot and starical storyline, this is a low budget movie but with good message and I think movie will get decent audience and love.
Ekkees Toppon Ki Salaami Music Review

Music is Composed by Ram Sampath and Tod De Kataar, Ghoor Ghoor ke, Hum Tumhe Kaise Bataye . All songs are normal and not that much catchy. Movies of this kind doesn't needs music,  Except background scores.
Ekkees Toppon Ki Salaami Tracklist
Bitua (Mohit Chauhan)
Ghoor Ghoor Ke
Tod De Kataar
Hum Tumhe Kaise Bataye (Ghazal)
Ekkees Toppon Ki Salaami
Dialogues of Ekkees Toppon Ki Salaami
Apko Cannon kyu chahiye,
Kyuki mere Babuji babar ki sena me the aur unko ab Ekkees Toppon ki Salaami dilwani hai.
We are from Swizz bank
Swizz bank,Pura Hindustan milna chahta hai tumse badi taklif hai logo ko.
Sari musibad ki jadh hai sala L.A.N.D
LAND matlab Land…