Pyar ka Punchnama 2 is almost finish but we still love the superb dialogues in the first part of the film. Dialogues of Pyar ka Punchnama were epic and all the dialogues of the film are hilarious. we are sharing some super funny dialogues from the film Pyar ka Punchnama. We are hoping some great dialogues in Pyar Ka Punchnama 2.
Liquid : Saali Rajjo tu kya pet se hai Darwaza nahi khol sakti thi uth ke..
Liquid : Main tera baap nahi hoon, kyuki meri najayaz aulad bhi na tere jitni najayaaz nahi ho sakti…
Liquid : Aisa hai Khana to ghatiya hai hi aapka, chai bhi ghatiya hai, ye piche jo nala beh raha hai na ussi ke paani se bani hai ussi me moot te hai ussi ko pee lete hai..
Liquid : Tumhari ghatiya company koi standard nahi, sab nikkar pehen pehen ke aa jate hai, pata nhi kya kya krna padta hai jisse asaani se utari jaa sake isliye nikkar pehen ke aa jate hai…
Liquid : Kutto ka koi sunday nahi hota, kutte saato din kutte hi hote hai..
Liquid : Aaj tere bhai se ladki ne khud aake baat ki, Parathe bhi khaye sath me..
Liquid : Main chep hu nahi sirf lagta hoon..
Liquid : Sali Kutiya, Kitni kamini hai tu.. 3 din se teri gili chaddi bathroom me padi sad rahi hai, kitchen me tune ande ke chilko ka ash tray banaya hua hai, tere mozo ki badbu se chaudhary almost 3 bar ulti kar chuka hai, aur to neha ko keh raha hai wo hume trouble karti hai, itni pyari bachchi hai wo, problem saali tu hai..
Rajat : Liquid Itna mat garam hua kar, kisi din evaporate ho jayega…
Chaudhary : Abe ek baat bata Saans rokne se kya moot bhi ruk jata hai?
Chaudhary : Abey beygon pina hota to tujhe call nahi karti, pee leti aur tujhe pata bhi nahi chalta..
Liquid: Chauby jee chai badhiya hai aapki
Din bhar ki Thakaan mit jaati hai, Naale ki Khushboo aur Aapki Chai…
Rajat : Mootna Khatam karne se pehle Abhi moota ka status dal update laga dete ho..
Rajat : Muh me lele five megapixel aur uski foto chaap ke laga le…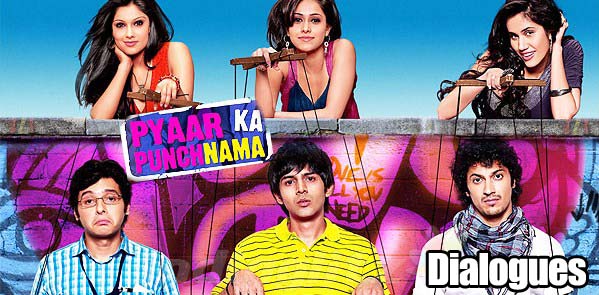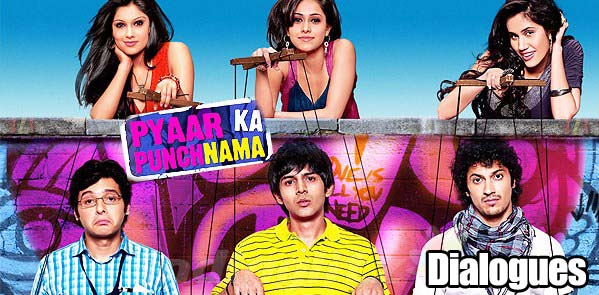 Rajat's Epic Dialogue in Pyar Ka Punchnama
Problem yeh hai ki woh ladki hai. aur kya problem hai
Problem yeh hai ki main chahta hoon ki meri life mein koi problem hi naa ho
Lekin agar meri life mein koi problem naa ho toh yeh uski life ki sabse badi problem hai…
And bull shit she is worried yaar
Usse toh celebrate karna chahiye
Because this is exactly what she wants
Seriously yaar aajkal jab bhi wo mooh kholti hai
Mann karta hai mooh mein kuch thuss doon
Trust me yaar 6 mahine mein I have had it all
Sab dekh liya maine
Abbe kaunsa pyaar, kaisi relationship, kaahe ki khushiyaan?
Relationship ka matlab hi yeh hota hai to enter into your own happiness
Uske baad all you have to worry about is
Uski khushiyaan, uska birthday
Uske kutte ka birthday
Uska new year jo kabhi tumhara bhi new year tha
Inn ladkiyon ko naa koi khush nahi rakh sakta
A happy woman is a myth
Tu batman wali ko dekh le
Saala jab tak batman nahi bana, tab tak bolti rahi
Tum toh kuch karte nahi ho
Naakara ho, napunsak ho
Main tum jaise insaan ke saath kaise reh sakti hoon
Jis din bechara batman ban gaya
Uss din boli, tum toh batman ban gaye
Arrey mujhe toh ek normal insaan chahiye tha
Main tumhare saath kaise reh sakti hoon
Sab saala naa in kahaaniyon ka dosh hai
Bloody bollywood romantic masala
Ek ladka ek ladki dono ko pyaar hua, dono saath saath, film khatam
Iske baad ki story koi nahi batata
Iske baad ki kahaani main batata hoon
Iske baad ladke ne ladki ko 2 din hug nahi kiya toh problem
Hug kiya to chep ho rahe ho
Itna bhi achcha nahi lagta
Saali shopping khatam nahi hoti inki
Pehle cushion aaye fir curtains aaye
Cushion, curtain se match nahi kiye toh aur cushion aaye
Mere ghar mein mug itne hai ki unko bechne jaun toh mahine ka kharcha nikal aaye
Ek toh jo cheez kharidne jaayegi
Woh cheez kharid ke nahi aayegi
2 hafte dimag chategi ki table lena hai table lena hai
5 ghante mall mein bitaa ke ek sadi si chappal utha ke le aayegi
Aur phir agle do hafte dimag chategi
Table lena hai table lena hai…
Office me kaam kar raha hoon
Phone aa jayega
Phone uthate hi bol deta hoon
Baat nahi kar sakta
Kitna mushkil hai ye baat samajhna?
2 minutes kar loge to kya ho jayega
Arrey 2 minute kar lunga to tujhe kya mil jaayega meri maa
Thik se to kar paunga nahi
Aur iske baad I love you bole bina phone kaata to naatak
Sabse zyaada dimaag ki dahi is mobile phone ne ki hai
Katiya hi ghatiya invention hai saali
Trust me I say patta hai saala patta
Ek toh inke ad bhi dekho
Lo ji 1 paisa per second
Aur phone karo
Aur phone karo
Arrey call sasti ho jaane se baat thodi na badh jaati hai karne ko
Phir iska jawab unhe bhi do
Tumhare pass baat kyun nahi hai karne ko
You have lost interest in me
Tumhe hmm hmm hi karna tha toh maine tumhe phone hi kyun kiya ?
Arrey meri maa mujhe kya pata tune mujhe phone kyun kiya ?
Jaake Bharti Mittal se puch naa
Tujhe main bata raha hoon
Uss ad mein naa woh kutta nahi kutiya hai
Seriously shart laga sakta hoon
Wherever you go, we follow
Tujhe kya lagta hai
Columbus ko pata nahi tha wo ke India nahi jaa raha hai aur galti se pahuch gaya?
Nahi usko pata tha
Woh bechara toh kahin door jaana chahta tha
Biwi ke chakkar mein bolna pada India jaa raha hoon
Nahi toh 10 sawaal puchti
Kahaan jaa rahe ho
Kyun jaa rahe ho
Achcha tumhe pata bhi nahi kahaan jaa rahe ho?
Seedhe seedhe kyun nahi bolte mujhse kahin door jaana chahte ho ?
Aaj tak bechaare ka mazaak udaati hai duniya
Office mein kaam kar raha hoon
SMS aajayega
I love you
Theek hai main bhi SMS kar deta hoon
I love you too
Iske baad SMS pe SMS shuru
Abbe kaam kya karti hai office mein ?
2 SMS ka reply mat karna
Turant phone aayega
Phone mat uthaa
Toh 10 minutes mein message aa chuka hoga
I don't think it's working anymore
10 minutes mein Babu I love you se I don't think it's working anymore
And this is when they are not even down
Ab pata chala ye aadmiyon ko itne heart attack kyun aate hain
Aur yeh gay bande itne successful kyun hote hai ?
Because they don't have a woman to screw their happiness naa
Log kehte hai naa behind every successful man, there is a woman
True.
But koi ye nahi bataata ki behind every unsuccessful man, also there is a woman
Aur yeh toh koi bhi bata sakta hai naa ki unsuccessful logo ki taadaat
Successful logon se kayi guna zyada hai is duniya mein
Saala office me kaam kar raha hoon
Keh raha hoon late ho jaaunga
Toh khaana nahi khaayegi
Phir bhookhi so jayegi
Arrey main keh raha hoon khalo toh dikkat
Kya karoon naukri chodd doon ?
Phir saale ghar jaao
Pehle inhe manaao inhe khilaao
Inke baad khud ki bhookh toh waise hi mar jaati hai
Inn sab ke baad bhi insaan kisi tarah
Kone me jaake shaanti se baitha hua hai naa chup chaap
Ghadi ghadi
Kya soch rahe ho???
Kya soch rahe ho???
Kya soch rahe ho???
Arrey kuch nahi soch raha meri maa
Yeh soch raha hoon tera mooh kaise band karoon
Kya soch raha hoon
Camera laga doon dimag mein
Iss sab ke baad
We never talk
We need to talk
I don't think it's working any more
And main tujhe bata raha hoon
You cannot discuss anything with a woman
Because they call it a discussion
But any discussion with a woman is an argument
Aur argument mein toh tu boss unn se jeet hi nahi sakta
Because hum aadmiyon ki ek basic need hoti hai
To make sense in an argument
Ladkiyon ko koi farak nahi padta
Sense jaisi bekaar si cheez ki wajah se woh
Argument kaise haar jaye
Ek toh aaj ki baat pe argument aaj hoga hi nahi
Aaj ki baat pe jhagda hoga 2 mahine baad
Yahaan saala yaad bhi nahi hota hai 2 mahine pehle hua kya tha ?
Ladkiyaan bacha ke rakhti hain
Yeh chota hatiyar nahi
Yeh bada hatiyar hai
Isse badi ladai mein use karenge
Tu kabhi try kar liyo khud ko sahi saabit karne ki
Tujhe lag hi raha hoga ke iss point se tu apni baat ko saabit kar lega
Lekin tabhi ek awaaz aayegi
Ungli neeche karo
Tune dhyaan bhi nahi diya hoga
Lekin tumhari nadaan si ungli unki taraf point kar rahi hogi
And suddenly , the whole argument will flush down the gutter
Aur mudda ye reh jaayega ki
How dare you point a finger at me ?
Kisne banaya yeh rule
Kisne ?
Saala woh beech argument mein tumhe joota phek ke maar de toh koi dikkat nahi
Lekin tum unki taraf ek ungli point kardo
Saara mudda khatam
Wo sahi tum galat
Shaadi se pehle woh nagin been kyun bajta hai, haan
Kyun ki band wala bhi tumhe chetawani de raha hota hai ki kaun aa raha hai tumhari zindagi mein
Inka signature tune hai woh
Ab yeh bata woh kya karne aayi thi tere paas yahaan
Same cheez main karoon toh
Uske kisi friend ko call karke
Ab yeh problems ginaau toh
Kahegi achcha tumne meri friend ko call kiya
Hmm hmm
Tum unki sympathy gain karna chahte ho ?
Why don't you go and sleep with her?
It's ridiculous yaar !!
Chaudhary : wo ungli wala mere sath bhi hua tha…
Share your favourite Dialogue of Pyar ka Punchnama in Comment section..!