After OMG-Oh My God and PK we have a new Satirical comedy movie on religion and godman. Dharam Sankat Mein is the official remake of British Film The Infidel. Starring Paresh Rawal, Annu Kapoor and Naseeruddin Shah in the lead roles. Film is directed by Fuwad Khan.
Dharam Sankat Mein Starcast
Directed by
Fuwad Khan
Produced by
Viacom 18 Motion Pictures
Sajjad Chunawala
Shariq Patel
Starring
Paresh Rawal
Naseeruddin Shah
Annu Kapoor
Auritra Ghosh
Release date
April 10, 2015
What I felt after watching Dharam Sankat Mein?
Film Justifies its title Dharam Sankat Mein, Paresh Rawal name is Dharam Pal Trivedi. So "Dharam(Paresh Rawal) Sankat Mein".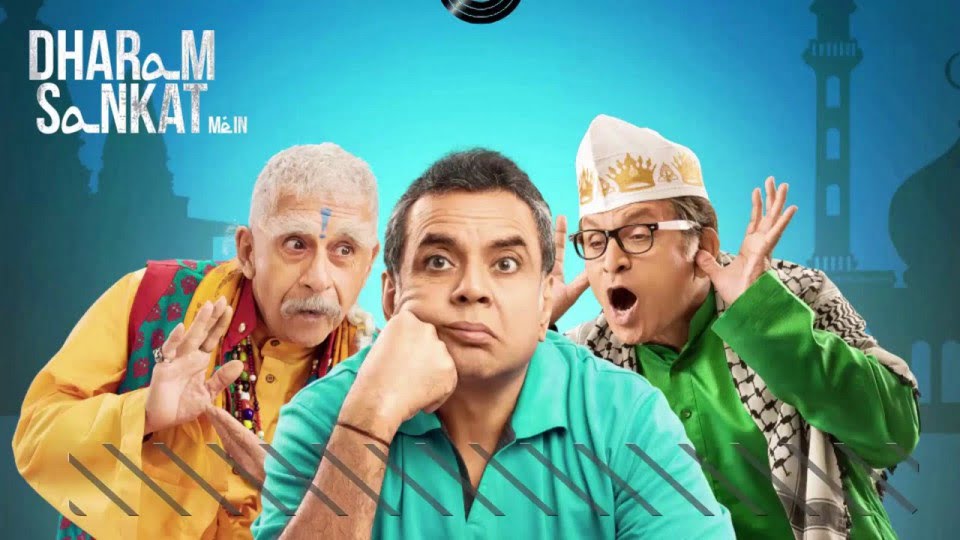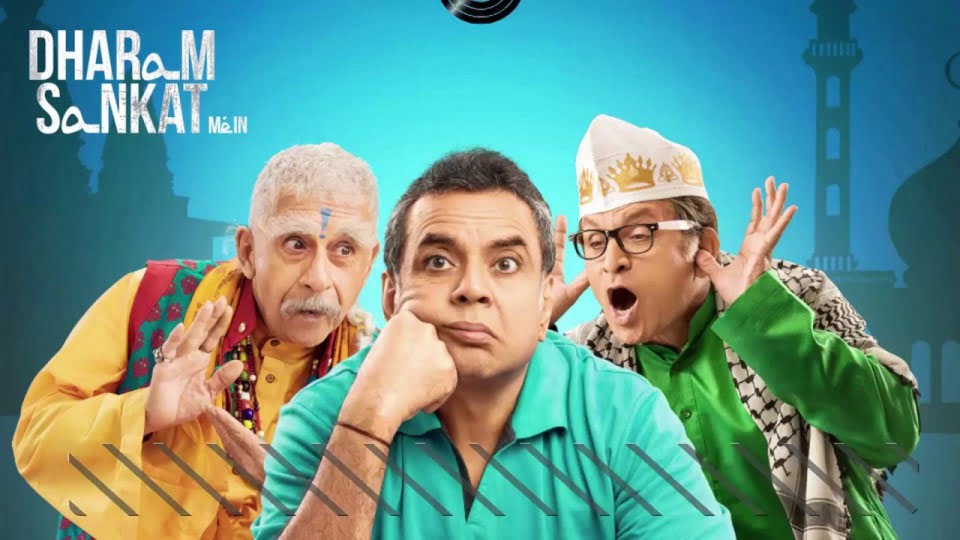 Dharam Sankat Mein is a good satirical film on religion. Paresh Rawal strikes again with a similar kind of role like OMG. Film is all about his life situations and how two religions becomes a headache for him. Chemistry between Annu Kapoor and Paresh Rawal is superb. You will laugh hysterically in all the scenes of Annu Kapoor. Naseeruddin Shah as a Godman Neelanand Baba is ok and his role is very short. So basically film is standing on two strong pillars Annu Kapoor and Paresh Rawal.
Punjabi Actor and Singer Gippy Grewal has a special appearance as Manjeet Manchala Singer.
Film is not about cursing a religion. It is all about how religion is bigger than any problem in life. Religion itself is becoming a big problem in our country.
Story of Dharam Sankat Mein
Dharam Pal Trivedi who was grew up as a Hindu, but very soon he realizes that he was born as Muslim, his father was Muslim and he was adopted by his parents. His neighbour and friend Nawab Mehmood Shah (Annu Kapoor) help him to find his real father. Maulvi tells him that he has to follow Islam if he wants to meet his real father. Annu Kapoor helps him to learn all needful things about Islam but at the same time he has a Hindu family.
Film is all about, how Dharam Pal Trivedi becomes sandwich between two religions.
For complete story you must watch the film!
Dharam Sankat Mein Verdict
Two big films are already in theaters, so it will be a tough competition for Dharam Sankat Mein to earn good at the box office. Overall film concept is good and it's a must watch film for this weekend.
Should I watch Dharam Sankat Mein?
Yes, you can watch this film. Dharam Sankat mein is a good film, if you liked OMG, PK then you will surely like this movie.
Dharam Sankat Mein Filmy Keeday Ratings
3 Stars