Here is the list of Top 10 Bollywood Celebs from Fat to Fit. These celebs too had baby fat, and were Obese but they did the hard work and followed a strict diet and got Fit. They all are an inspiration to all overweight people.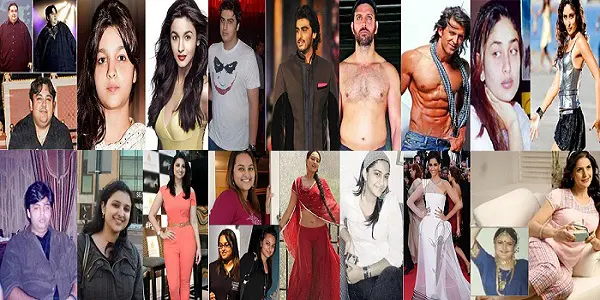 Adnan Sami
The very famous singer, Adnan Sami touched every heart with his melodious voice. Adnan weighed more than 200 kgs, and his weight became the talk of the town as soon as he started climbing the steps of fame. Adnan Sami today is just about 75 kgs, he lost all his extra weight and gained confidence. His weight loss too became the talk of town just like his overweight was.
Alia Bhatt
The princess of Mahesh Bhatt, Alia Bhatt started her Bollywood Career in the movie, 'Student of The Year'. We have seen her like a Glam doll in the movie, but there was a time when she had all the baby fat. She had to go on a strict diet and lost 16 kgs to bring the damsel beauty out.
Arjun Kapoor
Remember Parma from Ishaqzaade? The lean body, dashing dude was once a fat boy of 170 kg. Arjun followed the guidance of Salman Khan and lost 68 Kg to come out as a hunk.
Kareena Kapoor Khan
Do not get shocked to see her name in the list! Yes, Kareena is the actress who started the trend of Size 0 in India, but as a teenager she too was chubby and had baby fat. She obsessively followed Power yoga and a strict diet to attain the figure which every actress would die for.
Also Read: Bollywood Celeb kids in troubles
Hrithik Roshan
The heartthrob of nation Hrithik Roshan was not always lean and had a flabby tummy. He followed a strict routine of regular exercise and gym with a healthy diet to attain the lean muscular six pack body.
Karan Johar
Karan Johar, the very popular Director whom every actor wants to work with was very overweight in his late 20s. Later Karan started his fitness regime and shed extra kilos.
Parineeti

Chopra                  

Cousin sister of Priyanka Chopra, Parineeti was a cute chubby girl with lots of baby fat. She worked hard and lost all her baby fat and made debut in the movie, 'Ladies vs Ricky Bahl'.

Must Read: Bollywood Actresses who opted cosmetic surgery
Sonakshi Sinha
Shatrughan Sinha's princess Sonakshi was more than chubby before she entered Bollywood. Sonakshi SInha looted many hearts with her beautiful eyes and curvaceous figure in the movie Dabangg opposite Salman Khan. Sonakshi reduced 30kgs to get the figure which struck Salman Khan's heart in the movie.
Sonam Kapoor
Anil Kapoor's princess, Sonam Kapoor who has become the ultimate Fashionista. Sonam was once a chubby girl weighed 86 kgs when Sanjay Leela Bhansali offered her Saawariya. Sonam managed to lose 30 kg and looked magnificently beautiful in the movie. Today she is more famous for her wardrobe and the way she carries off all her dresses so amazingly rather than just her movies.
Sonam has managed to become a Fashion Icon for today's generation all over the world.
Also Read: Bollywood Celebs and Live in Relationships
Zarine Khan
Zarine made her debut in the movie, 'Veer' against Salman Khan. Media criticized Zarine for her flabs more than her acting skills. Zarine worked extremely hard to shed all the extra weight, she went to 55 kgs from 100 kgs, becoming an inspiration to all the plus size women.