Bewakoofiyaan is a fun movie starring a strict and possessive father of a young girl who is in love with a boy who is not doing so well in his career. The concept of the movie is not so new but enough to make any movie a good comedy one. But did this funny plot and sexy moves of Sonam Kapoor enough to make this movie a successful one? Let's find out
Bewakoofiyaan Star Cast
Starring: Ayushmann Khurrana
Sonam Kapoor
Producer: Aditya Chopra
Director: Nupur Asthana
Writer: Habib Faisal
Music: Raghu Dixit, Hitesh Sonik
IMDb:
Release Date: 14 March 2014
What I felt after watching Bewakoofiyaan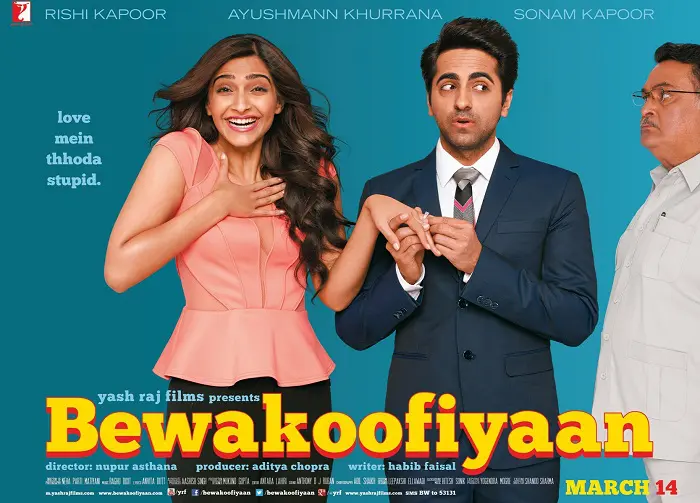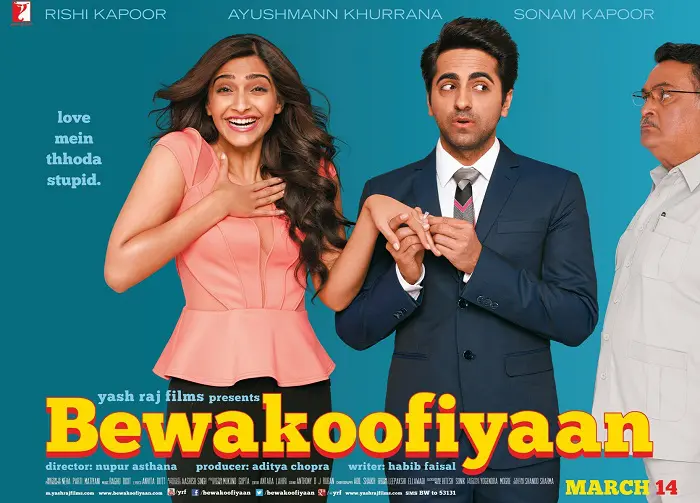 As the trailers have told the movie didn't give me any surprising element. The movie was more of a predictable thing for me at least. It is a simple story with lots of fun rides which sometimes aren't that funny. On the whole it is a one time watch movie but could have been much much better.
After being part of so many movies, Sonam Kapoor still seems like new to the world of acting. Yes, believe me, she seemed doing overacting in many of the scenes which kept breaking the flow of the movie.
Bewakoofiyaan Story
The story revolves around a beautiful couple, Mohit and Mayera who are very much in love with each other and everything is going amazingly well in their lives. But there comes a big trouble in Mohit's life which every Indian boy faces, his girlfriend's father and JOB. Just retired civil servant, Vinod Kumar Sehgal, Dad of Mayera wants a financially stable boy for his princess Mayera and Mohit is nowhere close to his expectations. Vinod tries to break the lovebirds with his cunning tactics but fails. Vinod finally decides to meet the choice of his daughter and put the groom to be to the test to prove himself.
Now, what happens next is full of fun, twists and turns. I am not going to act as a spoiler, so go ahead, grab your tickets and watch the movie in your nearest theatre.
Bewakoofiyaan Verdict
Bewakoofiyaan is a light romantic comedy, not so good not so bad. If you are free you can go and have a good time watching or may skip it. As far as the verdict goes, the movie is certainly not going anywhere near the 100 crore club. I doubt if it can even do a lifetime business of 60 crores.
Filmy Keeday Bewakoofiyaan Rating
* *