Gulaab

Gang Movie Review
Can Madhuri's Gulaab Gang work for Women Empowerment?
Directed by Soumik Sen, Gaulaab Gang is about Women Empowerment. The docile women of a remote village of India forms a pink group named Gulaab Gang and fought for their rights. The movie is somewhere inspired from the real life Gulaabi Gang of Sampat Lal. But the makers of the movie deny being an adaptation of Gulaabi Gang at all. The movie is purely fictional and is being released one day prior to the Women's day. Can Madhuri's Gulaab Gang inspire the world for women empowerment? Let's find out–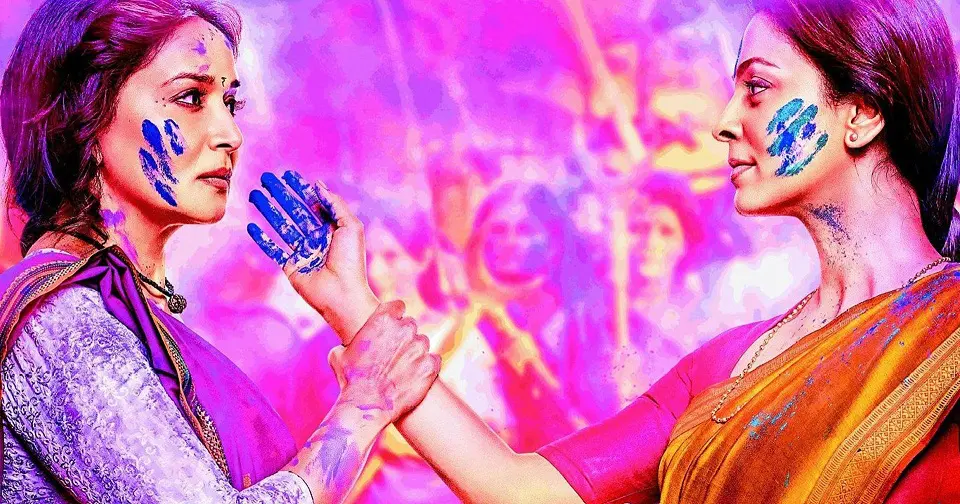 Gulaab

Gang Star Cast

Starring: Madhuri Dixit
Juhi Chawla

Producer: Anubhav Sinha
Abhinay Deo
Alumbra Entertainment

Director: Soumik Sen

Writer: Soumik Sen
Anubhav Sinha

Music: Soumik Sen

IMDb:

Release Date: 7 March 2014
What I felt after watching
Gulaab

Gang

The movie is about Rajjo (Madhuri Dixit) who forms a gang of women and names it Gulaab Gang. The gang works for social injustice and operates in rural areas of Bundelkhand and Madhya Pradesh. Madhuri Dixit as usual has justified and expressed the character of Rajjo in full form. The surprising part of the movie is Juhi Chawla, who is portraying a negative shade for the very first time. I loved Juhi Chawla's acting in this negative shade. I could never ever expect Juhi in a negative role, but she is a versatile actress and has surprised every fan of hers.

Click Here for Gulaab Gang Wiki and Dialogue Lyrics
Gulaab

Gang Story
Rajjo the leader of Gulaab Gang, runs an an ashram of women where she gives them the education, means of livelihood and teaches to fight against injustice for one and all. Rajjo is not eager to fight, she tries to solve the matter peacefully, but when no way out is left then she knows what to do. Rajjo comes face to face to a politician, Sumitra Devi (Juhi Chawla). First half of the movie is amazing and you will love it, but as soon as the story progresses it becomes a pain in the back. Yes, you will feel tired sitting and looking at the screen.
Madhuri plays the role of a leader, soft and a fighter at the same time, whereas Juhi plays the role she has never seen before, a cunning and evil politician. Yes, you will see some real heroic stunts in the movie, men flung in the sir, blood fountains and not a hero but sari clad women of Gulaab Gang doing so.
Gulaab

Gang Verdict
As far as women empowerment goes, yes, this movie is definitely going to raise the morale of every woman. But as far as entertainment goes, the movie lacks a lot. Soumik Sen, has done a brilliant work by choosing 7th March to release the movie, when the whole world is painted in the color of Women's Day. I doubt if the movie by any chance can make a way in the 100 crore club.
Filmy Keeday
Gulaab

Gang Rating

* *