Romance has always been an integral part of Bollywood films and over the years, we have seen onscreen romance evolved from mere eye contacts to smoking hot kissing scenes. Whether it's a hardcore drama or a thrilling action film, there's always a romantic angle in the plot that becomes the base for songs and helps the story move forward.
Well, that being said, there's also a Bromance element highly famous in Bollywood. Don't get me wrong, I am not talking about homosexual relations as we all know that the Indian cinema is not yet ready for such theme. By Bromance I am talking about the Homosocial Bollywood pairs in the films. These pairs display the love, affection, and bonding between two friends or brothers and even focuses sometimes on the rivalry.
From the Amitabh Bachchan era, there has been a trend in Bollywood to cast two of the biggest stars in the industry in one film and feature them as friends, separated brothers, or rivals to gain the attention of the audience and fill in theaters. Although this trend has somewhere diminished in the new millennium, such Bromance trend has gifted some of the best Male Bollywood pairs displaying such a level of bonding between the two actors that even the female leads in the film get overshadowed by their chemistry.
Best Male Pairs in Bollywood Delivering Amazing Onscreen Chemistry
Before we move on to the list, I must explain that these male pairs are not selected on the basis of the total number of movies they worked in. Instead, they are selected for the level of chemistry displayed by them onscreen giving us great examples of brotherhood, friendship, or mentorship altogether.
Here are some of the best Homosocial Bollywood pairs in Bollywood offering the best onscreen chemistry:
Amitabh Bachchan – Shashi Kapoor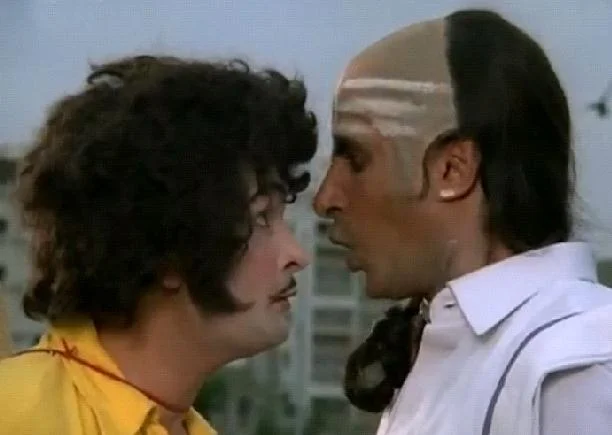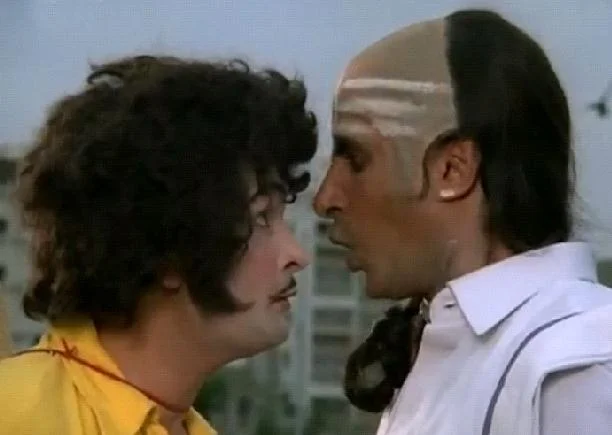 The first pairing that comes to my mind when we talk about male pairing in Bollywood is Amitabh Bachchan and Shashi Kapoor. Both these veteran actors have worked together in more than 10 films with some notable performances in blockbuster films like Deewar, Suhaag, Shaan, Kabhi Kabhie, Trishul, Namak Halal, etc. The first film featuring Amitabh and Shashi together was Roti Kapda Aur Makan. They were brothers in the film and since then have worked in several films as brothers or best friends and even sometimes rivals in films such as Do Aur Do Paanch.
Amitabh Bachchan – Dharmendra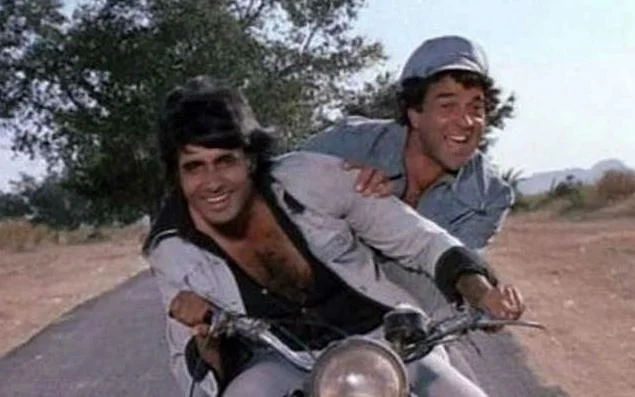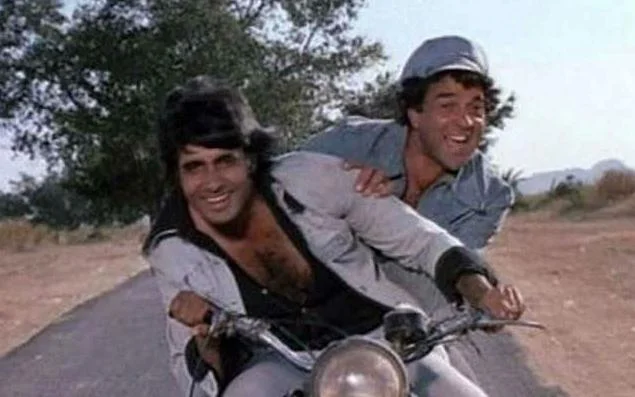 The second on our list are Jai and Veeru of Bollywood. The onscreen chemistry between these two veteran actors was best displayed in the epic film Sholay, in which they were cast as best friends and the only family to each other. The pairing between these two superstars of Bollywood begun in 1975 with Chupke Chupke and Sholay released in the same year. While Chupke Chupke was more Dharmendra film, Sholay can be said to be the first film that featured both the stars equally on the big screen as best buddies. After Sholay, they didn't feature in many but few films like Ram Balram.
Amitabh Bachchan – Vinod Khanna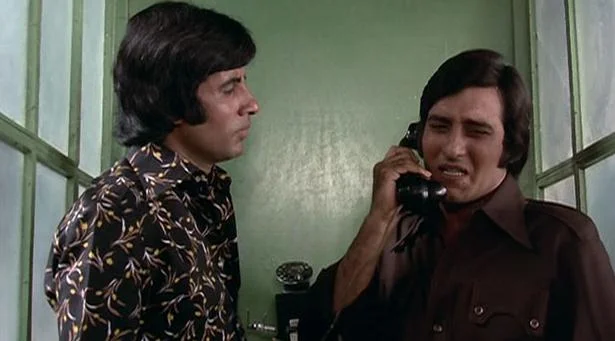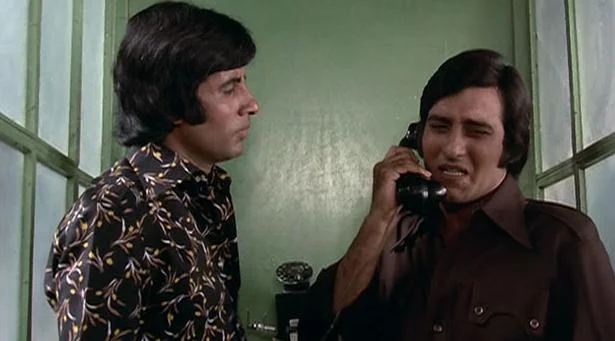 Other than Amitabh and Shashi, its Amitabh's pairing with Vinod Khanna that was highly popular in the 70s. The pair was featured for the first time in Reshma Aur Shera but was eventually overshadowed by the lead Sunil Dutt. Later, they were featured together in 1975 Zameer in which both stood as rivals throughout the film only uniting in the end. The 1976 film Hera Pheri is technically the first film that features them as best friends and its success is reflected in several other films like Parvarish and Amar Akbar Anthony, where both of them play brothers. Then, there was also 1977 film Khoon Pasina featuring both of them together as childhood friends, who got separated at a young age and reunited as rivals when they are adults. However, the best film featuring both of them was the 1978 film Muqaddar Ka Sikander.
Amitabh Bachchan – Rishi Kapoor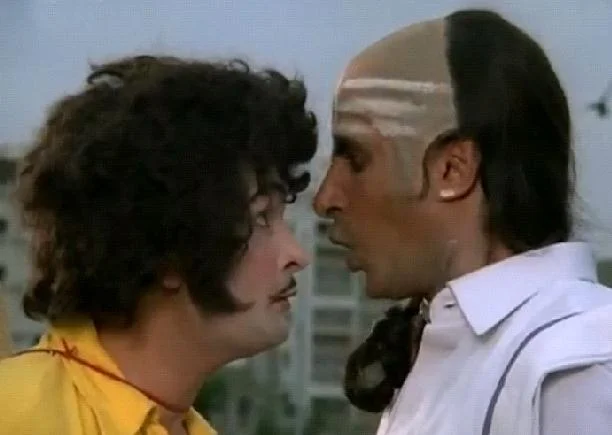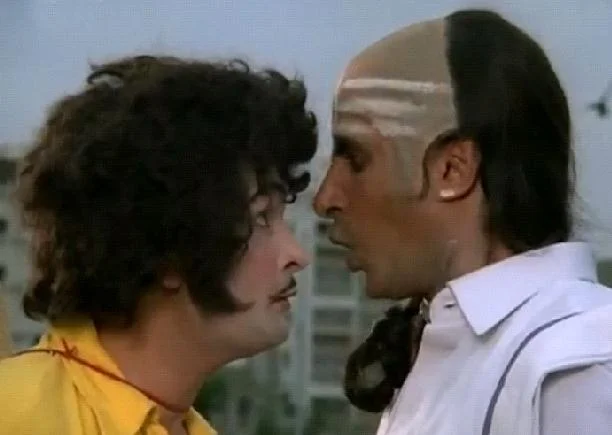 Another great pairing with Amitabh Bachchan was Rishi Kapoor. Both these have played brothers in films like Amar Akbar Anthony (1977), Naseeb (1981), and Coolie (1983). Besides that, they have also worked together in Yash Chopra's 1976 film Kabhi Kabhie and then again as friends in Shashi Kapoor's 1991 film Ajooba.
Anil Kapoor – Jackie Shroff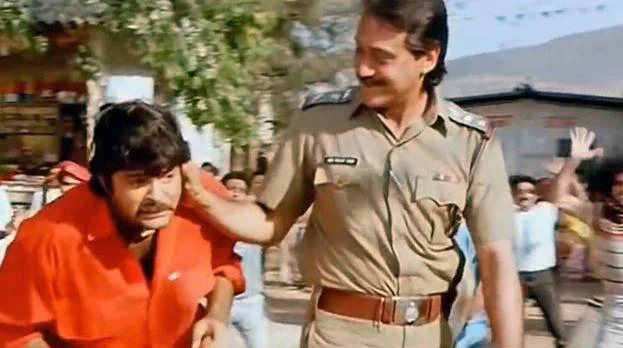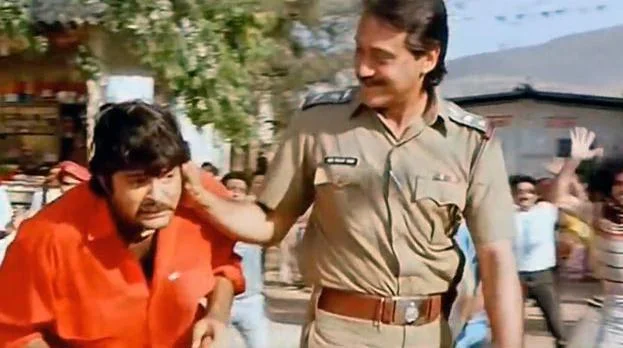 While the 70s and 80s were dominated by Amitabh Bachchan's pairing with superstars of his era, the 90s welcomed a new bonding between Jackie Shroff and Anil Kapoor. Unlike Big B's era where he almost dominated in the film, the duo of Jackie Shroff and Anil Kapoor was evenly balanced. They were seen together for the first time in 1984 action film Andar Bahar. Later, they worked in several hit films like Yudh (1985), Parinda (1989), Ram Lakhan (1989), and 1942: A Love Story (1994). They were considered the best pairing as brothers after Amitabh and Shashi in Bollywood.
Dharmendra – Jeetendra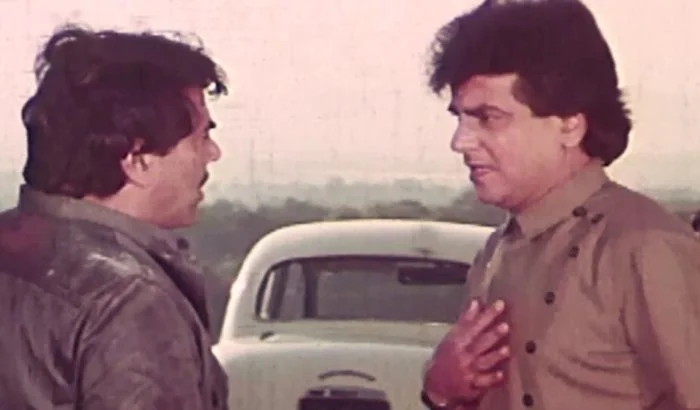 Another hit pairing combining two male actors in Bollywood is Dharmendra and Jeetendra. While they were seen together in 1969 film The Gold Medal, but Dharmendra had a cameo in the film and Jeetendra played the lead. However, the first and the most successful film starring both these actors in the lead is the 1977 film Dharam Veer directed by Manmohan Desai. Owing to their amazing chemistry and brotherhood, there were seen together in several films like Samraat (1982), The Burning Train (1980), Jani Dost (1983), Nafrat Ki Aandhi (1989), and several others.
Akshay Kumar – Sunil Shetty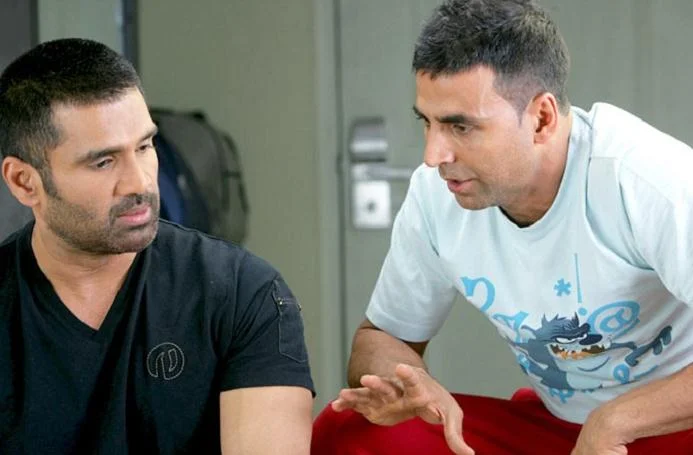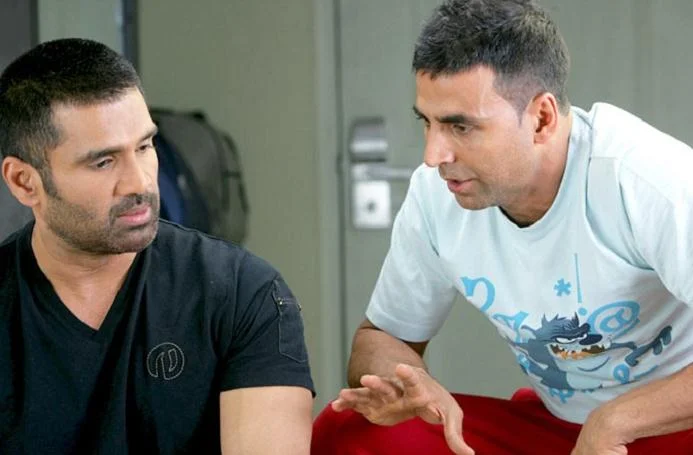 Although not as successful as the Anil Kapoor and Jackie Shroff, Akshay Kumar and Sunil Shetty had their fair share of success together in the 90s and the winning combination is still ongoing with the Hera Pheri series. Both were seen together for the first time in 1993 action romantic film Waqt Hamara Hai and later followed by the 1994 action film Hum Hain Bemisaal. However, the biggest blockbuster starring the duo came as 1994 political action thriller Mohra. As the trend of action films faded out, the duo was hardly cast together in a film until the 2000 comedy Hera Pheri. Hera Pheri brought them together and this time they showed their prowess in comedy genre as well and it leads the filmmakers to cast them together in several comedies like Awara Pagal Deewana, De Dana Dana, Hera Pheri 2 and several others.
Akshay Kumar – Saif Ali Khan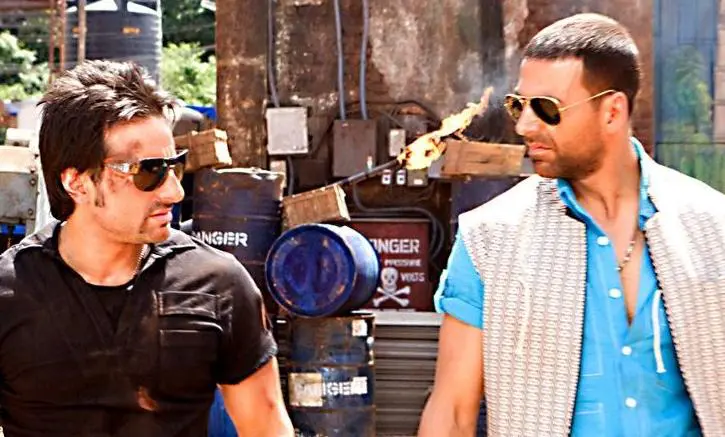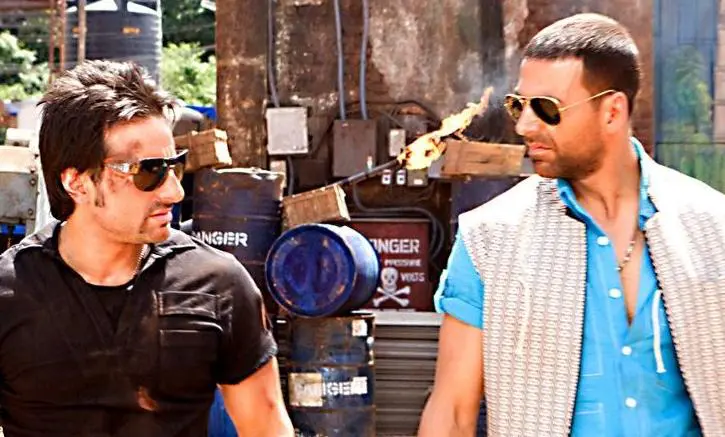 Akshay Kumar also had a good partnership with Saif Ali Khan delivering two of the biggest hits in both their careers in the 90s. The team was paired together in 1994 action thriller Main Khiladi Tu Anari and yet again in the same year but this time in a romantic film Yeh Dillagi. Owing to their success, both these actors were cast together in films like Keemat (1998), Tu Chor Main Sipahi (1996), Aarzoo (1999), and Tashan (2008). However, none of these films made any huge impact and both these actors were never seen together from thereon.
Also Read : Actors and their Most Used Names in Films
Sanjay Dutt – Govinda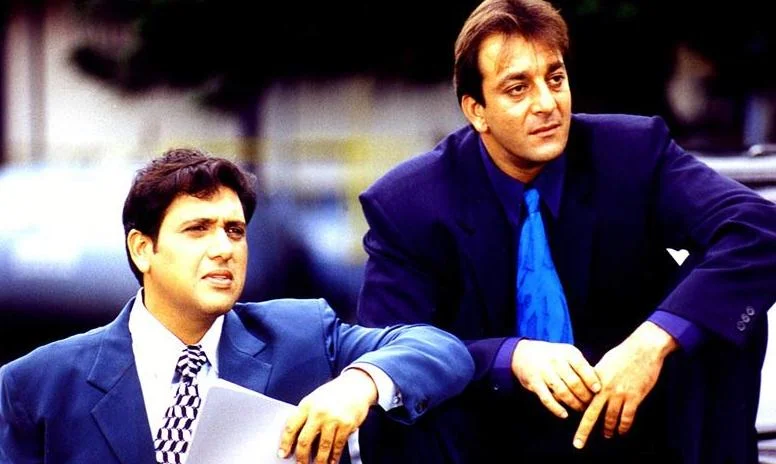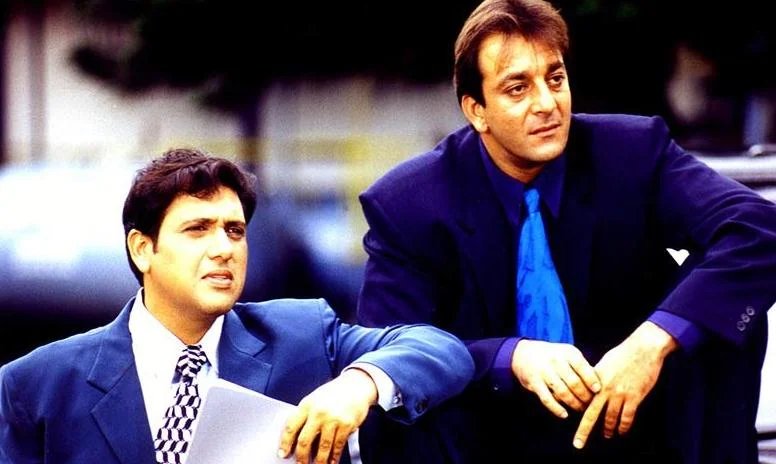 Another hit brotherhood onscreen during the 90s was seen between Sanjay Dutt and Govinda. Both these actors were seen together in the late 80s in films like Jeete Hain Shaan Se (1987), Do Qaidi (1989), and Taaqatwar (1989). However, the film that got everybody's attention was 1995 film Andolan. After working in several action films, the duo found huge success in their second innings with comedy giving hits like Haseena Maan Jaayegi (1999), Jodi No.1 (2001), and Ek Aur Ek Gyarah (2003).
Akshay Kumar – Paresh Rawal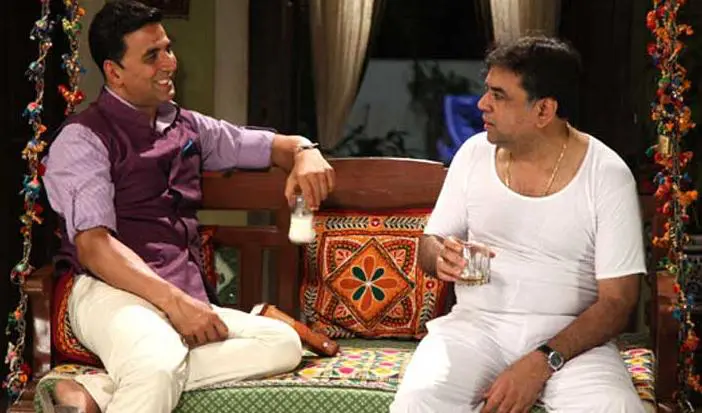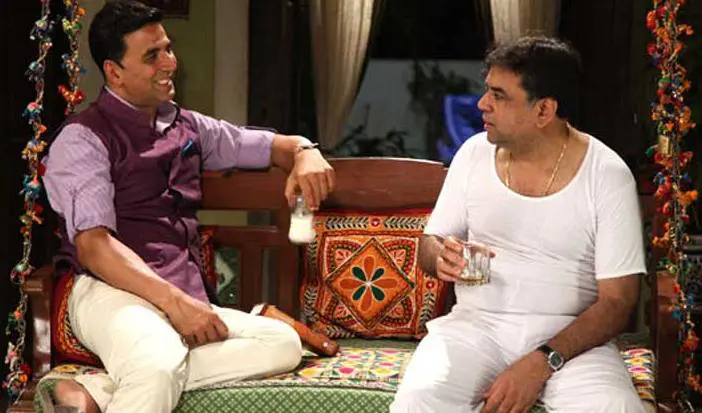 Well, most of the onscreen bonding between male actors that you see is main lead in the films. However, there's one pair that has been making some noise is between a mainstream actor and a character actor. Yes, I am talking about Akshay Kumar and Paresh Rawal. Both these actors have worked in several films in the past, however, their bonding was best seen in the 2000 comedy Hera Pheri. The duo was then cast together in several comedy films like Awara Pagal Deewana, Garam Masala, Deewane Hue Pagal, Welcome, Bhagam Bhag, and many others. The pair was also seen together in the 2002 Indian heist thriller Aankhen and later they were also paired together in 2012 satirical comedy OMG – Oh My God!
A few notable mentions…
So, that's our list of top 10 popular Homosocial Bollywood pairs featuring platonic Bromance and setting examples of brotherhood and friendship. However, there are a few others who weren't as successful as these men but they too deserve a mention. They are Amitabh Bachchan – Shatrughan Sinha, Sunny Deol – Chunky Pandey, Sunny Deol – Anil Kapoor, and Akshay Kumar – John Abraham.
Besides these, there were also some films featuring male bonding and brotherhood with some memorable performances in films such as Andaz Apna Apna, Munna Bhai M.B.B. S, 3 Idiots, Kai Po Che, Dil Chahta Hai, and Zindagi Na Milegi Dobara.