2 States Film –Is the film better than the bestselling novel 2 States?

2 States is a romantic comedy based on a bestselling novel of  Chetan Bhagat. Whenever a bestselling novel is recreated in a movie, it becomes a little tougher. The only reason is, the Director has to make the movie all the more creatively because the audiences already have the novel traced in their hearts. The Director knows very well, that everything of the movie will be compared with the novel.
Can Director Abhishek Varman get as much praises for his movie as much as Chetan Bhagat got for the novel? Let's find out
2 States Film Star Cast
Starring: Arjun Kapoor
Alia Bhatt
Ronit Roy
Amrita Singh
Revathy
Producer: Karan Johar
SajidNadiadwala
Director: Abhishek Varman
Writer:ChetanBhagat
Music: Shankar Ehsaan Loy
IMDb:
Release Date: 18 April 2014
What I felt after watching 2 States Film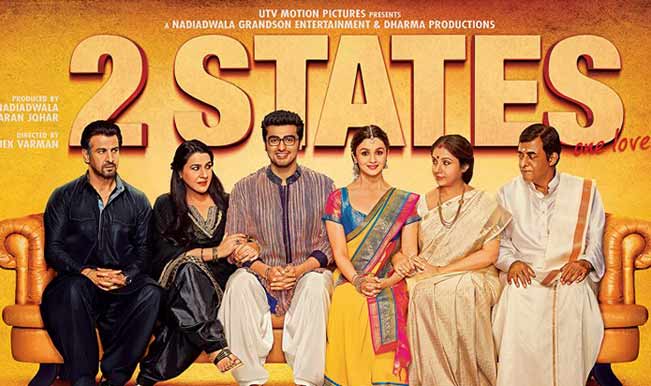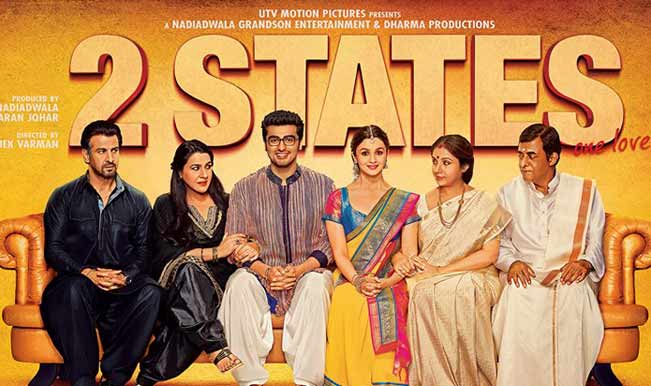 While watching the film, I was back and again missing the novel. While reading the novel, my mind has made a shadow of the characters and the movie lacked them all. I so wanted to watch this movie but it felt short of my expectations.
It becomes all the easier for a director to make a movie when he already has a very strong plot. But wrong Casting of the characters made the movie fell short in front of the bestselling novel.
2 States Film Story
The story is a complete North weds South drama with lots of crazy stuff going on. A typical Punjabi family and a typical South Indian Family are in front of each other because of their children who are madly in Love with each other.
The girl tries to woo the parents of the boy and the boy has to steal hearts of the girl's parents. From Ugly fights to crazy ones the story of the movie is a rollercoaster ride full of fun and crazy moments.
2 States Film Verdict
Based on already very famous and bestselling novel 2 States, the film is already on the minds of the youth. The film has been promoted nicely and the song of the movie has been going around fairly well. With no big competition around by any other film. 2 States has fairly amazing chances to sail to the success smoothly without any hurdles. I am sure it will work well at box office, Box office collections of 2 States will be Good.
Should I watch 2 States?
Yes, you must. But if you kept comparing the movie with the novel, I am sure you will come back home disappointed. So if you want to enjoy the movie thoroughly, forget the book and have a great time. The movie is fairly well, if not compared at all with the novel.
FilmyKeeday 2 States Film Rating
3 Stars