At the time when most Indians dream about launching the next big startup that would gain them fame and money, TVF (acronym for The Viral Fever) brings forth a coming of age yet youthful web series called "Pitchers" that revolves around the startup culture of India.
Although it's a web series and yet to hit the mainstream Indian Television industry, I can still vouch for the fact the TVF's Pitchers has opened a whole new chapter for the industry. Unlike modern day Indian TV serials that are so generic that every show revolves around marriage, family drama, emotional atyachaar and vamps, TVF's Pitchers focuses on realism and tells us the story of today's youth without any over-dramatic sequences or highly emotional agendas.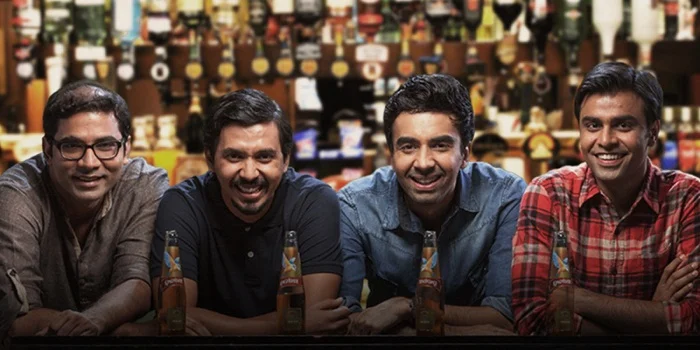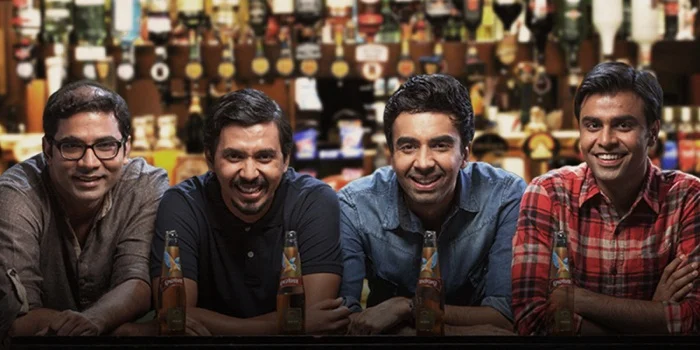 Today after loving the show and seeing the popularity of Pitchers, we at Filmy Keeday decided to give our viewers a detailed review about the show.
Let's start.
TVF Pitchers Cast (Season 1)
Directed by:
Amit Golani
Created by:
Arunabh Kumar
Written by:
Biswapati Sarkar & Arunabh Kumar
Starring:
Naveen Kasturia as Naveen Bansal
Arunabh Kumar as Yogi
Jitendra Kumar as Jitendra aka Jitu
Abhay Mahajan as Saurabh Mandal
Maanvi Gagroo as Shreya
Akansha Thakur as Saumya
Music by:
Vaibhav Bundhoo
Extraordinary Theme of Pitchers
Now Indian TV industry is not known for creativity and we are often served with the same old Saas-Bahu dramas and traditional over-hyped joint families. However, TVF's Pitchers is different thoroughly and close to realism. Whether it's the work culture, relationships, locations or screenplay, everything has a hint of realistic experience attached to it.
While watching the series, at one point or the other you will feel that the very incident or something similar to it was experienced by you too especially if you're an IT student or professional. The show talks about the story of four individuals with an IT background who are fed up of their 9 to 5 regular jobs.
Right from their college days, they were planning for a startup that would not only create sensation all around the world but also help them achieve their dream of becoming a successful Entrepreneur.
This very theme of the show was enough to attract a viable audience including all those folks either dreaming or working towards their goal of entrepreneurship. Although the show doesn't given any technical knowledge or thesis on Entrepreneurship but it surely teaches some great life lessons related to it.
Well-written Dialogues with Proper Execution
The idea and concept of the TVF's Pitchers was developed by Arunabh Kumar who also plays Yogi in the show while the dialogues were scripted by Biswapati Sarkar and at times improvised by the actors themselves. The best thing about the dialogues are that they are real and anyone living in India especially in the cities like Mumbai, Delhi or other metros can related to it instantly. There are no melodramatic or stereotyped emotional dialogues trademarked by current Indian Television industry.
However, the best of the lot were the punch lines or let's say the one-liners of the show. Some of these one-liners such as "Tu Beer Hai" have gone viral already and the impact of it could be seen on T-shirts and other merchandise being sold in the market.
Some other notable quotes from Pitchers:
Gunde Nahi Hain, Entrepreneurs Hain, B****c**d.

Jitu

Teen Mein Se Do Cubicles Mein Startup Founders Bethe Hue Hain.

Naveen's Boss

Decision Toss Karke Liya Tha, Toss Ka Decision Dekh Ke Nahi.

Naveen Bansal

Nahi Try Karenge Toh Definitely Successful Nahi Honge.

Naveen Bansal

Quote Ke Aage Personality Ka Naam Laga Do To Impact Double Ho Jaata Hai.

Naveen Bansal

I am a zero in the team but inke peeche lag jaata hun toh net value 10 times ho jaati hai.

Mandal
Locations, Music and Cinematography
Lastly, I must conclude this review by praising the show's simple locations, soulful and lively music as well as magical viewer experience through elegant cinematography.
The best part of TVF Pitchers is the locations used throughout the show whether it's the pub, the apartment lifestyle, IT work culture or the simplistic city life experience. There are no larger than life mega sets or huge castles but simple things that anyone can relate to easily.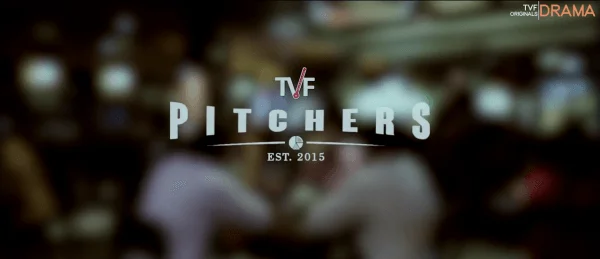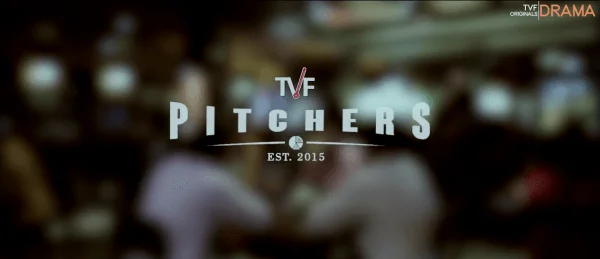 Apart from the overall show, the music composed by Vaibhav Bundhoo is also loved by the fans. With the rising popularity of the show and its music, a complete album is scheduled to be released soon.
Another breathtaking part is the cinematography of the show which is also handled by Vaibhav Bundhoo. There's is no repeated close-ups or different angle shots on different characters to display shock, anger or envy. Most of the shots in the show are from a single angle and is beautifully crafted by Vaibhav and brilliantly portrayed by the actors. The emphasis is largely given over the four main characters yet other supporting cast are also given the much needed attention and screen space whenever necessary.
The Verdict
For me, TVF Pitchers is a defining moment in the Indian Television industry that would divide it into two different phases namely, Before Pitchers and After Pitchers. I wouldn't say there isn't any scope of improvement. Of course, there is but it is much better than any current popular TV series in India.
Hopefully, TVF's Pitchers will offer the right benchmark and such seasonal shows that revolves around realism and develops a connection with the audience would be created in the future at the mainstream level.
I give full marks to TVF Pitchers. It is Five Star ratings from my side.
Filmy Keeday Ratings