Directed by Saket Chaudhary, Shaadi Ke Side Effects is the sequel of Pyaar Ke Side Effects. The movie is about the clashes, issues and the love that changes after Marriage. The movie somewhere answers the questions that, Is marriage the destination of love or the end? Will Farhan and Vidya Balan create the magic of a young married couple on screen? Let's find out
Shaadi Ke Side Effects Star Cast
Starring: Farhan Akhtar
Vidya Balan
Ram Kapoor
Vir Das
Producer: Ekta Kapoor, Shobha Kapoor, Pritish Nandy
Director: Saket Chaudhary
Writer: Saket Chaudhary
Music: Pritam
Release Date: 28 February 2014
What I felt after watching Shaadi Ke Side Effects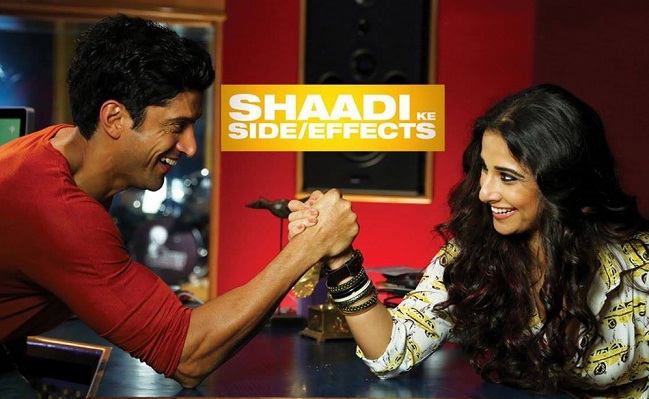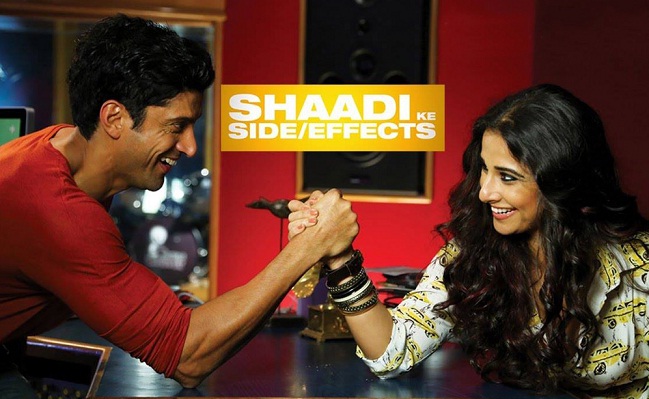 The movie is good, worth watching, but somewhere down the line I felt it is over stretched in many places. I laughed and at moments I realized, How small things after marriage affects us so much, How does the life of a father changes with the news of Pregnancy, And How tough it is for fathers to deal with babies. The chemistry between the duo is great and is magical which works in the favor of the story.
Farhan has yet once again proven his acting skills and is amazing in the movie, Vidya has completely justified the character and has performed magnificently. They both look really nice in the movie together.
Shaadi Ke Side Effects Story
The movie is about a young married couple, Sid and Trisha who are always doing something or another and have no dull moments in their lives. Life changes when the news of Trisha's pregnancy breaks. Trisha is excited with the pregnancy, but Sid, like most of the men in the world is scared. The first half of the movie will make you laugh uncontrollably and second half gives you the taste of real life side effects of the marriage.
Shaadi Ke Side Effects Verdict
The movie has all the elements, great story line, amazing cast, beautiful music and all work in favor of Shaadi Ke Side Effects. The first half of the movie is more humorous than the second half. The movie can make through the odds and can find a way to 100 crore club or maybe come close enough to 100 crores.
Filmy Keeday Shaadi Ke Side Effects Rating
* * *