Pizza Movie Review, Story and Verdict – 2014

A Bollywood horror thriller, Pizza is a remake of 2012, Tamil film of the same name. Director Akshay Akkineni has done a great job in casting the actors, almost all actors have done a great job leaving the lead actress aside. The film released in 3D and 2D format, in competition with Hate Story 2, a thriller film.
Pizza Star Cast
Starring: Parvathy Omanakuttan
Arunoday Singh
Dipannita Sharma
Akshay Oberoi
Producer: Siddharth Roy Kapur
Bejoy Nambiar
Director: Akshay Akineni
Writing Credits: Karthik Subbaraj
Akshay Akineni
Music: Mikey McClearly
Saurabh Kalsi
Shamir Tandon
K
IMDb:
Release Date: 18 July 2014
What I felt after watching Pizza Movie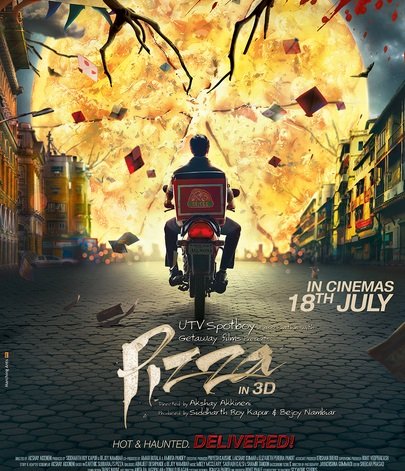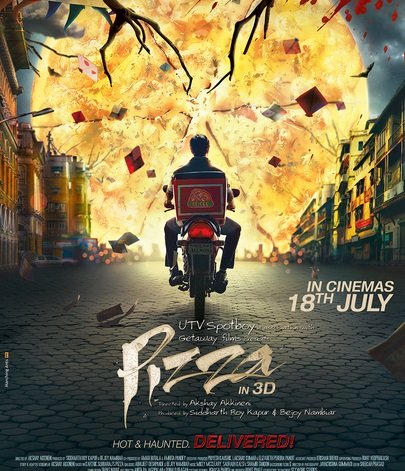 I went for the 3D version, and being a horror film fan, I was expecting way too much from the film. And to be very frank, most of expectations were quite fulfilled. For sure, I cannot expect Bollywood films to be as scary and spooky as Hollywood horror films. There were many scenes in the film that were quite scary and being in 3D gave me much more chills.
The best performance of the film is of Akshay Oberoi, this gentleman has came to Bollywood to make a mark. Soon, he will be known as one of the top actors of Bollywood for sure.
Pizza Movie Story
A simple pizza delivery boy, Kunal, who doesn't believe in supernatural things. Kunal's wife is an aspiring novelist and is working on her first horror novel. The couple indulges in conversation related to supernatural things. One day, the life of this couple takes a big turn when Kunal encounters something supernatural while delivering a Pizza. The mysterious house, Kunal enters to deliver pizza is a haunted one and Kunal gets trapped in.
Will Kunal find his way out? You need to find when you watch the film yourself.
Pizza Movie Verdict
Pizza movie has released in competition with Hate Story 2, another thriller film. Both the films are doing and getting average reviews. So it is really hard to say, which of the two films are going to lead their way to success. But a danger is awaiting both the films, Next week's release KICK is definitely going to be the biggest hurdle. Kudos to the Director who had the courage to release the film, one week prior to the film, Kick.
What's Good-Akshay Oberoi and most of all actors in the film did an amazing job. The 3D version makes the film all the more spooky.
What's Bad- Parvathy, the actress was a wrong cast, she failed to impress. The story is quite predictable, so the suspense level in the film is good for nothing.
Should I watch Pizza movie?
Yes, it is a decent onetime watch. Do watch it in 3D to get the more spooky feeling.
Will I watch the film again? Yes, but I would certainly would want to wait for the television premiere for the next watch.
 Filmy Keeday Pizza Movie Rating
2.5 Stars