Jatt and Juliet 2 
Star cast:
Diljit Dosanjh- Fatesh Singh
Neeru Bajwa- Shapatan (P. SIngh)
Upasana Singh- Channo
Jaswinder Bhalla- Joginder Singh
Sari Mercer- Jenny
Rana Ranbir- Shampy
Jatt and Juliet 2 Synopsis: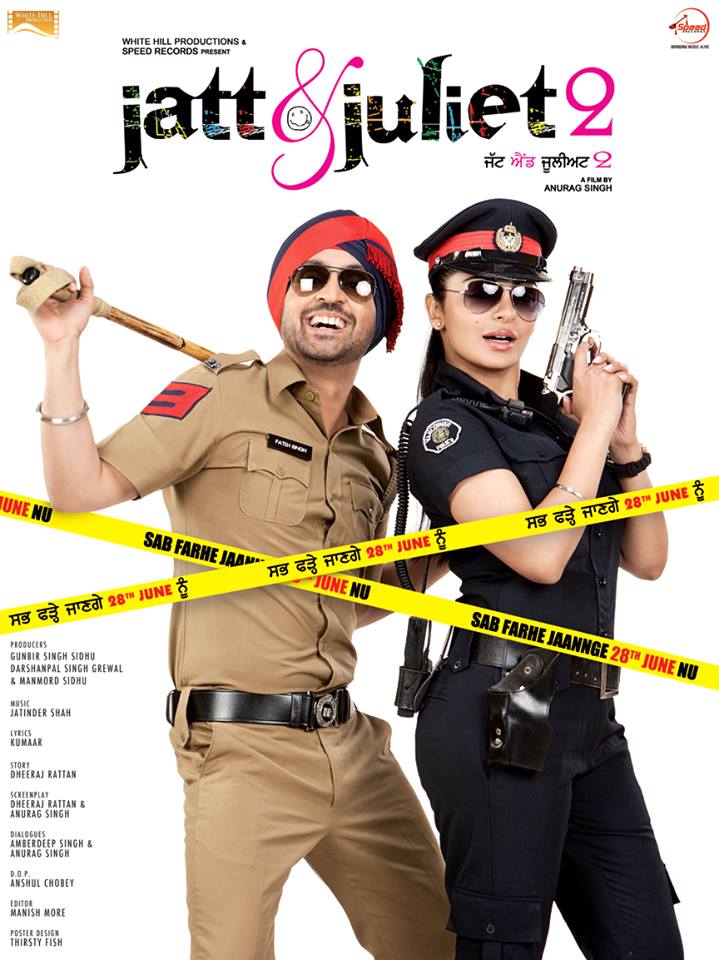 In the family of Hawaldaars, Fateh Singh is the only one who becomes an Inspector. He is given the duty to go to Canada and to convince Commissioner's daughter in Canada to come back. But all that was planned by an insecure senior just to get Fateh out of his way. Fateh is sent to Canada on pretext of searching a fugitive who is wanted "Shampy", he meets a female cop who will help him.
Jatt and Juliet 2 What I feel:
The madness of Fateh Singh, the confusion, funny characters like cab drivers keeps giving you laughter jerks. The movie is filled with punches, craziness and madness. Every character of the movie is so well fitted that you start believing the movie. Emotions, laughter, sadness, madness, this movie have got everything.
Jatt and Juliet 2 Story:
Fateh Singh on the pretext of finding Shampy Daku is sent to Canada, and a secret mission by his insecure senior is handed over to Fateh Singh to convince commissioner's daughter to come back to India from Canada. He meets a cop at Canada who is going to help him find Shampy Daku. He mistakenly believes an Indian girl Preeti who runs a parlour as commissioner's daughter. This confusion makes the movie way more hilarious and fun to watch. You must want to know how this confusion ends.
For that you guys need to buy tickets and watch the whole movie.
Jatt and Juliet 2 Verdict:
This movie has broken all the records of Punjabi Film Industry and has given a tough competition to big budget Bollywood movies. Looking forward for the first Punjabi movie to hit 100 crore club.
Jatt and Juliet 2 Music:
The music of the movie is very famous in Punjab. Music of the movie is given by Jatinder Singh- Shah and D J Nik.
Filmy Keeday

Rating: 3.5


Special thanks to Pulkit Kochar for the movie review!