Sunny Deol is back with his directorial film Ghayal Once Again. Ghayal Once again is the sequel to the hit film Ghayal. Ghayal was a blockbuster film and Sunny Deol's Dialogue in Ghayal was the main attraction of that film. You can watch Ghayal again on the official YouTube Channel.
Ghayal Once Again story is similar to the old Ghayal, One man against a powerful businessman. But this time, Narendra Jha is in the negative role of a wealthy cruel businessman.
After watching the trailer, we have seen some great dialogues of Ghayal Once Again.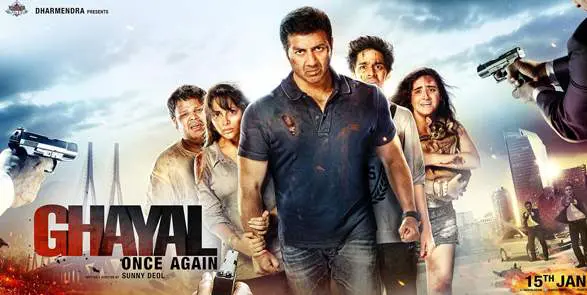 Dialogues of Ghayal Once Again
Main chahu to ek ishare par inka sar cheer du, inka sahas, inki zindagi sabkuch mita sakta hu..
Today Truth and Justice is Raj Bansal.
Jake Smajha apne us mental patient ko, laase tang dunga in bachho ki
Main bansal ke empire ko tabah kar dunga, sadak par le aaunga, Nanga kar dunga saale ko..
Jab ek corrupt aadmi marta hai toh uski satta khatam hoti hai, Aur Jab Ek Saccha Aadmi Marta Hai Toh Uski Satta Suru Hoti Hai
Agar hum sach ke sath hai to hume jeetne tak haar nahi maan ni chahiye..
More to come after the release of the film.
I feel that Dialogues of Ghayal was much better and that film was very emotional.
Like Amrish Puri's Dialogue "Mujhse jo zindagi takrati hai wo sisak sisak ke dum todti hai.." and Sunny Deol's famous hit Dialogue "Jhak marti hai ye police, utar ke fek do ye vardi aur pehen lo Balwant Rai ka Patta apne gale mein"
Our Censor board is stupid and dumb, they have changed all dialogues in Ghayal Once Again which have words like Saala, Kamine, Haramzaade.
Just think about Sunny Deol's film without these words.
Ghayal Once again is a pure action film with more stunts and action sequences.
We will review Ghayal Once Again stay with us.