Entertainment is a Slapstick comedy film, directed by Sajid Farhad. The film was earlier title, It's Entertainment but later changed to Entertainment. The film is shot in Mumbai, Goa and Bangkok. The film's main attraction is the dog whose is Entertainment.
Entertainment Star Cast
Starring:
Akshay Kumar
Tamanna Bhatia
Junior
Producer: Ramesh S Taurani
Jayantilal Gada
Director: Sajid Farhad
Writing Credits: K Subash
Music: Sachin Jigar
IMDb:
Release Date: 8 August 2014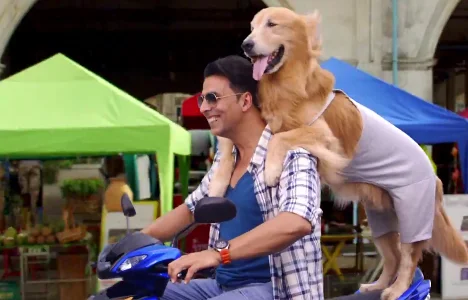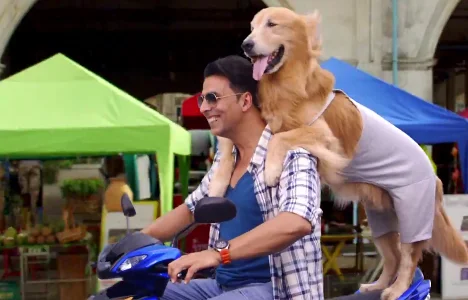 What I felt after watching Entertainment
I was expecting lots of comedy and there was comedy, but it felt like a forced comedy. The film was pushing hard to even make me giggle. Junior, the cute canine steals the show. He is adorable and has done a marvelous job in the whole film.
Tamanna's role is to bring the glam and glitter in the film, and she does that. Akshay Kumar, was good, but there are many places where he lacks. The story of the film is lame and lazy.
Story of Entertainment
Entertainment film's story revolves around Akhil (Akshay) who wants to earn quick money. And he does everything from posing for a weight loss capsule to back-up dancer, just for his father's treatment. On the other hand, Akhil tries to woo his father in law for his acceptance for the marriage.
The twist comes in the film, when Akhil gets to know that his real father was a Diamond Tycoon, who has just passed away leaving all his property and wealth. Akhil, sets off to Bangkok to find, Entertainment (Junior) is the sole custodian to that property. Akhil and his friend does everything possible to get rid of Entertainment. But during the cute fights, Entertainment and Akhil gets emotionally bonded. And they both had to fight with the real villain's to save the property.
There is just one thing in the film, that I loved and that is Junior aka Entertainment. He is the life line of the film. The bad story line of the film is definitely not going to let the film enter 100 crore club. The only saving grace of the film is people who love Dogs.
What's Good– Junior, Junior and Junior.
What's Bad- The script of the film is loose and lazy. The dialogues and one liners feels like a forced comedy. Music is not praise worthy.
Should I watch Entertainment movie?
If you a big Akshay Kumar Fan, then you can watch this film. And if you are not a Akki Fan then you can skip this movie . BUT, if you are Dog Lover, then this film is for you, you would fall in love with the latest film star Junior.
Now its Confirmed, This is the end Slapstick Comedy movies in Bollywood. We have a big List of Flop movies like Humshakals and Entertainment.
Will I watch Entertainment again?
No.
Filmy Keeday Entertainment Rating
2 Stars