Bollywood tops the list when it comes to displaying emotions, sentiments, love or romance in the form of motion cinema. Even Hollywood could learn a lesson or two when it comes to producing an emotional drama for the big screen. Bollywood romance and duet songs are famous all over the world including many European and American countries.
Besides the romance, Bollywood has also successfully portrayed the love, affection, and bonding between families in the most beautiful way. Most of the time, we talk about the bonding between mother-son, brothers, sister-brother or sisters but we seldom talk about father-son bonding when it comes to Bollywood cinema.
Yes, today we bring you a list of 9 Bollywood movies that pictures the father-son relationship in the most sincerely:
Movies about Father Son Bonding and Relations
Patiala House
The first on our list is Patiala House, directed by Nikhil Advani, starring Akshay Kumar, Anushka Sharma, Rishi Kapoor and Dimple Kapadia in pivotal roles. The story revolves around a Sikh family settled in London where Rishi Kapoor is the head of the family. Akshay Kumar plays Rishi Kapoor's son who played cricket during his young age.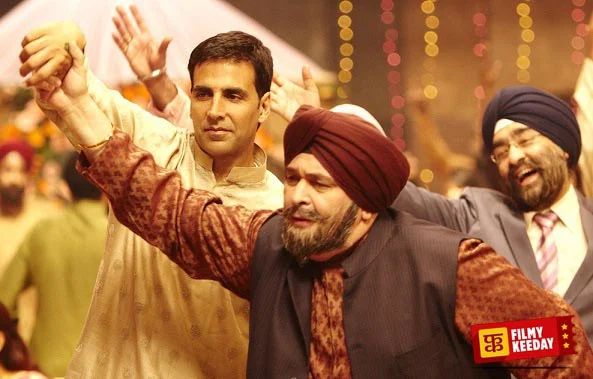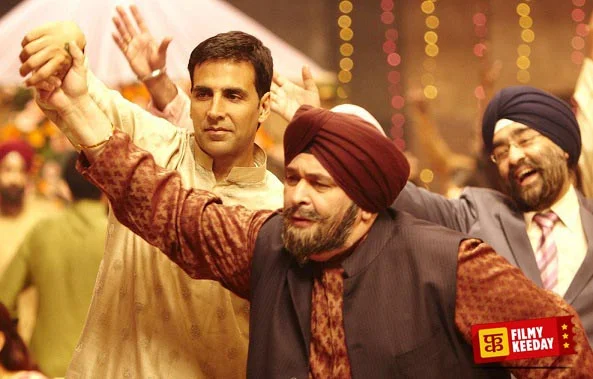 Being born and brought up in London, Akshay Kumar gets a chance to play for England but his father restricts him playing for England as he believes that it will be a betrayal to his motherland India. After 10 years, the opportunity to play for England again knocks at the door of Akshay Kumar. Does he play for England? What will be his father's reaction to it? To know the answers to these question you must watch the movie.
Shakti
When you talk about a father-son relationship, Shakti (1982) comes out to be the most greyish movie of all. This is the first movie that brings veteran actor Dilip Kumar and the Shehenshah of Bollywood, Amitabh Bachchan on screen. The duo plays the father and son respectively where Dilip Kumar is a strict police officer who puts his duty first before everything else while his son since from the childhood has always felt distant from his father.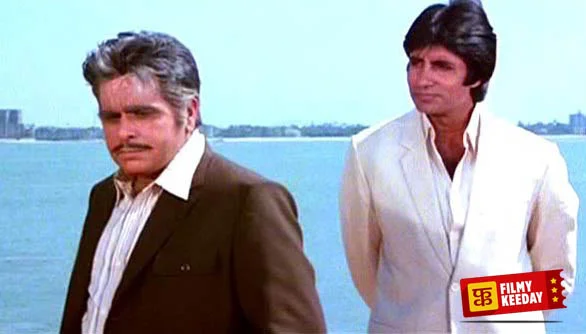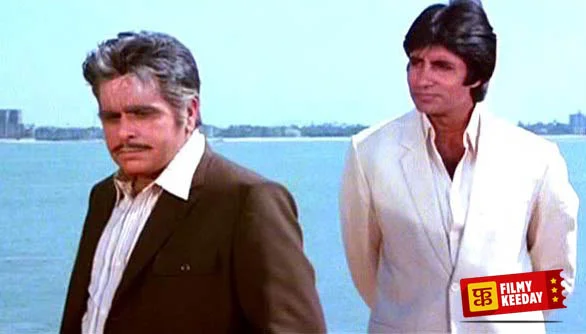 He starts building hatred towards his father when his father denies to rescue him when he's kidnapped in the name of duty. The movie is all about the impact of that incident on Vijay, now grown up as Amitabh Bachchan. Will Dilip Kumar put his son before duty or will he stray his son farther away? You gotta watch the movie to find out. The movie was the remake of Sivaji Ganesan's "Thanka Pathakam".
Wake Up Sid
If you ask me then Wake Up Sid has to be the best movie when it comes to portray a father-son relationship as it offers a real life touch to the overall plot of the movie which gets you connected. Starring Ranbir Kapoor as the lazy son and Anupam Kher as his father, the movie is about how Ranbir Kapoor finds his way to a better life and starts getting responsible.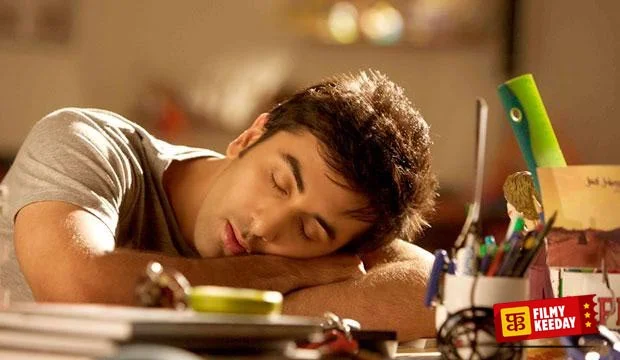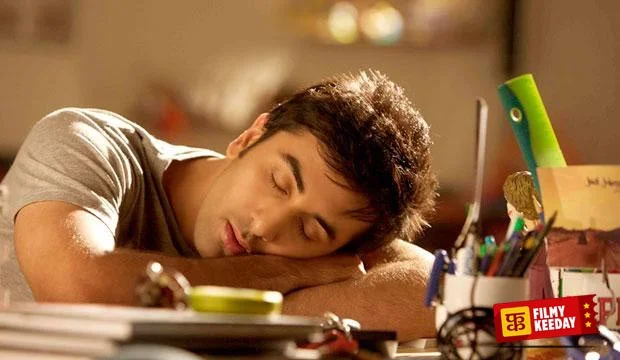 The movie is, in fact, an inspirational one for those who think out of the box and wish to follow their heart and interests. In the age where every parent believes that their kid is only successful if he/she is an engineer or a doctor, Wake Up Sid shows that there are immense opportunities out there to choose from in order to be successful. Just go for it!
Udaan
One of the darkest social drama of the list, Udaan displays the story of a son and his abusive father. Starring Ronit Roy, Ram Kapoor and Rajat Barmecha in pivotal roles, Udaan is a movie that focuses on the dark side of our society. Mostly we feel that a kid is safest when he/she is with his/her parents but there are some cases too where some kids end up with abusive parents.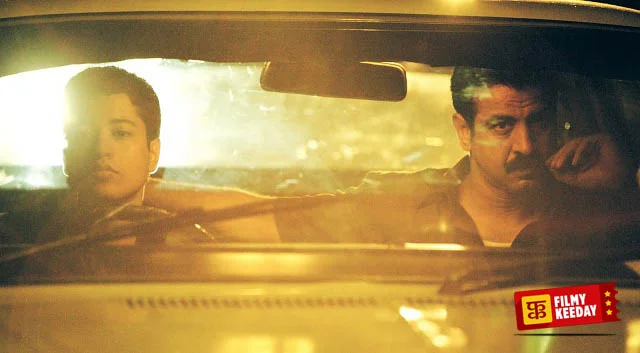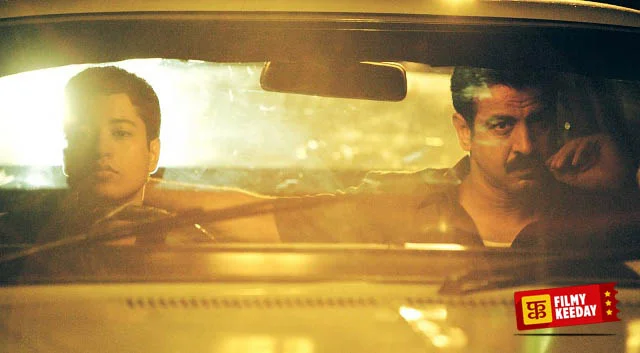 Udaan is a story of Rohan played by Rajat Bramecha who ends up with his alcoholic and abusive father played by Ronit Roy. The movie is all about how Rohan's life changes after he starts living with his father. Will he defy his father's aggressive attitude or will he suppress to it? You should watch the movie to find out.
Paa
There would be not a single Bollywood fanatic who won't be aware of the movie, Paa. It was a unique movie on its own where real-life father-son acted as reel father-son in the movie. You must be thinking what uniqueness that created as there have been so many movies where real-life father-son played reel life father-son. But this was different as in Paa, the real-life father (Amitabh Bachchan) played the role of the son of his real-life son (Abhishek Bachchan).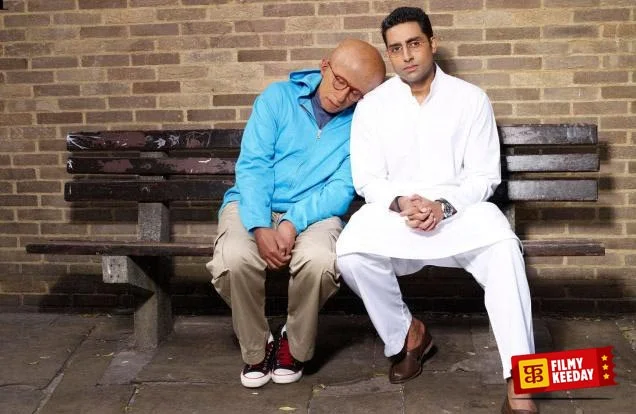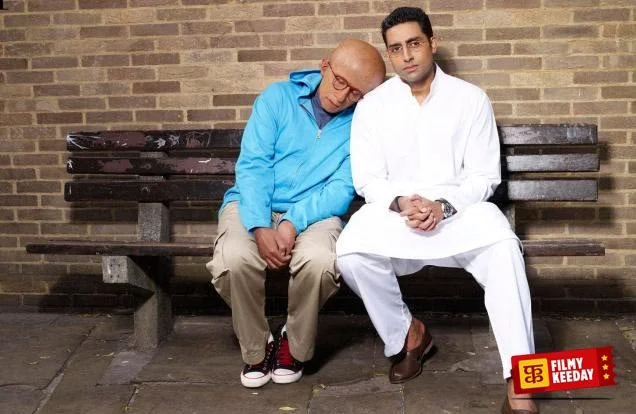 Paa is an Indian comedy-drama film directed by R. Balakrishnan starring Amitabh Bachchan as the 12-year old boy with an extremely rare genetic disorder called progeria, while Abhishek Bachchan and Vidya Balan play his father and mother respectively. The movie is about Auro (Amitabh Bachchan) who reconciles with his Paa and how he tries to sort things between his father and mother.
Apne
A full-on family drama, directed by Anil Sharma, starring the Deol family including Dharmendra, Sunny Deol and Abhay Deol reprising the roles of their real life in the movie along with Shilpa Shetty, Katrina Kaif and Kiran Kher in supporting roles. Apne is a movie based on family values and what you would do for your family.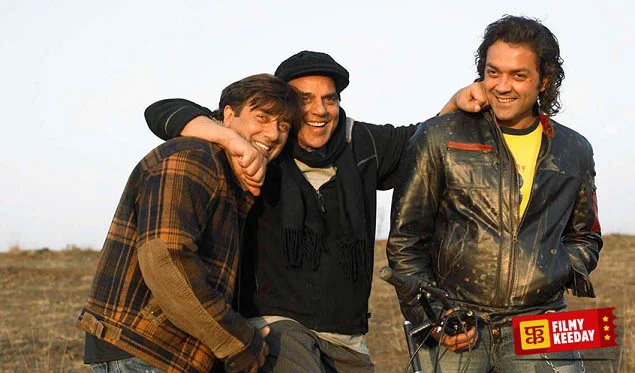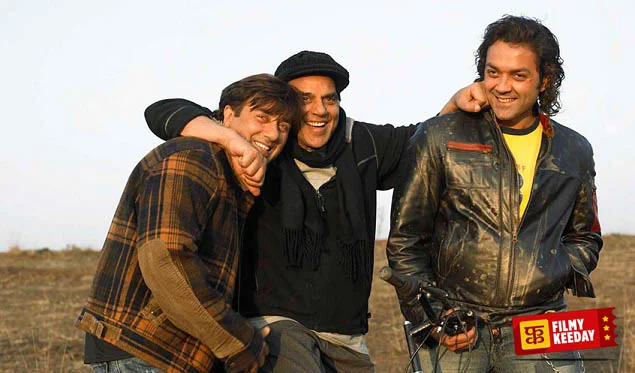 In brief, it's a story of Baldev Choudhary (Dharmendra), who is an ex-boxer who was disqualified for fake doping charge. Baldev Choudhary, in order to take revenge, trains his son Angad (Sunny Deol) to be the World Champion. Due to lack of resources and facilities in India for boxing, Angad decides to quit boxing and start the business to take care of the family which makes Baldev Choudhary feel that his son betrayed him. The story then revolves around how Angad becomes World Champion eventually.
Mughal-e-Azam
You won't find many Bollywood movies based on the great Indian historic era. The main reason being the bar set by one of the greatest movies of all time which even today creates a huge rush in the cinema houses. The movie is none other than Mughal-e-Azam which was the first black and white Hindi movie to be digitally colored and eventually re-released again. The re-release of the movie repeated its success again and was declared a box office hit.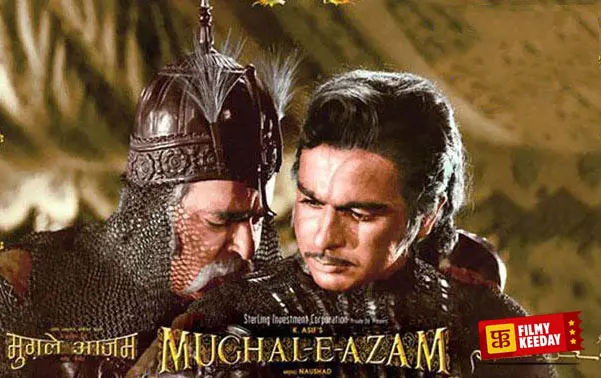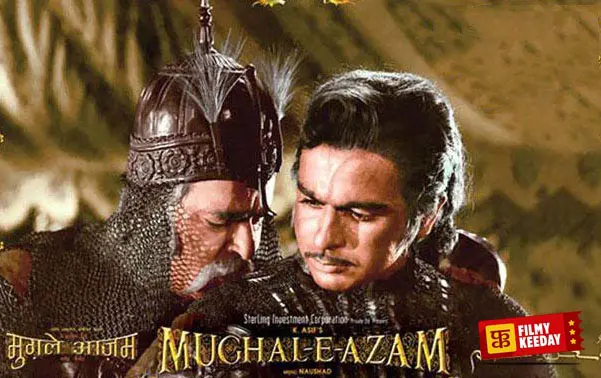 Released in 1960, the movie was a historical epic based on Mughal Emperor Akbar and the love affair between Mughal Prince Salim and Anarkali, a court dancer. Despite being an epic love story in the history of Bollywood cinema, the movie also highlights the relationship between father and son. It shows how a father, who loved his son more than his life, sentenced him to death favoring the duty towards his kingdom. It also focuses on how a son, madly in love with a court dancer, declares a war against his father, a Mughal Emperor. The movie is said to be a must watch for all generations as it contains all the elements that define entertainment.
Gandhi, My Father
There will be nobody in India who has never heard of Mahatma Gandhi or his original name, Mohandas Karamchand Gandhi. But how many of you know about his son, Hiralal Gandhi who ruined his life as he wasn't able to survive under the shadow of his father known to the whole world as Mahatma. Although Mahatma Gandhi spend his life for the greater cause, he was someone who completely ignored his own family.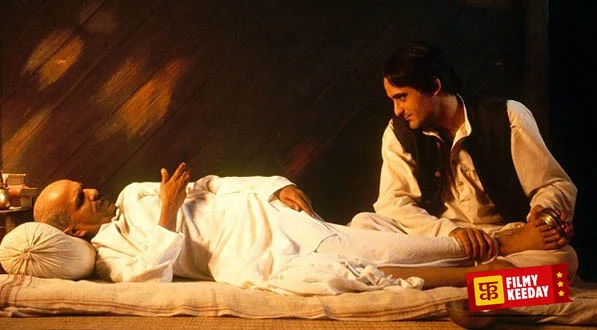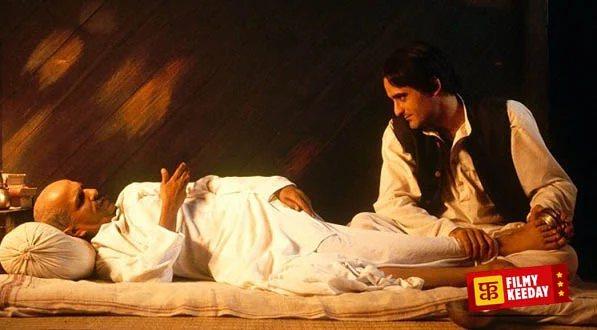 Here's a movie, produced by Anil Kapoor and directed by Feroz Abbas Khan, titled as Gandhi, My Father that talks about the life of Mahatma Gandhi and his relations with his son Hiralal Gandhi. The movie focuses on the effect of Mahatma Gandhi's iconic life on his elder son, Hiralal Gandhi. The movie is a must watch to experience the love and hate relation between father and son displayed brilliantly.
Waqt: The Race Against Time
Waqt: The Race Against Time is a Bollywood movie completely based on a father-son relationship. It focuses on the concerns every father has regarding his son's or daughter's future. All parents wish to make sure that their kid's future is secured once they are gone. Amitabh Bachchan plays the father while Akshay Kumar plays the son with Priyanka Chopra, Shefali Shah, Boman Irani and Rajpal Yadav in supporting roles.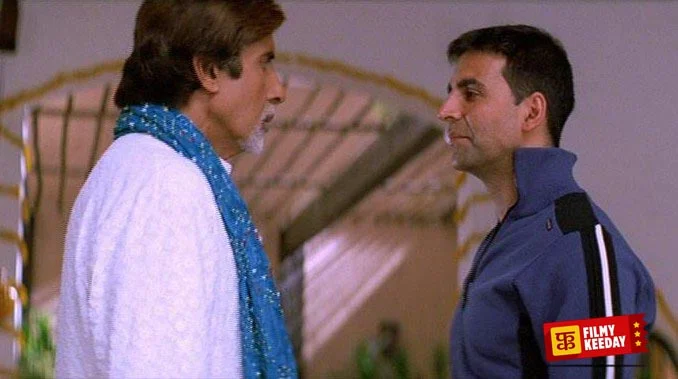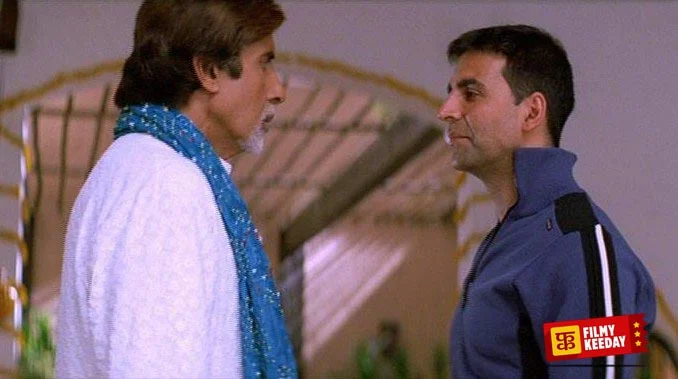 Amitabh Bachchan who plays Ishwarchand Thakur is worried along with his wife Sumitra Thakur played by Shefali Shah about their son Aditya Thakur played by Akshay Kumar as their son is a spoilt brat who doesn't have any interest in taking responsibility or doesn't care about what he wants to do in life. The movie revolves around the great bonding the father and son share and how the father takes a drastic step in order to add a sense of responsibility to his son which affects their bonding. Watch the movie to find out if Ishwarchand is successful in his plan.
Conclusion
If you love your father but couldn't express it much then you must try watching the above movies with your old man. I promise you that your bond with your father will be stronger than ever after you watch these movies.