2 States 2014 Film Wiki
2 States is a Romantic Comedy film based on novel of the same name written by Chetan Bhagat. The rumored love couple Alia Bhatt and Arjun Kapoor are leading star cast of the movie. Although Shahrukh Khan and Asin Thottumkal were the first choice for the movie, then Ranbir Kapoor and then Saif Ali Khan but later on Arjun Kapoor was finalized for the movie. Music of the movie is given by Shankar Ehsan Loy. I am sure movie will be loved by multiplex audience.
The movie is about to release on 18 April 2014, the novel of the same name is a best seller. Critics are expecting the movie to get a straight road to success at the Box office. Let's wait and watch if the movie is as strong as the novel.
2 States 2014 Full Cast and Crew
Director: Abhishek Varman
Produced By: Sajid Nadiadwala
Karan Johar
Written By: Chetan Bhagat
Music By: Shankar Ehsaan Loy
Lyricist: Amitabh Bhattacharya
Star Cast: Arjun Kapoor as Krish Malhotra
Alia Bhatt as Ananya Swaminathan
Ronit Roy as Vikram Malhotra – Krish's Father
Amrita Singh as Kavita Malhotra – Krish's Mother
Shiv Kumar Subramaniam as Shiv Swaminathan – Ananya's Father
Revathy as Radha Swaminathan – Ananya's Mother
Sharang Natarajan as Manjunath Swaminathan – Ananya's Brother
Ankit Chitral as Krish's friend
IMDb–
Genre: Romance, Drama, Comedy
Release Date: 18 April 2014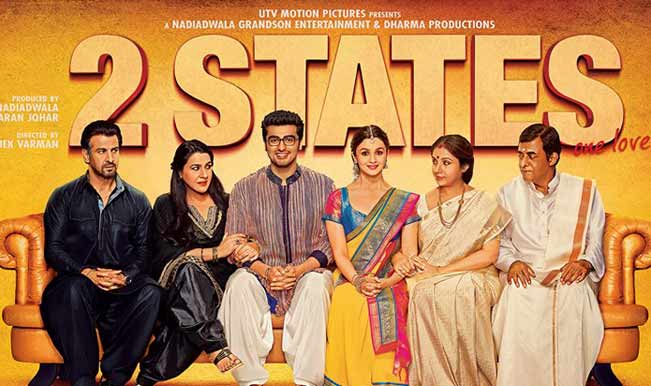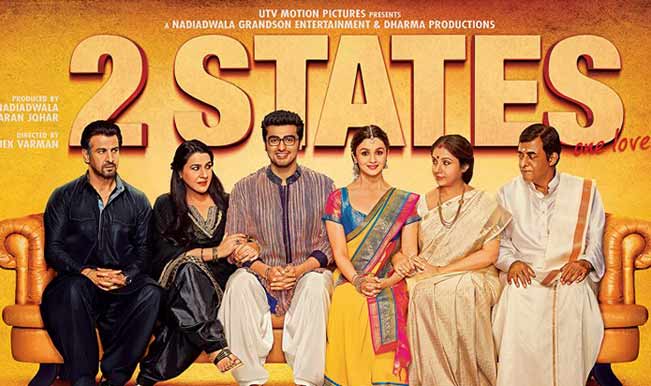 2 States 2014 Movie Synopsis
2 States is about the amalgamation of North and South India. The movie not only shows the different cultures, but also what marriage is like in India. Love marriages are so tough to bring into reality in India.
A young boy and a girl meets at IIM-A and falls in love. The love story goes fine unless, the family of the duo come across each other with all the hatred you could expect. And then comes the lavish and over the top Punjabi culture and ille ille of south that takes this romantic movie on the paths of comedy. Will the fight of Aaloo ke praanthe and idli-dosa come to an end?
2 States Movie Music Review
With Music composer Shankar-Ehsaan-Loy and Lyricist Amitabh Bhattacharya is a combination that can only produce a music that can soothe your soul. Yes, the music of 2 states is soft romantic and soul soothing. A combination of soft love songs and some peppy numbers, 2 States album is all set to steal your hearts.
2 States Movie Tracklist
Mast Magan
Iski Uski
Hulla Re
Chandaniya
Offo
Locha E Ulfat
2 States Movie 
Dialogues Lyrics
Pyaar ka Bomb
Punjabi mother-in-law se khatarnak kuch bhi nahi hota iss duniya mein!
2 States Movie Trailer