The beauty of Rangoon lies in its stupendous camerawork, extraordinary performances, the background score and some memorable scenes. Set against the backdrop of World War 2 and India's Independence Vishal Bharadwaj builds a love triangle between Saif Ali Khan, Shahid Kapoor and Kangana Ranaut.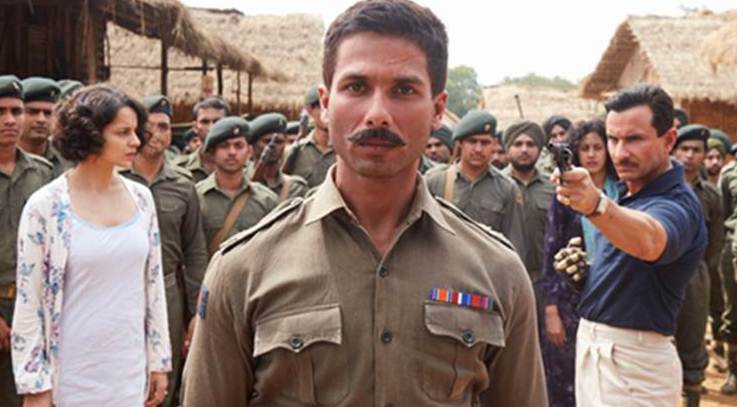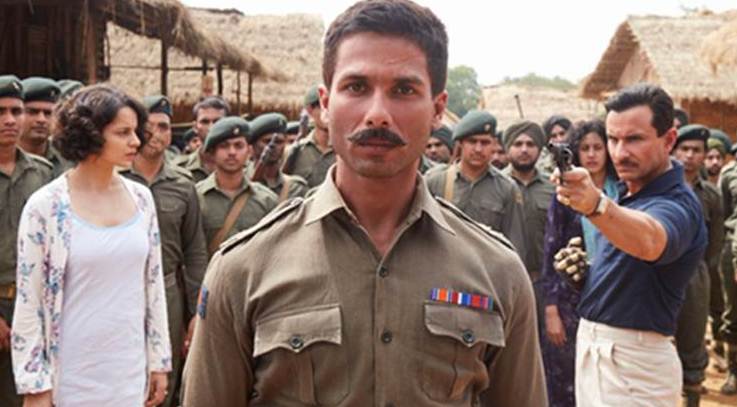 Story of Rangoon
The film starts with a very impressive war sequence; each and every frame is so beautifully set and shot that it keeps the audience engrossed. It then moves forward to Bombay (Currently Mumbai) where we are introduced to the characters, Julia and Rusi Bilimoria, played by Kangana Ranaut and Sail Ali Khan respectively.
Rusi is a wealthy businessman who believes that supporting the British is valuable for him and the country; he is in love with Julia. He affectionately calls her 'Kiddo' and is her mentor right from her childhood days. Shahid Kapoor's character Jamadar Nawab Malik is an army officer in the British Indian Army whose views differ from Rusi when it comes to India's Independence. But the crux of the film lies in Julia.
Vishal is a master when it comes to creating a complex character; let it be Tabu's character in Maqbool and Haider or Priyanka's character in 7 Khoon Maaf. Just like his previous films, Julia is a complex character who is sometimes caged under the actions of Rusi and who is sometimes free when she is with Nawab Malik, the soul of Rangoon lies in Julia.
What I felt about Rangoon
The story of Rangoon is simple, Major General Harding request Rusi to allow Julia to perform for their soldiers. Rusi convinces her to go and perform as this will benefit the relationship between Harding and him.
Nawab Malik is like a bodyguard to Julia and how the love blossoms between these two and how Rusi plays an antagonist and how the war is used as a backdrop forms the rest of the story. The screenplay written by Matthew Robbins, Vishal, and Sabrina Dhawan is thrilling in the first half.
It does get a bit dragged in the second half and gets stretched in the climax. The dialogues are very good and poetic like Saif's dialogue "Remember it's a Rusi Billimoria's creation" or Shahid's dialogues but sometimes it gets unintentionally funny, especially when Harding says " I am white, I am always right."
The songs are peppy, Tippa adds up the mood, the romantic track Yeh Ishq Hai is beautiful and the song Bloody Hell is amazing and comes at the right time. But the background score is amazing, it adds up the thrill to the narrative.
Once again, Pankaj Kumar impresses with his camera work, each and every frame has a beautiful dimension and cinematic appeal. The film fumbles a bit in the second half as it gets dragged and gets dramatized in the end. The climax becomes unintentionally funny and it disappoints the audience a bit when they leave the theater.
But like always Vishal is extraordinary in extracting the best performances from his leads. Shahid is amazing as a soldier, he has less dialogue but conveys most of his emotions through eyes. After a long time, Saif Ali Khan brings out a praiseworthy performance. He is impressive as Rusi Bilimoria; he gets into the skin of the character and brings out his best. One just can't blink their eyes in the scene where he and Kangana do a sword fight.
He makes this scene special through his dialogue delivery and expression. But it is Kangana who takes the limelight in the end. No one could have played Julia so effectively than Kangana. She proves once again that she is one of the best actresses in Hindi film industry.
She brings a life to the character and it is because of her performance the few loopholes in the film go unnoticed.
Verdict of Rangoon
Rangoon is not Vishal Bharadwaj's best, he doesn't quite succeed in transforming his ambition extremely well on the screen but that doesn't make this film bad. It has its own wonderful cinematic moments which will be memorable.
Rangoon does make a pleasant watch in that atmosphere where mature commercial films are not frequently been made in the Hindi film industry.
Filmy Keeday Ratings
3.5 Stars