The scorching summer sun that forces kids to call off their morning football session, a lunch of staple rice, dal and vegetables or the occasional fish preceded by raw mango coolers and succeeded by cut pieces of 'bainganfali' mango common to Bengal.
This sums up the daily life in a Bengali household each day of the long summer vacation in schools for years. What usually followed next?
For many years it was adventures of Byomkesh Bakshi rerun on movie channels to keep the kids and mothers busy on summer or otherwise afternoons as the solitary hawker or passer-by crosses the house immersed in silence! Yes, the power of witty literature transformed onto the silver screen has weaved magic for its spectators for decades now.
What amazes us most is the timelessness of the character Byomkesh- years later, as I sit on a sunny winter morning to recapitulate the filmography of this much-loved character. Bakshi da is evergreen, loved by generations alike and a man for all seasons to put it in a not so complex description.
And the magnificence of your next-door detective first written by SharadinduBandyopadhyay (no, it wasn't Satyajit Ray) lives on, as the Bengali movie industry still creates and recreates tales of B-man on movie reels. The legacy of what Uttam Kumar started still follows as Abir Chatterjee portrays him in the new era. And even as kids grew up, India became a leading economy and the west kept competing with their versions of 'elementary' truth-seekers, our old man Byomkesh lives on and is loved.
Byomkesh Bakshi is our quintessential Bengali man, curious as a cat which exactly defines why Bengali men would make good detectives. Their simplistic way of dressing and living is complemented by a very complex brain that continuously seeks solutions and answers. A cranium that looks into the not so obvious, that finds inconsistencies among perfectly wrapped up crime. So, our Byomkesh, over endless cups of strong tea, chain-smoking and frequent trips out of town poses to the public and police someone who delves deeper than usual to investigate murders and robberies. In fact, the curious and 'i will get to the bottom of this' attitude of the evergreen Bengali detective has caused "thy name" to be associated with men who in everyday life are inquisitive and poky by nature (oi Byomkesh! as we call the more interested than usual ones, in the group).
Satyajit Ray Films on Byomkesh Bakshi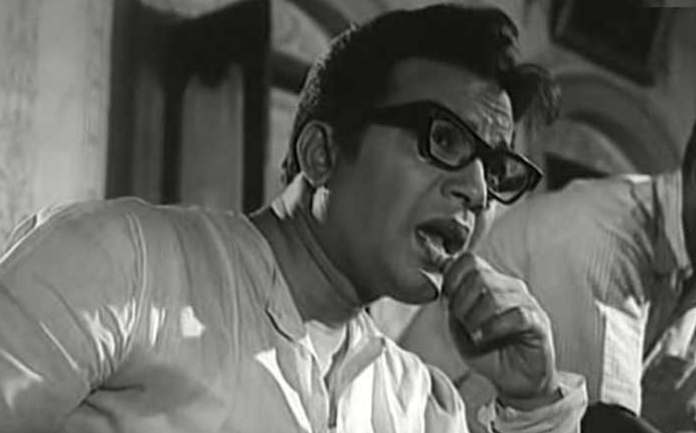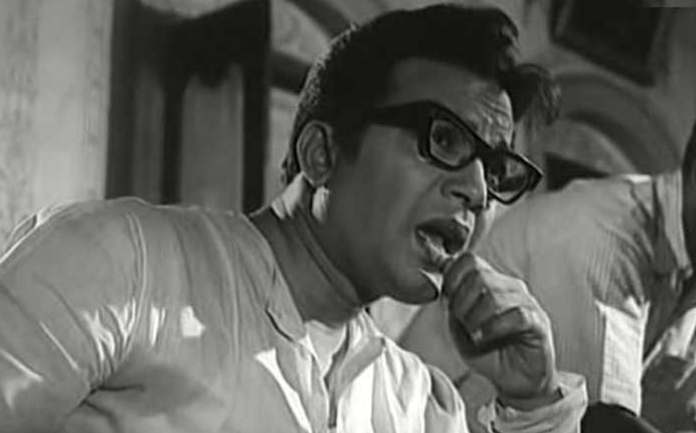 It all started with Chiriyakhana, a 1967 Bengali thriller which even in its time was ahead of the curve- cosmetic surgery, the fake alibi of the prime suspect, complex and twisted plot: you name it and Chiriyakhana had it all back then. Throughout its legacy, Byomkesh has always been written as a movie character who thought much and acted less- the wise middle-aged gentleman believed in keeping it all in his brain, letting the mystery marinade in the juices till he came up with an analysis supported by proofs he collected that missed even the law's eyes.
Uttam Kumar (Best Actor) and Satyajit Ray (Best Director) were both awarded the National Film Awards for this thriller and after that, there was no looking back for this Bengali detective.
Byomkesh da next returned to the silver screen in 1974 through Shajarur Kanta (porcupine quill) where the murderer makes use of porcupine thorns to stab beggars on the streets of Kolkata. In the backdrop, an unhappy bride lives isolated from the newlywed husband.
The detective finds out these murders from reading nooks of newspapers that are otherwise neglected by readers and is later called to help by the police on the case. What was mesmerizing in this movie though, is the use of the city of Kolkata was one of the main characters as we commonly see in movies today (Wake up Sid, Life in a Metro, Delhi 6, etc.)
The bylanes, dark alleys, inconspicuous people walking down the streets, crows flying in the cloudy sky, occasional passing of public transport vehicles. It felt like Kolkata as a character was aiding the plot progression. You felt a part of the story, a viewer in front of a canvas slowly painting a detailed portrait of the murderer!
Abir Chatterjee's Byomkesh Bakshi Movies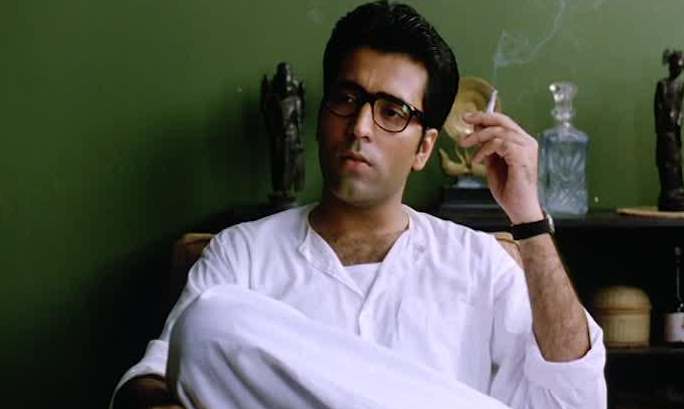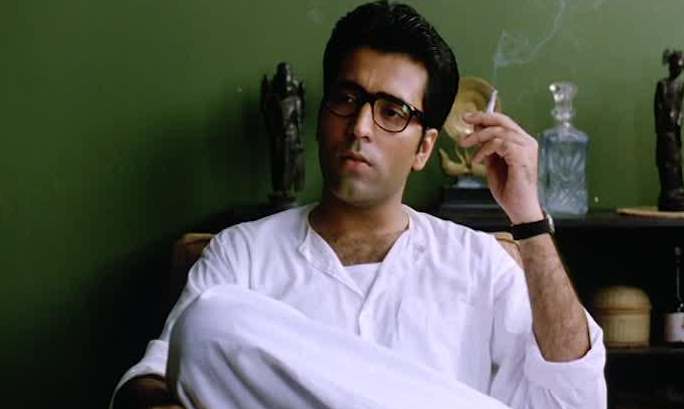 Come the new era, times and the rich legacy of Byombesh was handed over to the modern icon Abir Chatterjee in 2010s to take the rich legacy forward. Abir, through his work in Byomkesh Bakshi (2010), Abar Byomkesh (2012), Byomkesh PhireElo (2014), HarHar Byomkesh (2015), Byomkesh Pawrboy (2016), Biday Byomkesh, Byomkesh Gotro (2018) established his own method of portraying this character on the big screen.
More often than not, Byomkesh is all about his brains, his thinking capacity, analysis and keen details to smaller happenings, Abir changed that to show a Byomkesh to us who was confident, elegant and had grown with the times. Even inwardly so, the man did not look miss-able to the frame of society or a detective blended in the crime scene. This new Byomkesh stood out!
Also Read: Best Old Classic Bengali Movies of All Time
Bollywood film on Byomkesh Bakshi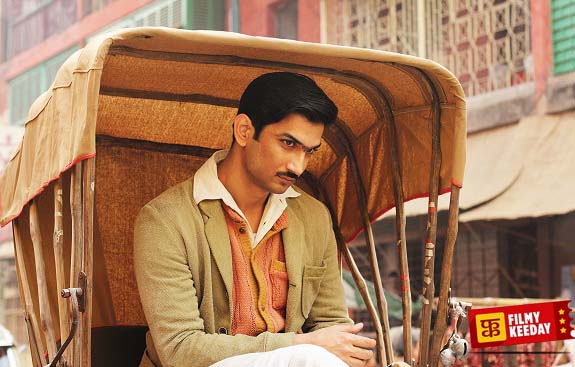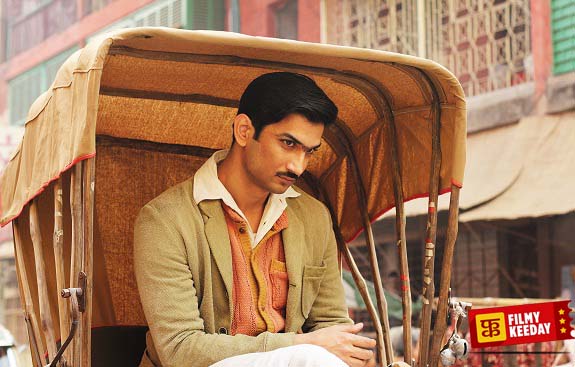 In 2015, Bollywood turned to this great literary character as well with Sushant Singh Rajput playing the dhoti and khaki jacket-clad, mustache donning Detective Byomkesh Bakshy. Sushant brought in his suave, style and introvertism into the character like old whiskey in a brand new vessel.
Sushant plays Byomkesh graduated out of college playing mind chess against a criminal behind the disappearance of a man's chemist father. The actor's portrayal is fresh again and though in the same frame as Abir, is different from the former since for the first time we see Byomkesh on the screen in a not-so-Bengali scheme of things. Adding to the beauty of storytelling in Detective Byomkesh Bakshy, present-day Kolkata is shown amidst WWII back in 1942 with one scene actually showing its residents gearing up to protect themselves from possible air bombings.
The race of law against crime in times of such military emergency is a literary spectacle and you cannot help but reflect on the richness of Bengali literature that has attracted directors, cinematographers and writers alike across decades of Indian cinema!
Also Read: Best Bollywood Murder Mystery Movies of All Time
Indeed, Byomkesh lives on and who knows we might soon see him an even more modern avatar solving crimes of the future. One man, multiple escapades, many answers later: the mystery of how one character keeps such varied age groups hooked onto the screen still remains unsolved.