Kajol's Birthday Special
It is Kajol's Birthday and Filmy Keeday team wishes Kajol with all the good wishes on her Birthday.
The dusky skin, beautiful damsel with glittering eyes always ready to make anyone fall for her.  This Bengal cum Maharashtra beauty has given her 20 beautiful years to Bollywood. In these 20 years, she has made us laugh, cry, sob and even shown us the courage every girl is born up with.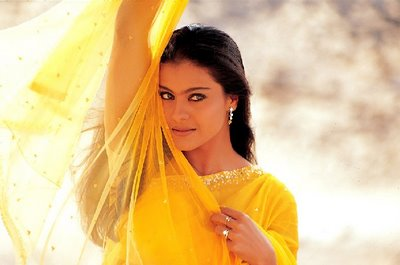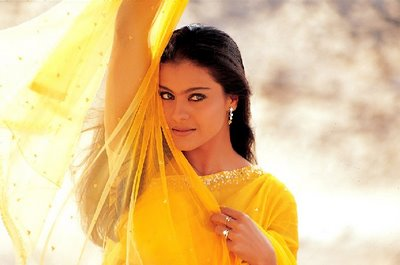 Kajol is yesteryear beautiful actress Tanuja's daughter. Besides acting Kajol is a social activist and works for widows and children. Kajol has received many awards as an actress and as a social activist as well. In 2011, Kajol was awarded The Padma Shri Award by Government of India.
Although Kajol has worked with almost all Top Notch actors, but her pair with Shahrukh Khan is very very dear to the audience. Kajol and Shahrukh have given many Hits to Bollywood. Shahrukh and Kajol are known as the Best On-Screen Couple. Kajol started her Bollywood career with Bekhudi in 1992 and after that she never looked back. Kajol has given some great performances in many movies and that's the reason she is regarded as one of the most versatile actresses. Kajol got married to Ajay Devgn in 2009 and has 2 beautiful children, Nysa and Yug.
Facts about Kajol
Kajol loves to write poetry.
Kajol is an avid reader and loves Science fiction and Horror novels, her favorite book is, 'Hugh Prather's Note To Myself'
Kajol's favorite actress is her mother Tanuja.
Kajol's favorite color is White.
Rani Mukherjee is Kajol's cousin sister.
Kajol is the fourth generation of her family to enter Bollywood, her great grandmother,' Rattan Bai' was also a movie star.
Kajol always wears an OM diamond studded ring.
Kajol-Shahrukh paired movies have all been Super hits to blockbusters.
Top 10 Best Movies of Kajol
Baazigar (1993)
The movie that gave Kajol, a breath of success after her first movie which didn't go well. Main leads in the movie were Shahrukh and Kajol.
Dilwale Dulhaniya Le Jayenge (1995)
The movie is very famous for a scene, when Shahrukh boards the train when Kajol's father don't agree for their relationship, and Kajol runs to catch the train when her father suddenly agrees saying, 'Ja Simran…. Jee le apni zindagi… ja beta ja'.
Famous love story, paired between Shahrukh and Kajol
Karan Arjun (1995)
The movie has a very famous dialogue by Rakhi, 'Mere Karan Arjun Aayenge'
Kajol is paired against Shahrukh Khan, the movie is about two brothers, roles played by Shahrukh and Salman who have lost their father. Their only mission is to take revenge of their father's death but unfortunately gets murdered. Their mother in a state of shock becomes psycho and roams in village saying, Mere Karan Arjun Aayenge, and after many years they do come. The movie showcases Reincarnation.
Gupt (1997)
Kajol in a negative role kills everyone who comes in the way of her love. A psycho girl, who is in love with her best friend. In the end gets caught by none but the love of her life himself.
Kuch Kuch Hota Hai (1998)
Kajol has portrayed a role of tomboy, madly in love with his best friend she leaves when she gets to know he loves someone else. Later she transforms into a beautiful young damsel from a tomboy, and destiny brings Kajol and Shahrukh back together.
Dushman (1998)
The movie has got the double role of Kajol. After losing her twin, in a brutal murder, she makes it the goal of her life to find the murderer and take revenge of her sister's brutal death.
Jagjit Singh's 'Chithi na koi sandesh, Jaane wo konsa desh' song is still remembered as one of the best sad songs of Bollywood.
Kabhi Khushi Kabhie Gham (2001)
A typical love story, Rich boy and poor girl, elopes and lives happily. But this is Bollywood, how can the On-screen couple can live happily without twists and turns?
This movie is mostly remembered for Kajol's witty humor in the movie and of course she was paired against Shahrukh Khan. They are the best on-screen couple and their chemistry is a must watch.
Fanaa (2006)
A blind Muslim girl from Kashmir falls in love with a terrorist on a secret mission. Although Rehan also loves her truly, he loves his mission more. Before disappearing from Zooni's life forever, Rehans helps Zooni to get her eyesight back with a surgery. After many years destiny brings Rehan and Zooni back together, but when Zooni finds out Rehan's secret, she chooses good over evil and kills Rehan.
U Me Aur Hum (2008)
Kajol portrays the role of Piya, who is diagnosed with Alzheimer's disease. Dr. Ajay Mehra, Piya's husband who is madly in love with his wife, goes beyond every boundary to stay with the love of his life even when he knows that Piya will forget everything and he will have to start his love story again everyday.
My name is Khan (2010)
Mandira a widow decides to marry Rizwan Khan, a Muslim suffering from Asperger's syndrome and becomes Khan. She loses her son from first marriage because of her changed surname. The story shows how the lives of Muslim staying in the USA changed after 9/11.
Best Movie of Kajol from the Top 10 List
[poll id="4″]