Fugly is a comedy drama Hindi film Directed by Kabir Sadanand.  Vijender Singh, Indian boxer making his debut in Bollywood movies. But it's clear he don't know acting. He is a good boxer, butsurely not a good actor. Fugly is totally waste of time it looks like the remake of, Rang De Basanti, Fukrey, Shaitan and many Bollywood movies.
Fugly Star Cast
Directed by   
Kabir Sadanand
Produced by 
Ashvini Yardi
Alka Bhatia
Akshay Kumar
Story by         
Rahul Handa
Starring         
Jimmy Shergill
Mohit Marwah
Kiara Advani
Vijender Singh
Arfi Lamba
Music by        
Yo Yo Honey Singh
Prashant Vadhyar
Raftaar & badshah
Cinematography       
Milind Jog
Editing by      
Shounok Ghosh
What I felt after watching Fugly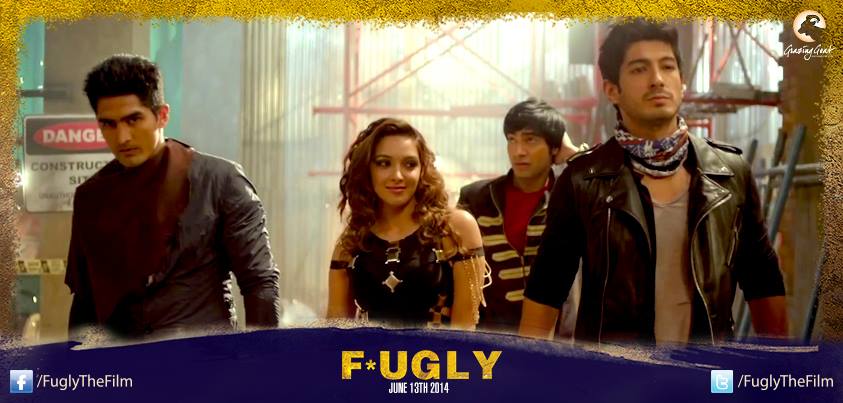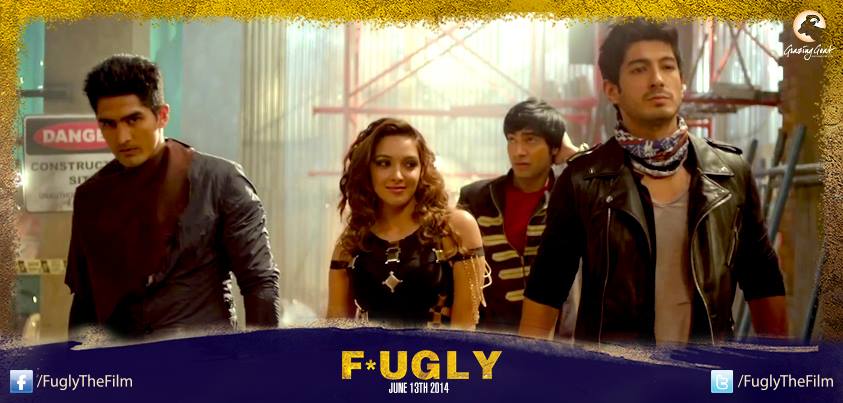 Sitting at the Cinema Theatre, I was judging my tolerance power. Trust me, when I say that. If you look at the movie as a film critic you cannot tolerate this movie at any cost. And I can surely say none of the film criticscanratethis filmabove 1. Songs of the movies are good in some manner; butoveracting of the star cast and some idiotic scenes takes the movie to the lowest level of the cinema.
Fugly director Kabir Sadanand failed terribly to entertain the audience. The film looks like a comedy, but it's a drama thriller movie. This confused comedy drama thriller tries its level best to entertain us but failed at every point.
Fugly Story
A complex, confused and an ugly story of Fugly revolves around 4 friends. Slang language and body show is what the film starts with. Slowly and gradually this kind of comedy movie become soggy, flat and ugly. The three macho guys (3 out of the four friends) kidnap a guy who have made a bad pass at the fourth friend Devi. The guy gets murdered and a sly officer Chautala makes the life of these 4 friends F*Ugly. How these 4 friends come out of this F*Ugly situation is what the rest of movie is all about. A pure tragic comedy thriller, which neither could become a thriller nor a comedy.
Fugly Verdict
Films, Holiday and Filmistaan are already rocking at the box office and audience loving them. Next week, Humshakals is going to release to bring hurdles for Fugly. On the other hand, Football World Cup Fever is on its extreme, so we can easily predict that Fugly will be a disaster movie of this year.
What's Good –Some songs are good, Few haryanwi punches of Vijender Singh will make you laugh good.
What's Bad – How to start and where to end! Casting of the movie is bad, very bad indeed. Overacting of the star cast makes it really hard for anyone to stick to their seats to let the movie complete.
Should I watch Fugly?
Even if you have lots of free time, or you are a crazy movie lover, I would suggest you to stay away from this film. Fugly is a seriously non-entertainer film, which is a task to watch in itself. If you still feel like watching it, please wait for a few days for the satellite release, and  then you can watch it at the comfort of your home, where you have the option to change the channel anytime.
Also Read 
FilmyKeeday Fugly Rating
1 stars