Dum Laga Ke Haisha is a comeback for Yash Raj Films and it will surely remove the drought of a successful and unique film under their banner. Everything is unique from story to message delivery while keeping various elements of 90s tradition in the loop from beginning till end. I wouldn't be surprised if this movie bags a bunch of awards in almost every upcoming Cinema Awards.
Dum Laga Ke Haisha Cast and Crew
Directed by
Sharat Katariya
Produced by
Aditya Chopra
Maneesh Sharma
Starring
Ayushmann Khurana
Bhumi Pednekar
Music by 
Anu Malik
Background Score
Andrea Guerra
Production company
Yash Raj Films
Release date
February 27, 2015
What I felt after watching Dum Laga Ke Haisha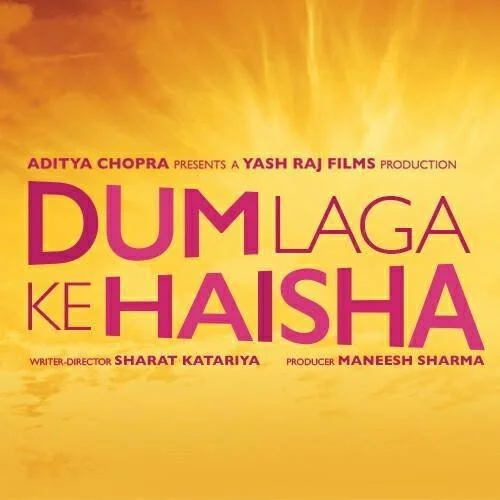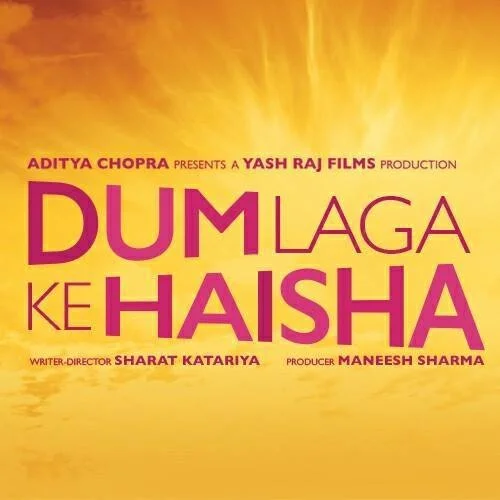 In spite of being a simple movie, it still covers a lot of things like old era of 90s, fashion and music of that time, marriage bonds, traditional family rules and conversion of hatred into love.
Movies shows the old way of falling in love and it does that pretty well. Other than covering all these things, parts of self-respect, women's ideology and dreams are also there in the script which are tightly bonded with rest of the things.
It will take you from traditional Indian family fights of 90s to a brother's struggle to get a separate room and even awakening a memory moment when we all used to prepare list of songs to be recorded in our next audio cassette.
Sharat Katariya and his team have taken care of almost everything in background ranging from character's fashion, their accents, vehicles, locations and even the use of pure Hindi. I even noticed Lord Hanuman toy and old CD pinned in the vehicles used and Prem carrying an All In One Drawing Box for his secondary exam.
Story of Dum Laga Ke Haisha


First and most important thing Sharat Katariya want every viewer to take note of is the era of Audio Cassettes. We all have related memories and whole movie will do well to awaken them. Movie starts in an old Audio Cassette recording shop where Prem (Ayushmann) is correcting reel.
Then it jump onto the marriage traditions of the time which are still existing. While every family member is preparing his marriage and Sandhya (Bhumi) falling in love with his future husband, Prem is still resisting in his own way. But the terror of his father's slipper was greater than of marriage and finally the knot is tied.
Sandhya tries a lot of things to start her happy married life but Prem is still fighting against which later takes him towards frustration. The whole drama continues till Prem insults Sandhya in front of his friends which later results into the startup of traditional breakup.
While Sandhya looking for divorce, every other member of both families resists her decision and even court orders couples to stay along for next six months. This is where things started to change which finally leads toward a happy ending which is covered up by a couple race named 'Dum Laga Ke Haisha' and cameo of Kumar Sanu.
First half was all about 90s era and traditions while second half covered how lead characters wins each other hearts and their individual lost pride. You'll also find a little pinch of intimacy.
Dum Laga Ke Haisha Verdict
From the beginning till end, script was moving with right pace and in right direction and never missed its path. Direction was almost perfect and it will give you reason to love Yash Raj Films team.
Ayushmann Khurana did well as always and Bhumi Pednekar scored her marks too. Other characters did well too, very few supporting and majority affecting life of lead characters. Movie was also successful in magically winning your heart and delivering a message.
You are allowed to be mistaken for thinking this movie as a tribute to Kumar Sanu. The whole drama will give you a lot of reasons to trust Yash Raj Films team again.
What's good – Acting, direction, script, soundtrack and the message to "Carry Relationship's Burden", everything is perfect and original. It's a comeback of Yash Raj Films.
What's bad – It was tough to find any glitch and I never noted down anything in this part.
Should I Watch?
Definitely! Go for it. You'll have your moments remembering a lot of common things from past. The whole team haven't left any stone unturned.
If you were married in the time of 90s then you'll have a lot of things to compare and remember. I'm sure it will hit at least one common incident. I hope it gives you reason to watch the movie.
Will I watch Dum Laga Ke Haisha again?
Not in Cinema Hall, but surely on DVD. I really enjoyed the way it touched the heart, awakening a lot of memories.
Filmy Keeday Dum Laga Ke Haisha Movie Rating
4 Stars