If you're reading this review then you definitely have lots of worms for Films.
You must have listened 'Accha Sila Diya Tune' and if loved (kind of) that number, then you should watch this love saga, Bewafa Sanam which was released in 1995. Directed by Gulshan Kumar, it was very popular (mainly because of all hit tracks in the Album).
If you're looking for a deep love kind of movie with lots of cheesy dialogues (nowadays they will make you laugh hard) then this is the one you should watch next.
The whole story and songs revolves around main subject i.e. Bewafa Sanam (unfaithful Lover).
Bewafa Sanam Starcast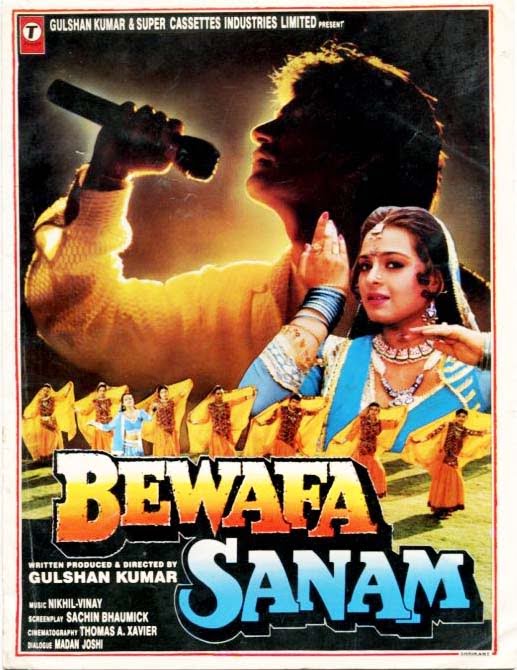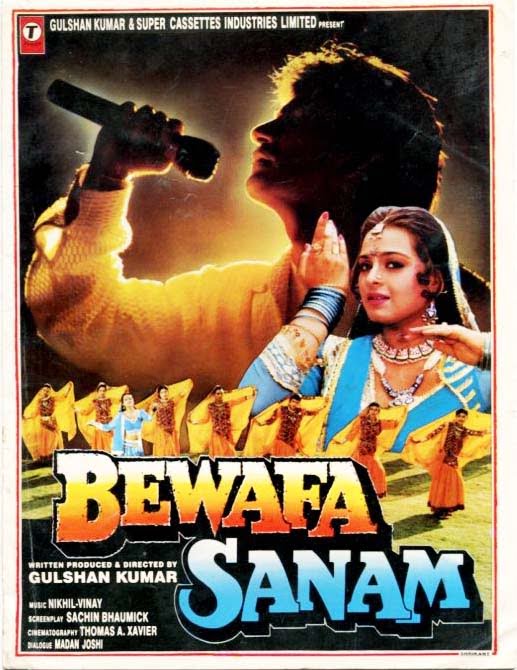 Directed by
Gulshan Kumar
Produced by
Gulshan Kumar
Written by
Sachin Bhowmick
Madan Joshi
Story by
Gulshan Kumar
Starring
Krishan Kumar
Aruna Irani
Shilpa Shirodkar
Shakti Kapoor
Kiran Kumar
What I felt after watching Bewafa Sanam?
The movie starts on a lighter note covering a part which is hilarious and also showing profiles of different lead characters. But the story still revolves around multi-talented Sundar Sehgal's (Krishna Kumar's character) love story and why he committed the murder. As movie proceeds, everything becomes serious and it never left that tone again.
The tracks were kind of heart touching with lots of Shayaris and all. Acting done by Krishna Kumar, Shilpa Shirodkar (dual role of Mamta and Sheetal), Asrani, Shakti Kapoor and Kiran Kumar were all good. Reema Lagoo's work was also good and she played a mother's role (as always).
Earlier at time when it was released (in 90s), it was a kind of movie which was good to watch, but (may be) not a single chance in current era.
Still you can watch it to find out the reason behind such deep hearted songs in its album. I watched it for the same and also to see Gulshan Kumar's work as a Director.
Story of Bewafa Sanam
The story starts with an instance from cricket match in Central Jail, reflecting the character of Sundar Sehgal (lead character). He used to be a good batsman as of his father along with top notch poet, singer and writer (also good in studies, etc.).
He had a lot of issues with first jailer (played by Shakti Kapoor) who was soon replaced by newer (a soft-hearted one – Kiran Kumar). Soon, new jailer's daughter starts feeling curious to know what made Sundar killed the girl he loved so much. Both roles, jailer's daughter (Mamta) and girl Sundar loved (Sheetal ), are played by Shilpa Shirodkar, and she did her part well. Sheetal was used by Sundar's competitor to stop him getting selected in Indian Cricket team squad for Australia and she uses her beauty marks for the same. Sheetal and his friend gets successful in stopping Sundar from getting selected in the team which also ruins his life and later becomes reason behind his mother's death. When Sundar comes to know about this conspiracy from his canteen friend Onkar (played by Asrani), he prison-breaks and then kills Sheetal on the night she was getting married. Sundar was sentenced and was summoned to be hanged. Now everyone who cares for him started doing things to stop his execution and the later part of story revolves around the same.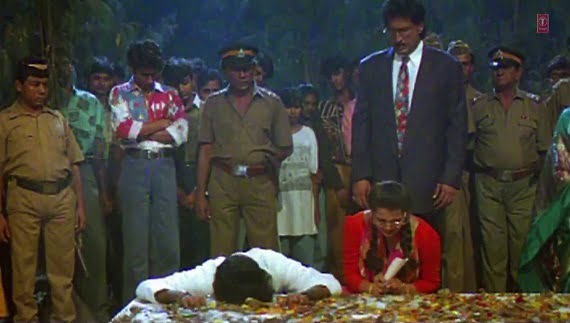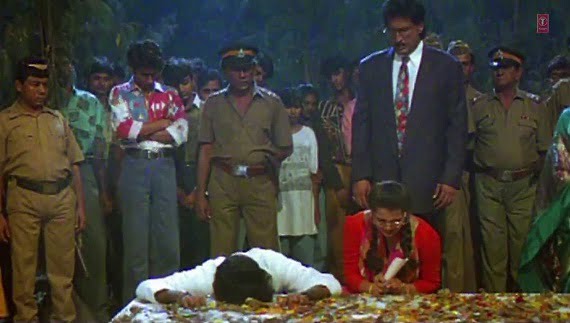 Other half of the story gets dragged a bit (gets really hard to stick) but still you should wait and see the way story comes to an end. And finally what happens to Sundar.
Bewafa Sanam Verdict
The way movie starts, sticks in between and get ended is a good to watch but it isn't the one you want to watch again.
Should I watch it?
Watch it if you love 90s films, particularly the one with lots of heavy dialogues (it got some really heavy ones).