Gangs of Wasseypur is a special Bollywood film and is loved by many people. I have seen many die-hard fans of Gangs of Wasseypur.
Dialogues of Gangs of Wasseypur are awesome and if you are a GOW fan you know each and every dialogue of the movie. Today we are sharing dialogues of Gangs of Wasseypur and Dialogues of Gangs of Wasseypur 2.
This is not the complete list of Dialogues we are sharing the most Favorite dialogues you can add more in the Comment Section.
Best Dialogues of Gangs of Wasseypur
Nasir : Insaan joh hai bas do nasal ke hote hai … ek hote hai haraami aur doosre bewakoof
Sardar Khan : Sardar Khan naam hai humara , bata dijiyega sako
Sardar Khan : Aad chahe jitna bada ho jaye … laad ke neeche hi rehta hai
Sardar Khan : Us harami ko Mitana Hai Hamein, Goli Nahin marenge , Keh k Lenge uski
Sardar Khan : Eee ka Bawaseer Bana diye ho..Marte hain Kasai Mohalla Jaata Hai Kalkatta
Sardar Khan : Zara soongh ke batao Mantriji nashta mein ka khaye hai
Sultan :Ye wasseypur hai Yahan kabootar bhi ek pankh se udhta hai … aur doosre se apna izzat bachata hai
Nagma Khatoon :Khana khao, taqat aayega … bahar jaake beizzati mat karana
Sardar Khan : Ghar ja ke jab apne pitaji ka g**nd khuja rahe honge na,tab poochiyega hum kaun hain
Sardar Khan : Vidhayak JP Singh ko koot diye
Pistol maker : Phat Ke Phlower Ho Jayega
Ramadhir Singh : Uske Muh mein Taar daal k Ga*d se nikal ke isi plot par patang na udai to humra naam nahin
Sardar Khan : Agar humare bete ko kuch ho jata to Itna goli maarte … ki aapka driver bhi khali khoka bech bechkar rayees ban jaata
Perpendicular : Ham perpenditular hai hamle liyea na aesa hi hota hai !
Others : Har yaar wafaadar nahi hota … har pathar chamakdar nahi hota … na jaane ban mein kitne phool khile hai … har phool
khusboodar nahi hota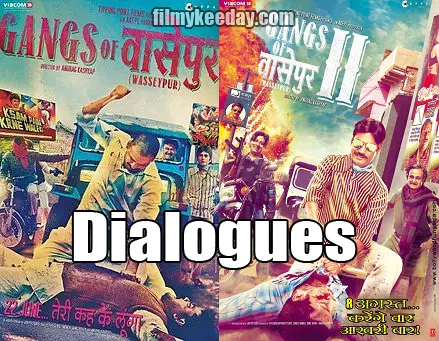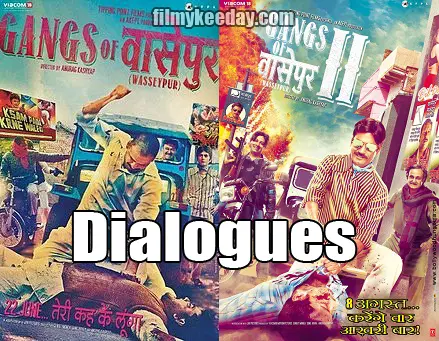 Others : Gareebi todh deti hai joh rishtey khak hote hai … aur paraye apne hote hai jab paise paas hote hai
Others : Na koi kisi ka raqeeb hota hai … na koi kisi ka habeeb hota hai … khuda ki rehmat se ban jaate hai rishtey, jahan jiska naseeb
hota hai
Nasir : Bade log apna naam bhool jaate the … lekin apni zameen apna samaan nahi
Sardar Khan : Itna bum marenge, itna bum marenge, ki pura area dhua dhua ho jayega, Aur ramadhir singh ke pariwar ke harek aadmi se r*ndi ka
naach Nachwayenge.. hajrat Hajrat Hajrat!
Ramadhir Singh : Jaise loha lohe ko katata he waise chutia hi to chutia ko maraga naa.
Ramadhir Singh : kahe bhai!
Ramadhir Singh
Hum abhi tak jinda hain kyunki hum sanimaa nahi dekhte.
Sab saale sabke dimaag me apni apni picture chal rahi hai,
Sab saale hero banna chah rahein apni picture me.
E saala Hindustan mein jab tak sanimaa hai, log chutiya bante rahenge…!
Faijal Khan : Tumko yaad kar kar ke hamara haanth dukh gaya
Nasir : Kabhi chahane se hum zindagi dete hai aur kabhi bhool se … lekin maut hamesha hamari khud ki chuk se hoti hai
Faijal Khan : Baap ka, bhai ka, Dada ka, sabka badla lega tera yeh Faijal
Faijal Mohsina Conversation
Mohsina: Hamein haraa bahut pasand hai, naya suit pehne hain aaj hum.
Faizal: Nail-plish bhi achhi hai- laal.
Mohsina: Hamein laal bhi pasand hai.
Faizal: Abhi toh haraa bola.
Mohsia: Dono pasand hai.
Faijal: Picture chalein? Karan Arjun.. Chal na Sahrukh Salman dono hain..
Mohasina: Haath Pakdoge tum?
Faijal: Maa kasam nahi pakdunga..
Mohasina: Godi mein popcorn girega, to dhoondoge nahi andhere mein?
Faijal: Maa kasam nahi dhoondenge..
Mohasina: Sat ke baithoge?
Faijal: Maa kasam nahi satunga..
Mohasina: To apni amma ko saath le jao na, hamara kya jaroorat hai.
Faijal Khan : Pura ka pura wasseypur band karwao
Faijal Khan : Bachche ko daddy ka hi bolna
Ramadhir Singh : Beta tumse na ho payega!
Mohsina : Koi mana thodi hai…permissan leni chahiye
Yeh dhande mein do cheezo pe kabhi bharosa nahi karna chahiye … ek toh khud se pehda hone waale khauf pe … aur doosra kisi ke saath pe