Most of the People of this generation only know about the film Agneepath which stars Hrithik Roshan in the lead role and even if they know about the old one they still love the new film, but old Agneepath starring
Even after becoming the 10th highest grosser film of 1990, Agneepath was a box office failure, it was a big budget film and collections of Agneepath were extremely low.
Amitabh Bachchan's Agneepath has gained cult status and now it has become one of the best films of Amitabh Bachchan at least in terms of dialogues.
So, We are sharing some Best Dialogues of Agneepath 1990 Film in our article, You must read them and you can listen to these dialogues on YouTube.
List of All Hit Dialogues of Agneepath 1990 Film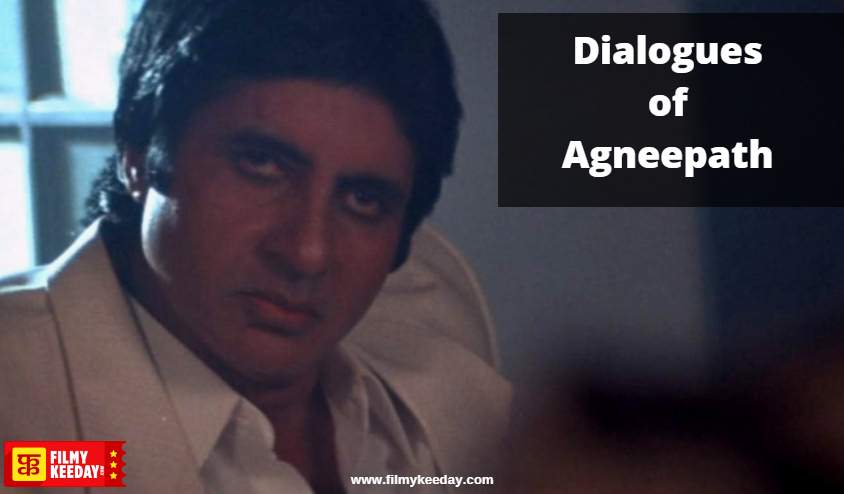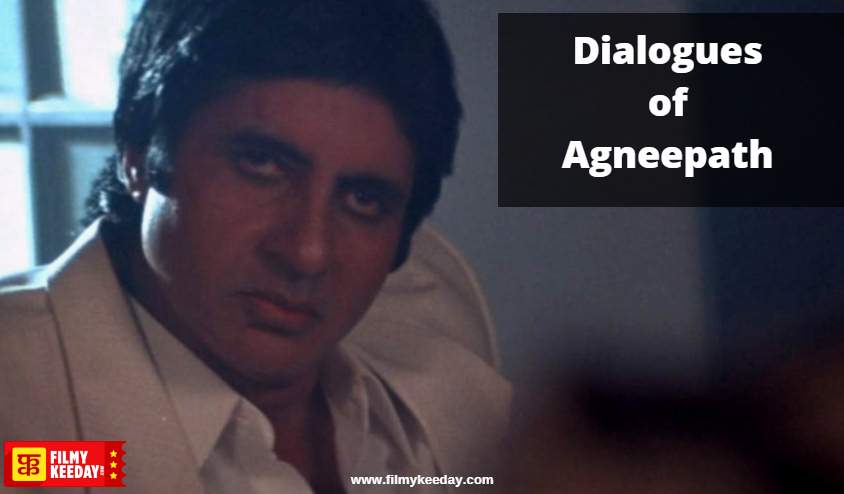 Dialogues of Amitabh Bachchan
Vijay Deenanath Chauhan Poora naam, Baap Ka naam Deenanath Chauhan, Umar Chattis saal Nau mahina 8 din aur ye solwan ghanta chaalu hai hayee…
Jaan ki bheekh mangta hai, aur jaan dene ka baat karta hai…
Ye duniya Bahut bigdi hui hai gaitonde sahab, Yaha jo sudhar gaya, wo gaya, Upar.. hayee
Kamjori ka Mael, Sachhai se nahi dhul sakta, Wo tumhara adarsh se nahi dhul sakta, ye ye jo tumhara bhagwan hai usse nahi dhul sakta maa, wo dhulta hai taqat se, taqat se…
Iss duniya me tarraki karne ke liye na bolna bahut jaruri hai…
Dushman se agar fayeda ho to usko apna dost bana lo…
Ye roti kharid ke, cheen ke, bhikh mang ke mil sakta tumko,
magar bukh mita de ye zaruri nahi hai….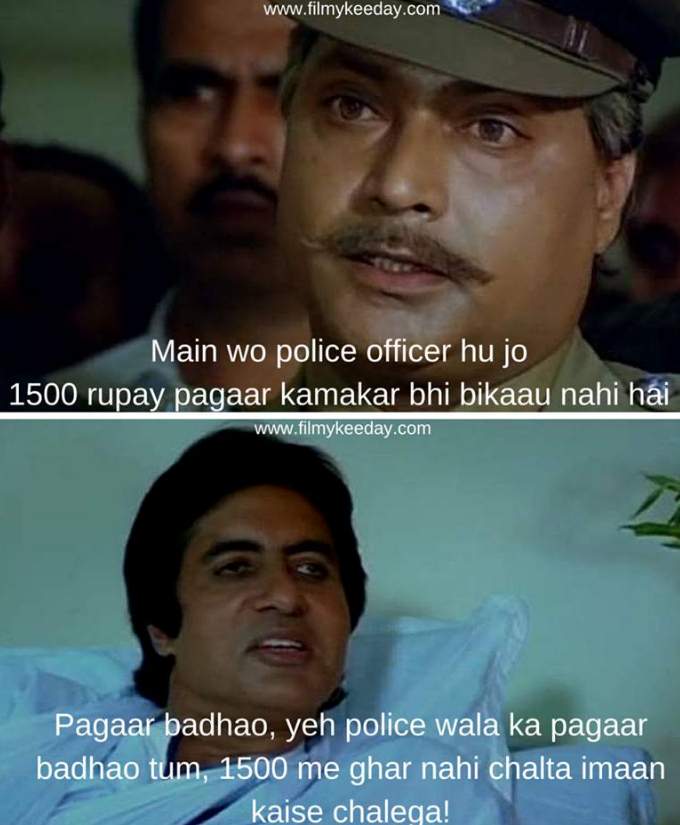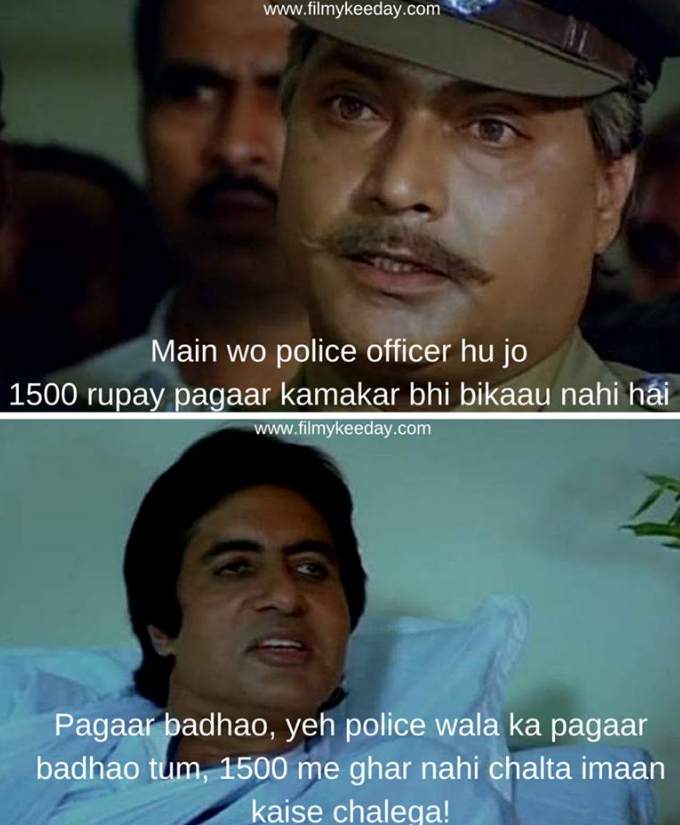 Waqt pe pohochneka apna purana adat hai…
Ye Che foot ka body ludkane ke liye 4 inch ka goli kam pad gaya maloom….
Tum kya kehna chahta hai, tum kehna kya chahta hai, ki wo log meri maut ka din aaj mukarrar kiya hai?
Mujhe maloon wo kon sa waqt mukarrar kiya hai, aye dikhata hai tumko..
ye dekho aaj shaam che baje,maut ke sath apna apointment hai apointment, english bolta hai ayee…
Sawaal jis zabaan mein kiya jaye
jawaab us hi zabaan mein dena chahiye….
Galat cheez banaya telephone
udhar se aadmi soochta kuch hai, bolta kuch hai, karta kuch hai….
Kehne ko to yeh sheher hai, sirf kehne ko, par idhar jungle ka kanoon chalta hai…
Idhar Taqatwar apne se kamjor ko markar jeeta hai malum, maarkar..
Ye jo tumhara dikhawe ka taqat hai na ye lohe ki tarah majboot hai, lekin tumhara kaan sala, ye kachha kaanch ki tarah hai, baat samajhta nahi hai tum, yaad nahi rakhta, pehli mulaqat me main tumko kya bola, mera naam VIJAY DINANATH CHAUHAN poora naam, samjha poora naam….
Aye kancha, sala bandook bhi dikhata hai aur piche bhi hatata hai, Piche nahi hatne ka kancha, Piche hatne se purana jamana laut kar nahi aane wala hai…
Pagaar badhao, ye police wale ka pagaar badhao tum, itne paise me ghar nahi chalta sala imaan kya chalega….
Main Andha dhanda bhi andhere me nahi karta…..
Agneepath Poem
Vrisha ho bhale khade, Ho ghane, ho bade
Ek patra chah bhi, Maang mat, maang mat, maang mat
Ageepath, agneepath agneepath…
Tu Na Thakega Kabhi, Tu na Thamega Kabhi, Tu na mudega Kabhi
Kar Shapath, Kar Shapath, Kar Shapath !
Ageepath, agneepath agneepath…
Ye Mahaan Drishya hai, Chal Raha Manushya hai, Ashru, Swed Rakth Se, Lath Path, Lath Path, Lath Path
Agneepath, Agneepath, Agneepath!
Dialogues of Others in Agneepath
Andhere ko agar mitana hai to diye ko apne sar me aag lagani hi padti hai…
Apne Haath Dho Le..
Apna ussool kehta hai
jab dushman ki umar badh jaaye toh usse dosti karlo
apni umar badh jaati hai…..
Kamzor ki dosti taqatwar ke vaar ko kam kar deti hai…
Apna usool kehta hai ki Daaye hath se jurm karo to baayen ko pata bhi na chale…
Apna ussool kehta hai
agar fayda ho toh jhoot ko sach maan lo
dushman ko dost bana lo………
Apna usool kehta hai, har galati ki saza maut hai..
Insaan bhi pehle janwar tha
sadiyan lagi usse janwar se insaan banne mein
lekin tujhe insaan se
janwar banne mein zara bhi waqt nahi laga…….
Tum apni maut ki taraf chal nahi
balki daud rahe ho…….
Tarraki ki bookh me tum 2-4 kadam zyada aage nikal gaya…
Your Turn!
These are our most favorite Dialogues of Agneepath, share which one is your favorite dialogue of Amitabh Bachchan from Agneepath in the comment section.