Dedh Ishqiya is the sequel of Ishqiya 2010. Ishqiya starred Vidya Balan, and Dedh Ishqiya has two damsels, Huma Qureshi and Madhiri Dixit. Arshad Warsi and Naseeruddin Shah are repeating their roles again in the movie. The prequel was a mix of suspense, thrill and comedy with a love triangle.
Dedh Ishqiya is a comeback for Madhuri Dixit Nene, but can she win the hearts of millions with her acting and dance skills.
Dedh Ishqiya Movie Star Cast
Actors: Madhuri Dixit, Arshad Warsi, Naseeruddin Shah, and Huma Qureshi
Producer: Raman Maroo, Vishal Bhardwaj
Director: Abhishek Chaubey
Music: Vishal Bhardwaj
What I feel about Dedh Ishqiya Movie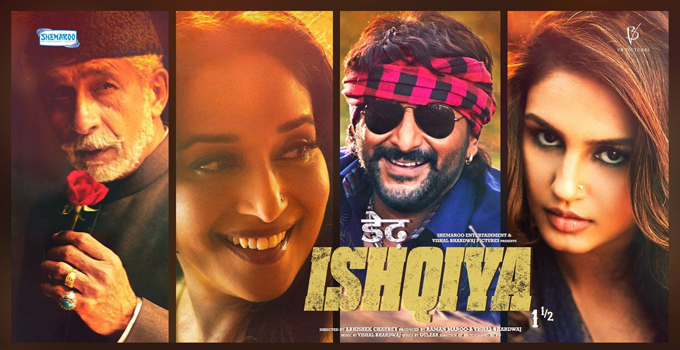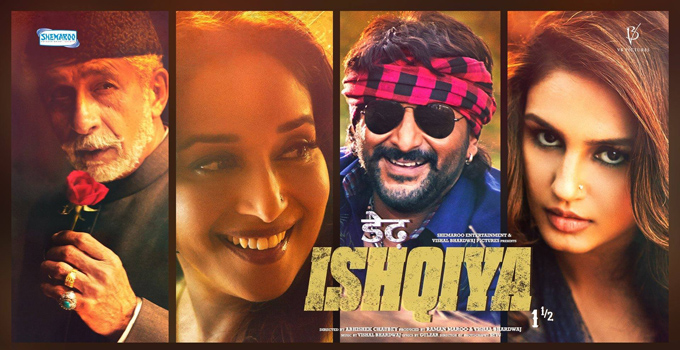 Dedh Ishqiya is a marvel piece crafted beautifully by 4 gems Madhuri Dixit Nene, Huma Qureshi, Arshad Warsi and Naseeruddin Shah. Madhuri has recreated her magic and the other three have matched her persona really well. You won't miss Vidya Balan from the prequel at all.
Naseeruddin Shah has performed amazingly with Arshad Warsi a step ahead from the prequel. Huma has given her best shot and has done a marvelous job by matching Madhuri.
Dedh Ishqiya Movie Story
The story is not as messy as Ishqiya or if I may say not as complicated as Ishqiya. Naseeruddin Shah enters the festival posing as Nawaab of Chandpur and impresses the Begum. Begum and Nawaab are happy together when Arshad Warsi, enters the story to get his Uncle Naseeruddin Shah back to their lives. But Arshad fells in love with the maid of the Begum, Huma Qureshi.
Till here the movie story seems really simple, but things suddenly change when Huma leaves the palace to meet gangsters. Why does Huma meets gangsters? What happens next? What is the whole story all about? I wish I could answer your questions and give you a through storyline, but it's time you buy a ticket and grab a seat at your nearest theatre. The movie is not a Must watch, but it is certainly a great movie to watch and enjoy the weekend.
Dedh Ishqiya Movie Verdict
The movie has four gems, classical dance moves and prequel forcing you to grab a look at Dedh Ishqiya. The movie is good and the actors have done a great job. Words of mouth play a big role in the success of this movie. Doom 3 and Yaariyan in competition with Dedh Ishqiya can give the movie a hard time. But surely Dedh Ishqiya box office collections will be good.
FilmyKeeday Dedh Ishqiya Movie Rating
3.5 Stars